Govee Water Sensor Review [Protecting Your Home]
As a snowbird, you want to safeguard your home when you're away. To protect my northern and southern homes from potential water damage I decided to install Govee WiFi water sensors.
These water leak sensors are a smart home device designed to send alerts to my mobile phone in the event they come into contact with water from a leaking pipe, backed-up drain, crack in a basement wall, or any other type of flooding situation.
They also have 100 dB alarms that I can hear throughout my home when the presence of water is detected.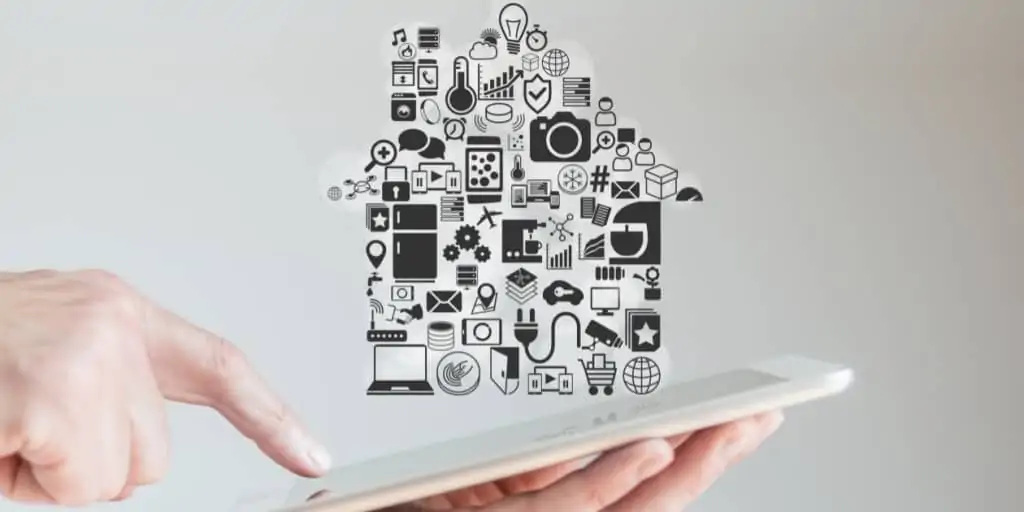 (This page may contain affiliate links and we may earn fees from purchases at no additional cost to you, i.e., as an Amazon Associate, we earn from qualifying purchases. These earnings help offset the cost of running this site. You can read our Disclosure and Disclaimer for further info.)
While we may not be able to prevent all water problems at home, the Govee WiFi household water leak detector will help us address issues fast (whether we're at home or not) and avoid costly damage.
Buying and Installing Govee WiFi Water Sensors
We purchased the Govee WiFi Water Sensor 3-pack from Amazon, which included the WiFi gateway, and added a 2-pack of Govee Water Detectors to have five sensors to put near each water source in our home.
The gateway plugs into a wall outlet and connects to your home Wi-Fi network.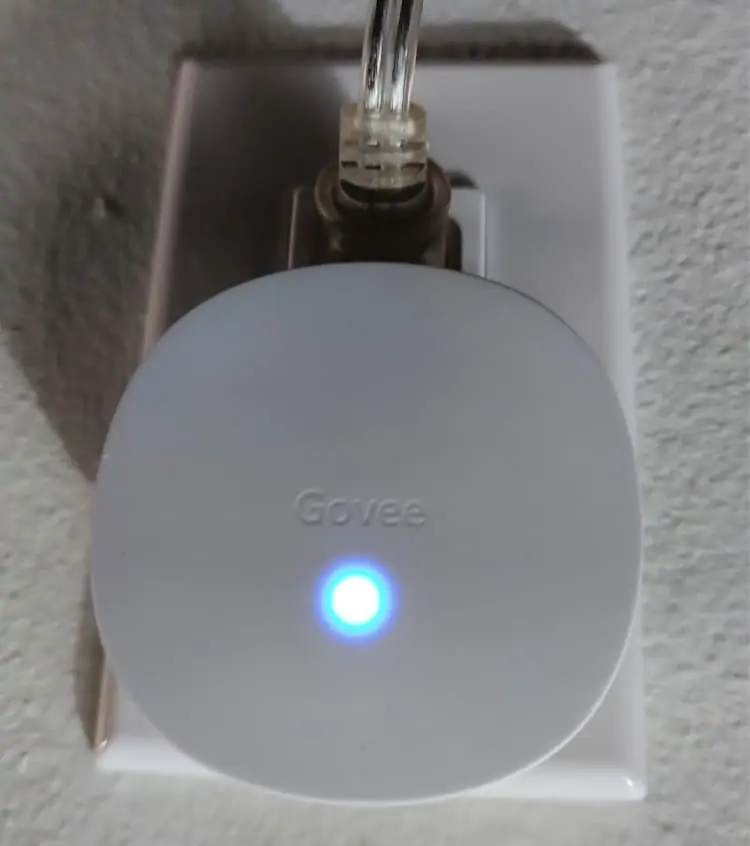 The battery-powered sensors that can detect unwanted water pair to the WiFi gateway.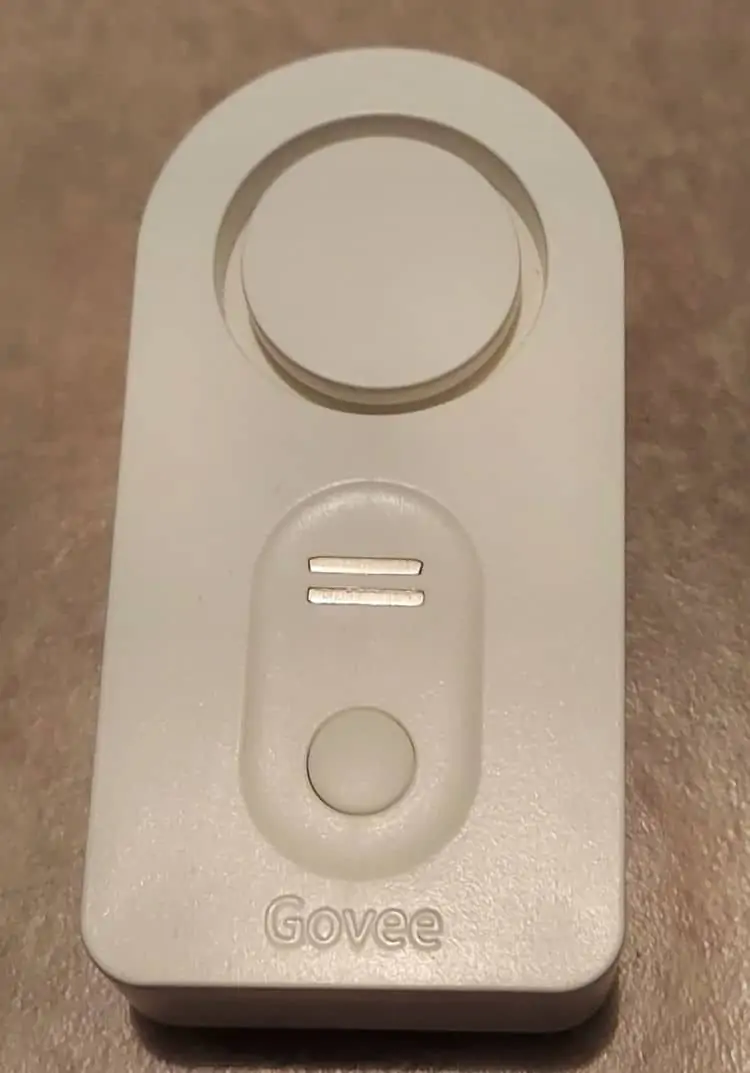 We placed water leak detectors under the kitchen sink, two bathroom sinks, in the pan of the water heater, and near the washing machine.
While other areas in our home could have water issues, these are the water supply areas and sites of potential plumbing leaks.
It took about 30 minutes from when we opened the box until we had one working water detector alarm positioned in each key area within our home.
We read the directions that came with the kit and downloaded the Govee Home App to our phones. As we do with many of our "DIY" projects, we also decided to watch some YouTube videos on how to set up the smart leak detectors.
Rather than type out all the steps we followed, I'd suggest watching this 5-minute video by Kent Diego showing the unboxing and setup of the Govee Wi-Fi Water Sensor system. While the directions were fairly complete, we followed this video step-by-step to get our system up and running. Kent follows the directions provided and fills in a few gaps where you might get confused during the setup process. He also answers viewers' questions in the comment section of the video.
Since we purchased additional Govee water detectors, we also needed to add them to the Wi-Fi Gateway setup.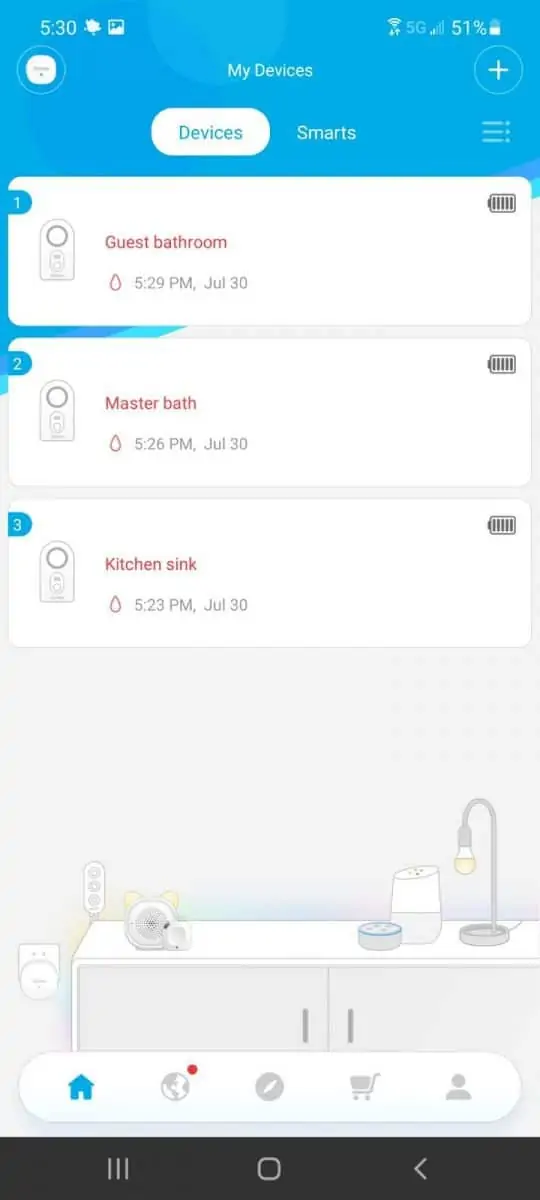 The directions included were a bit difficult to follow, so we found another YouTube video by UReviews and had the two extra Govee water detectors paired with our system in just a few minutes.
As you set up the Govee Home app, you'll also notice that there are many other Govee smart devices available, including:
You can add additional connected devices to your Govee app at any time.
Why We Chose the Govee WiFi Water Detection System
While there are a variety of Smart Leak Detectors available, we chose a Govee water alarm based on Amazon reviews, price, and the ability to add additional sensors to the system.
Currently, this product has over 5,000 ratings with an average of 4.4 out of a 5 star rating. When looking deeper at the breakdown by star rating, I noticed that several 5-star reviews were updated to share information beyond first impressions.
Several posts share how these basic water sensors sent real-time alerts notifying people of broken pipes and leaking water heaters – potentially saving them thousands of dollars and plenty of stress.
There are plenty of 1-star ratings as well. Many discuss Wi-Fi connection issues and security concerns. We had no connection issues by following the videos I've linked above. If you have concerns about the app and information you're required to share, make sure you read the terms and conditions and understand what you agree to.
There were also a few comments about the range of the system. We gave one sensor to a neighbor to try, and the sensor worked through concrete floors and blocks, so it definitely depends on the strength of your Wi-Fi and unique situation.
We purchased our Govee system in July 2021 and paid $80.31 total for five probe water sensors and a gateway hub. We usually put our internet on "vacation" mode when we leave our home and travel north or south, so now maintaining our regular internet connection is another cost we'll incur to use this system.
Pros and Cons of Govee WiFi Water Sensors
While you can find product details on Amazon and read reviews, I wanted to add a list of pros and cons from our experience with this product.
Pros
Fairly easy to install and setup
Very reasonably priced when compared to dealing with serious water damage
Ability to name sensors to describe locations in your home
Loud alarm (audible siren) for leak alerts with mute option
Instant notification by text, email alerts, and app notifications to a smartphone
Ability to add up to 10 sensors to the gateway
Waterproof devices so you can reuse them
Small devices that fit in tight spaces near water supply areas
No monthly subscription/monitoring fees
Cons
May not receive alerts if you're away from home and your power (and internet) go out
Unclear directions requiring you to seek more information from different sources
I will update the pros and cons as we continue to use our Govee system. We have had an overall positive experience using them for four months, and we moved them to a different condo and had no issues setting them up in a new space.
Note: Before we even had time to publish this post, one of our Govee sensors sent an app alert to my phone about the presence of water under the kitchen sink. Our landlord had just had a new garbage disposal put in, and the installer forgot to remove a plug. So the dishwasher couldn't drain properly. Our sensor saved the landlord from costly water damage related to water leakage.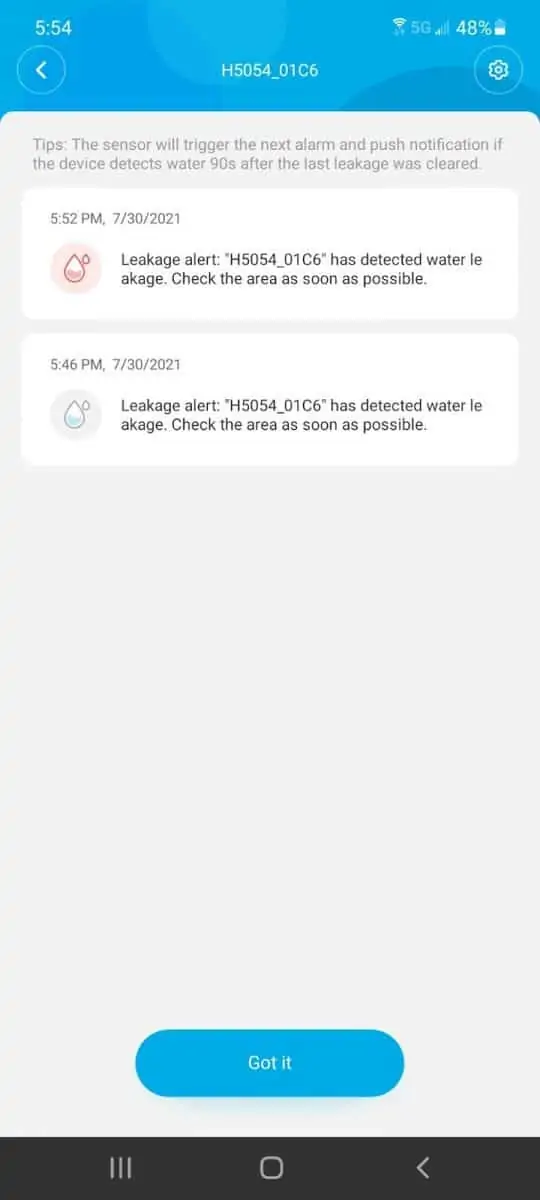 Final Thoughts on Govee Water Detectors 
As a snowbird, you likely spend a significant amount of time away from your northern home each year. And the same is true if you own a second home down south. When you leave your home vacant, you have to take precautions to make sure it is protected while you're away.
Costly damage from a water issue is one thing you may be able to prevent by using a product like the Govee WiFi Water Sensor.
There are other leak detection sensors on the market, but we're very happy with our purchase. We've tested the devices twice since we bought them. Each time the alarm sounded and sent us immediate alerts of water detected.
At a system price of under $100 and the cost of our internet service, we have more peace of mind when it comes to locking the door and heading off to our next destination.
For us, a few water detector probes that can help prevent expensive water damage by sending smartphone alerts are well worth their cost.
This review was written by Vicki Cook, cofounder of Snowbirding Central and Women Who Money, and coauthor of Estate Planning 101.