Prevent Costly Water Damage When Away from Home
When you think about leaving your home for an extended period of time, you have plenty of "to-do" lists to check off.
While it would be nice to just pack your bags, lock your door, and head to your next destination, smart snowbirds know you need to do more to protect the home you're leaving behind.
Unless someone is staying in your snowbird residences while you're gone, one of the best moves you can make, besides ensuring your home's secure, is to install smart water sensors to detect leaks in your home.
This includes water issues stemming from your own plumbing or from other units leaking into your home in multi-unit complexes. 
While not necessarily used for these events, a sensor may even detect water from roof leaks or flooding from storms depending on where homeowners place them.
Let's take a look at why it's so important to try to limit water leaks, how fast water damage can happen (and the types of damage you may face), and how insurance coverage works when it comes to serious water issues in your residence.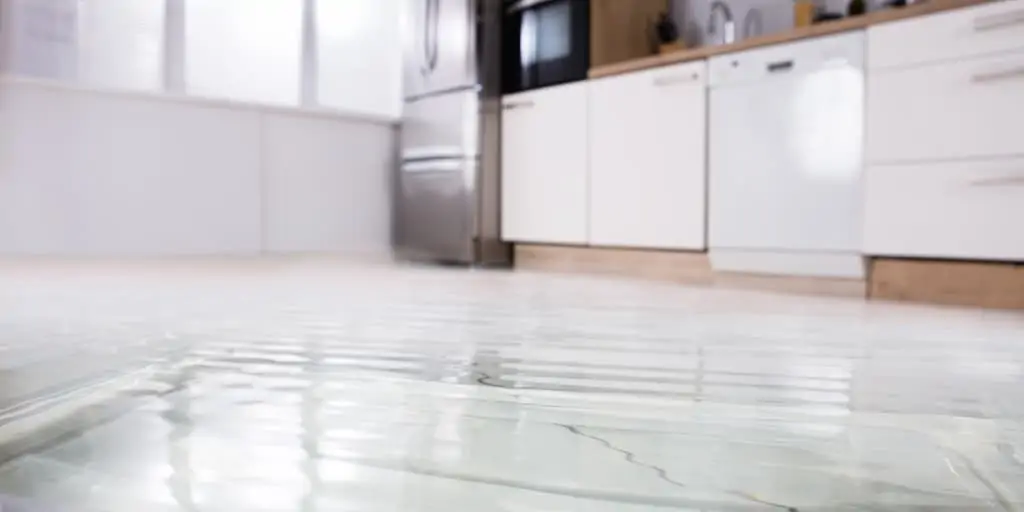 (This page may contain affiliate links and we may earn fees from purchases at no additional cost to you, i.e., as an Amazon Associate, we earn from qualifying purchases. These earnings help offset the cost of running this site. You can read our Disclosure and Disclaimer for further info.)
An Ounce of Prevention
You've likely heard the famous Ben Franklin quote that "an ounce of prevention is worth a pound of cure." And this is definitely the case when it comes to safeguarding your home from extensive water damage while you're away.
Any snowbird who leaves their residence vacant for extended periods of time should put taking action to prevent leaks and costly water damage at the top of their to-do list. 
While placing sensors in strategic places won't prevent the deterioration of plumbing pipes, dishwasher leaks, or a split in the water supply hose to your upstairs neighbor's washing machine, it's a great way to help minimize the destruction water leaks can cause in your home.
Faster and More Destructive Than You Might Think
When it comes to water leaks while you're away, relying on a family member or friend to check on your place is seldom enough.
While they may catch a major flooding event from a burst pipe (usually long after major damage is done), small or slow leaks may not be visible until they've drenched ceilings, drywall, cabinetry, subfloors, and flooring. It can even ruin your personal belongings that may be irreplaceable. 
An article on Angi (formerly Angie's List) explains how fast water can damage your home and the types of destruction you might face. 
Day 1 
Water begins being absorbed by any porous surface it touches. Your loved one may stop by and not even realize that carpets are wet or the ceiling in a closet or spare bathroom is sagging or discolored. 
While this is the stage where clean-up will likely be cheaper and take less time, small leaks or those in a tight space are rarely picked up on at this stage.
Just remember your loved one, trusted friend, neighbor, or hired "house checker" may not be back for days or weeks. 
Week 1 
Mold is a major concern when water leaks go unaddressed for more than a day or two. Damp drywall may be able to be salvaged if the leak is small and contained, but the likelihood rises that you'll need to replace rather than restore parts of your home with each passing day.
Warped cabinets, wood flooring, and doors are just some of the items that may end up in the landfill when water issues arise.
The person checking your home may notice a musty smell or see visible signs of water damage at this point and need to take action before you can get home to deal with the situation. 
Beyond Week 1 
If there's water flow from a broken pipe for a few weeks, structural damage to your home may be beyond repair. The time, energy, and resources required to address a long-term leak can be significant.
Your home may be unlivable for weeks (or months) as all of the water damage issues are addressed.
If you're on the fence about considering using water sensors, seriously consider the level of destruction that could occur in your home and how the clean-up may impact your life and wallet.
Won't My Homeowners Insurance Cover Water Leak Damage?
If all of the effort to deal with a big water issue isn't concerning enough, you should also be aware that your homeowner's insurance policy may not cover water leak damage in all situations.
When the damage is extensive, coverage limit caps listed in your policy may prevent the total cost of restoring your home from being covered by insurance.
If your insurance company does cover some or all of your expenses from water damage, you may still have to pay a large deductible and face increases in your insurance premiums.
Allstate claims that if the water damage was recent and unexpected, you might have some level of insurance to address the situation. This includes dwelling coverage to address structural issues in your home and personal property coverage in case your belongings are ruined.
If you make a claim, your insurance carrier may pay for some of the repairs, but it likely won't cover replacing the source of the water issue.
Neglecting to deal with known water issues or failing to maintain your plumbing will probably result in the rejection of your claim.
Unfortunately, many people mistakenly believe that their homeowners' policy will cover flood damage inside their homes.
It's essential to understand what flood insurance covers and if you should be carrying it to protect your home and valuables. This article explains what flood insurance is and who might need it.
Why You Should Consider a Water Leak Detection System
The Insurance Infomation Institute reported that 29.4% of homeowners insurance losses were due to water damage and freezing in 2019, and the average loss was over $11,000.
Looking at those figures, spending some money on water sensors and basic internet service makes a lot of sense.
Battery-operated leak alarms only help if someone can hear when it sounds. But smart leak detectors not only have a piercing audible alarm, but they send a leak alert to your phone or computer using your home WiFi.  
Whether you're out to dinner on a warm night along the South Carolina coast or at the store in your hometown up north, the notification from a triggered alarm about the presence of water or even high humidity levels allows you to take action fast.
High-end models also include other features, such as freezing temperature notifications.
Depending on your home, its layout, and your sources of possible water issues, you have a choice of stand-alone water sensor units or units with a main port and smaller probes to place in problem areas.
Prices for smart leak sensors generally range from $50 to $150 for a central hub and up to four water detectors. It's suggested to place alarms near your sinks, toilets, washing machines, water heater, dishwasher, sump pump, and even near large fish tanks.
Two Highly-Rated Smart Water Sensors
The Govee WiFi Water Sensor offers real-time alerts and sends instant emails, Smartphone app notifications & alerts to your phone when water leakage occurs, whether you're home or not.
You can connect multiple wireless sensors, and the Smartphone alerts will indicate which location is experiencing wet conditions. There's also a loud alarm that will sound if a WiFi network is not available. 
The YoLink Smart Home Starter kit has long-range coverage that extends to most residential WiFi systems, including basements, outdoor porch/patio areas, sheds, garages, and outbuildings.
It's easy to install and provides warning notifications in real-time. These leak notifications come through Smartphone banner alerts, limited SMS/text messages, and emails. 
Other Ways to Protect Against Water Leaks and Damage
Installing water leak sensors and having someone check on your house while you're away are great steps to take to catch water issues before they become significant problems.
But there are other things you can do to minimize the chances of water damage in your home when you're away for an extended period.
Whether the following risk mitigation makes sense depends on your home, regional climate, and the length of time you'll be away.
Here is a list of other potential ways to prevent a major leak and resulting damage:
Turn off the main water valve that lets water into your house 
Drain the remaining water in water pipes and supply lines
Leave the heat turned on in your home to prevent frozen pipes that could burst, or run the air conditioning to remove excess moisture in warm, humid conditions
Address drainage issues around your home to prevent groundwater problems
Have your gutters cleaned to avoid extra water from standing near your foundation
Repair any damage to the exterior caulk or seals around your home
Inspect the chimney and repair any cracks or missing mortar, and make sure the chimney cap is securely in place
Defrost and unplug your refrigerator (read manufacturer's recommendations for water dispenser and icemaker)
Pay attention to your water bill
Final Thoughts
When it comes to keeping the free flow of water from damaging your home, prevention and early detection are priceless.
While you may not be able to head off every water leak that may happen, there are plenty of low-cost options to reduce the chances that you'll suffer a major loss with a water event.
If you pay for internet services year-round in your residence, it makes sense to spend even a couple of hundred dollars (or less!) on a water leak detector system. You may even decide to skip the "vacation" option and continue receiving internet service when you're heading north or south. 
Ten or twenty dollars a month for water monitoring is a small price to pay versus the several thousands of dollars in damage uncontrolled water flow issues could cost you.
Water leaks can force you to spend time away from your home, pay a higher insurance premium, and pay for various out-of-pocket expenses your insurance won't cover.
Smart water-leak detectors are cheap and easy to install. They will bring you peace of mind so that you can enjoy yourself no matter which home you're enjoying or when you're traveling.
Next: