How Snowbirds and Travelers Get Their Mail
Practical tips for snowbirds, full-time travelers, and remote workers for receiving mail and packages
A challenge people who travel full-time or have homes in two different states face is receiving mail and packages. Mail delivery while traveling or "snowbirding" for an extended time can be tricky.
Many don't realize all the options they have to get their mail in a timely and secure way.
Fortunately, there are plenty of reliable mail delivery services that make living a nomadic lifestyle easier. It's possible to get all kinds of mail no matter where you are in the world.
Mail and Package Delivery When You're "On The Road"
For U.S. residents, contact the United States Postal Service and request a temporary hold or forwarding of your mail.
You could also secure a post office box and let your mail accumulate there. (For those in other countries, contact your mail service provider to explore their options.)
Holding your mail or using a post office box at your local U.S. Post Office works best if you'll be traveling for a relatively short period (2-3 weeks).
Mail forwarding works best when you know you'll be at a central location for several weeks or months at a time. 
In addition to holding or forwarding your mail, USPS is also offering some mail scanning services. Informed Delivery® by USPS® will provide digital notifications to users in advance of the delivery of mail to a physical address. Learn more about this new service and if it's available to you.
We explore plenty of other options below if these won't work for you.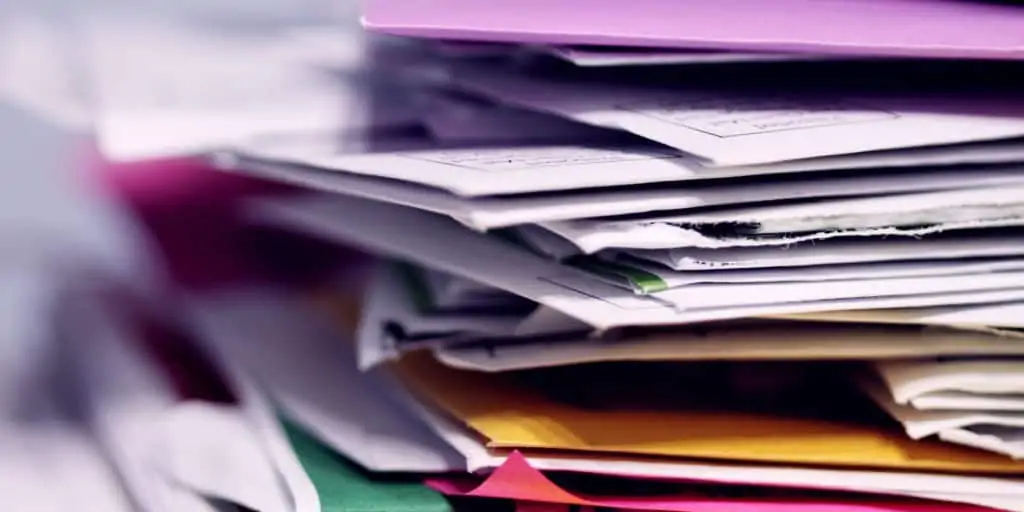 (This page may contain affiliate links and we may earn fees from purchases at no additional cost to you, i.e., as an Amazon Associate, we earn from qualifying purchases. These earnings help offset the cost of running this site. You can read our Disclosure and Disclaimer for further info.)
1. Ask a Friend or Family Member to Collect Your Mail
This first option is how many people get mail delivery when snowbirding or traveling. Having a trusted friend or family member pick up your mail and send you the essential pieces once a week or a couple of times a month is a great option.
Don't want to burden anyone with going to your mailbox?
You could have the mail sent directly to their home. This is beneficial when you expect priority mail deliveries, credit cards, or another important type of mail.
You can do this by setting up mail forwarding from USPS or contacting companies and submitting an address change or special delivery request. Make sure to include "C/O your name" in their residential address to prevent possible delays.
Your friend or family member can hold the mail for you until you get back or send what accumulates to you periodically.
But what if you don't want to burden someone else with getting your mail? Did you know there are private mail services for travelers that let you handle your mail delivery virtually?
2. Choose from Various Private Online Mail Forwarding Services
A private mail forwarding service is a new concept for many, especially older retirees who might be used to old-school mail delivery methods while traveling.
Mail forwarding services offer travelers several ways to get their correspondence promptly via email or by sending it to your current location.
We live so much of our lives online. Why should receiving mail be any different?
A common problem frequent travelers face when on the road or living in two different states is responding to time-sensitive mail.
Having an online mailbox allows you to view and respond to time-sensitive mailings like bills and notices and stay on top of important matters.
One virtual mailbox option is PostScan Mail. All packages and mail are sent to secure mail facilities and for handling by certified mail operators with this service.
You can choose to have the mail opened and scanned to view on a smart device or computer or have it forwarded to your current address. PostScan Mail also gives you the option to shred, recycle, or archive your mail.
Similar to PostScan is Anytime Mailbox, one of the first virtual mailbox solutions for travelers and remote workers to view and manage their mail from their mobile devices, desktops, and laptops.
How to Choose the Best Virtual Mailbox Service
Mail forwarders and virtual mailbox services like Anytime Mailbox, PostScan Mail, Traveling Mailbox, and others offer similar services. So, when choosing a mailbox service, consider the following:
Does the provider offer unlimited online mail storage?
Can you file mail to specific folders for easy organization and reference?
Are sub-accounts available to let each person access their mail separately?
Instant notifications, physical mail storage, and forwarding services are also crucial points to consider.
It's also important to know if the mail service provides a physical street address or a P.O. box. While some carriers will deliver to P.O. boxes, FedEx and UPS require a physical street address.
When using private mail delivery services, whether you're getting your regular mail at home or abroad, you also want to think about the cost. Private services are not free.
The price for the service varies depending on the plan you choose and how much mail you anticipate receiving each month.
For example, PostScan's pricing ranges from $15-$120 a month. A long-term traveler or snowbirds who expect to receive large volumes of mail will pay more for the service.
Traveling Mailbox, which offers services similar to PostScan mail, has a basic plan starting at $15 a month and includes shredding and junk mail filtering.
Those less cost-sensitive may be interested in checking out Earth Class Mail. They pride themselves on holding values such as security, consistency, and dedicated customer support since their services are handled by employees and never third parties.

3. Use Amazon Lockers or Shipping Stores for Package Delivery
People who aren't keen on paying for private mail service or don't want strangers handling their mail might choose to let their friends or family forward envelopes and then have their packages delivered to Amazon Lockers.
With so many items available on Amazon shipping for free, it's a great way for people on the road to get their packages delivered securely. Amazon Lockers are available in many locations worldwide.
FedEx and UPS also offer in-store pickup at most of their locations. This is fast and convenient for people who don't use Amazon or need other items delivered like medications. You just want to confirm with the company you're ordering from which carrier they use for shipments.
(UPS currently offers discounts to those with AAA membership or AARP)
Many mail centers will also provide a physical mailing address for you to use to receive deliveries or mail pieces that cannot be delivered to a P.O. box address.
Bonus tip: In addition to shipping services you may need while away from home, several shipping stores also offer faxing, document shredding, passport photos, office and mailing supplies, notary service, and more.
4. Have Items Delivered to a Mail Center or Store Where You're Staying
Several campgrounds, travel resorts, and lodging facilities have mail centers and are happy to provide a shipping address and mail delivery options to travelers staying with them. Inquire about a mail center where you'll be staying. Some of these options may have limited hour or business days so be sure to call ahead.
Secure a post office box at a postal location near where you are staying or at a store (i.e., FedEx or UPS) that provides these services. 
Order items from retailers with a physical location near your travel destination and have items "shipped to store" for in-store pickup.
Don't Miss an Important Letter or Package!
Technology makes it easier than ever to get mail and other deliveries when you're snowbirding, working remotely, or traveling for extended periods away from your permanent address.
Using a virtual mailing address service, friends and family for a delivery address, or a resort or shipping stores business address, are all useful ways to receive mail away from home.
Also, having mail sent to your email address, using online bill pay, switching to virtual magazines, and opting out of junk delivery mail, are wonderful ways to manage how much mail you get. And reduce your carbon footprint!
No matter what method you choose to stay on top of your mail, do your research to ensure you're comfortable with who's handling your pieces of mail. When your deliveries are handled accordingly, you'll never miss an important letter or package.
Then you'll enjoy your time away from home with fewer worries.