Affordable Snowbird Destinations in Florida
When you think about where American and Canadian snowbirds head for the winter months, Florida likely comes to mind.
For those fleeing the cold and snow, the "Sunshine State" is a popular snowbird destination because it offers warm weather, beautiful scenery, and plenty of outdoor activities.
Yet, for many people exploring the snowbird dream, the most popular islands, beach towns, and sought-after places to snowbird in Florida might be budget busters.
Still, while you might not be able to afford to stay in some locations, there's still a good chance you can find an enjoyable winter rental or second home in an affordable snowbird destination of Florida.
Living costs vary widely throughout the state. If you're flexible and accept some trade-offs, there are areas of Florida where you can comfortably snowbird on a budget.
Note: If you're new to snowbirding and haven't decided on the perfect destination, check out our article How To Choose a Snowbird Location (which includes a free downloadable template).
First-time snowbirds can also learn about a variety of housing options available in the article Communities for Snowbirds and Travelers.
Using Cost of Living Data to Find Affordable Florida Locations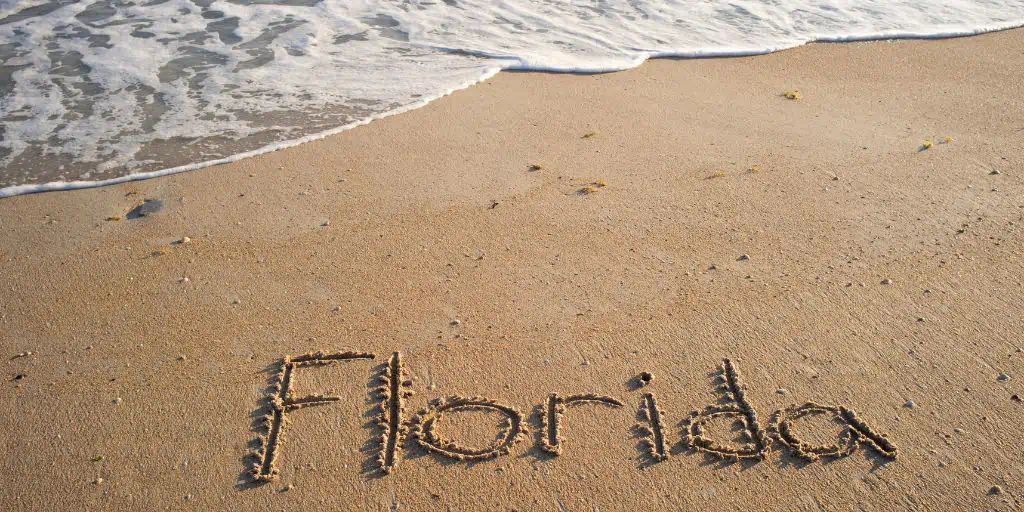 (This page may contain affiliate links and we may earn fees from purchases at no additional cost to you, i.e., as an Amazon Associate, we earn from qualifying purchases. These earnings help offset the cost of running this site. You can read our Disclosure and Disclaimer for further info.)
While your personal circumstances and spending patterns are important considerations, it can still be helpful to compare the living costs data of different cities if you're trying to stick to a budget during the winter season.
We used the most recent Salary.com cost of living calculator to narrow down locations in Florida that are more affordable options when compared with national averages.
The Salary.com cost of living (CoL) index is based on the following expense categories that apply to everyone:
housing
food
healthcare
transportation
energy
The calculator tool also uses salary data to develop more precise living cost estimates for various locations.
Most Affordable Major Cities in Florida
You can find CoL index data for 14 major Florida cities on Salary.com. We've chosen to highlight major cities for snowbirds with a CoL currently 2% or lower than national averages.
As you might expect, none of the more affordable cities are in southern Florida.
Living costs for some major cities and hot spots in southeastern Florida or on the southern Gulf Coast are 5-10% (or higher) than national averages.
Here are six larger Florida cities where your snowbird dollars may go farther:
1. Pensacola
It might surprise you to see the living costs in this northern Florida coastal city come in at 6.1% lower than national averages.
Pensacola is a great fit for people who want to save money yet enjoy mild weather and be very close to sugar sand beaches and the Gulf of Mexico.
While it might be too cold to swim on this Panhandle beach during some winter months, you can still enjoy walking on miles of beach and other outdoor activities during the snowbird season.
Check out Visit Pensacola for more information on the area.
2. Tallahassee
The state capital city of Tallahassee is another affordable spot for snowbirds, with living costs 2.5% less than national averages.
Home of Florida State University and the Seminoles, seasonal residents of this northern Florida city can also enjoy some of the advantages of living in a city with a large student population.
Vicki's family members are permanent residents in Tallahassee and have enjoyed this region for almost 25 years.
Check out Visit Tallahassee to see more about what this city has to offer snowbirds.
3. Daytona Beach
If you want to escape cold weather and enjoy beautiful east coast beaches, check out Daytona Beach, with a cost of living index that's 2.1% less than national averages.
You'll also enjoy warmer average temperatures than some of the more northern Florida cities on this list.
Plus, Universal Studios, Walt Disney World, Cocoa Beach, Ormond Beach, Cape Canaveral, and many more beachside towns and popular destinations are a short drive away.
To get a free guide to the area, check out the Daytona Beach Area Convention & Visitors Bureau website.
4. Gainesville
The north central city of Gainesville has living costs 2.0% less than national averages.
Seasonal residents of Gainesville can benefit from the University of Florida and all it has to offer local residents (sports, theater, and more!)
You'll never have to drive more than an hour or two (and often much less) to enjoy the natural beauty of crystal springs, miles of scenic beach, plenty of golf courses, and other favorite snowbird destinations.
Find answers to questions you have about this Florida city at Visit Gainesville.
5. Melbourne
If you're looking for a central Florida city along the Atlantic coast, the "Harbor City" of Melbourne might be a good option.
Melbourne's CoL index is 2.0% less than national averages. While it's a popular destination, a more reasonably priced snowbird lifestyle near amazing beaches and other attractions is possible here.
Average winter temperatures will be higher in this area than in most of the northern Florida cities on the more affordable list.
Learn more on the City of Melbourne's website.
6. Palm Bay
Located just south of Melbourne, the CoL index in Palm Bay is also 2.0% less than national averages.
Palm Bay's population is slightly larger than Melbourne's and is estimated at over 120,000 people. With warmer climates, beautiful beaches, plenty of golf courses, nature trails, and more, Palm Bay is a popular destination for snowbirds.
There's more information here on the website for the City of Palm Bay.
Smaller Florida Cities That Are Even More Affordable
If you're not interested in residing in the largest cities or want to snowbird in a Florida location at an even more affordable cost, we've dug into the small city data on the Salary.com website.
Each of the cities below offers a 10% or lower CoL when compared with national averages.
As you might expect, these communities vary in size (many are quite small) and are all in northern Florida. Many are in the Panhandle region, and some are along beautiful white sand beaches.
You'll find rural towns on the Alabama or Georgia border, smaller cities along the coast, and plenty of options in between.
50 Most Affordable Winter Destinations in Florida
Listed in alphabetical order – Click on the link to learn more about each area.
Finding Reasonably Priced Snowbird Destinations in Florida
As frugal people, Amy and Vicki both found budget friendly, more southern destinations in Florida (Sarasota and Winter Haven) prior to the price increases in the most recent real estate explosion in Florida.
While it's certainly more difficult now, you may still be able to find a good monthly rental deal in Southwest Florida for the snowbird season.
You may ultimately decide to pay more for housing (whether you buy or rent) to be in a favorite destination, vibrant downtown, have access to beaches, a private pool, or recreational activities, and cut back on other expenses in your budget.
But don't dismiss all of the snowbird lifestyle opportunities you have away from snowbird hotspots in the state. 
Plus, you can always visit popular towns, gorgeous beaches, theme parks, and historical attractions in other areas of the state to enhance your snowbird experience too!
If avoiding cold winter months up north is what matters most to you, there are several destinations for snowbirds with affordable prices and sandy beaches, national parks, a heated swimming pool, pickleball and tennis courts, or a golf course!
When it comes to an affordable snowbird location, Northern Florida has a wide variety of destinations that might become the perfect spot for your annual migration.
There's a wide range of places from the Atlantic Coast to Central Florida to the Gulf Shores with monthly and long-term rentals, 55+ active lifestyle communities, condos, RV parks, and more to enjoy warmer weather and plenty of sunshine.
Next: Tips for Snowbirds and Seasonal Travelers to Avoid Rental Scams