Do Your Expenses Double When You Snowbird?
Living the life of a snowbird might sound like it'd be out of reach. Wouldn't maintaining another property double your expenses, at least?
Well, living the snowbird lifestyle does come with some extra expenses. Still, enjoying the winter in warmer weather likely won't be close to double your everyday costs.
Snowbirding done the right way may be a lot more affordable than you think.
Many of your expenses travel with you, and you can limit some of the others. With a bit of planning and effort, affording a home away from home may allow you to leave the snow and cold behind each winter.
Smart Spending Choices Can Limit the Extra Expense
Snowbirding has a ton of appeal. You've got your home during the winter and another for the summer.
Most people recognize how awesome that could be. However, they may not realize that it can be an affordable option.
Generally, most of your expenses won't double. Plus, most of them will follow you around. And, by making smart choices, you can keep your cost of living in check.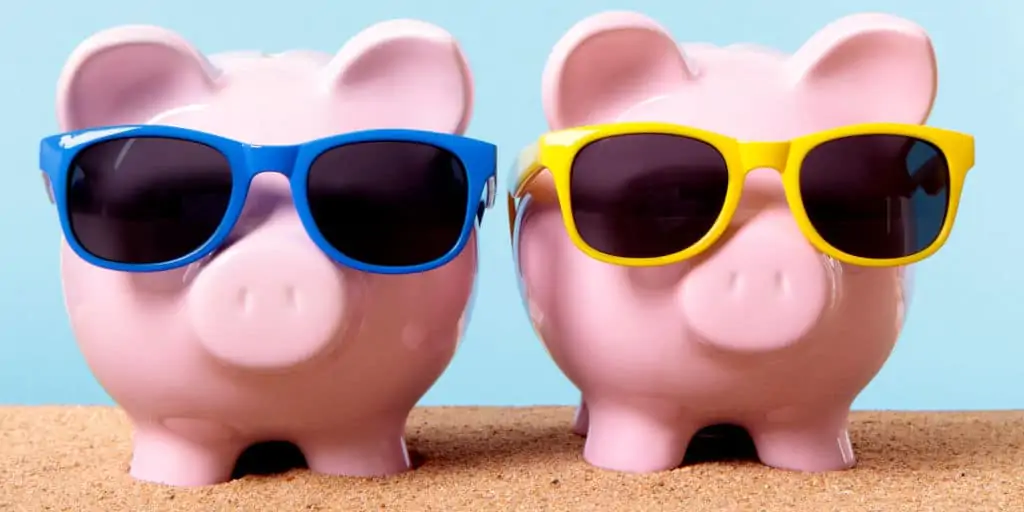 (This page may contain affiliate links and we may earn fees from purchases at no additional cost to you, i.e., as an Amazon Associate, we earn from qualifying purchases. These earnings help offset the cost of running this site. You can read our Disclosure and Disclaimer for further info.)
Household Expenses
Food & Grocery Bills Travel With You
While you're at your snowbird destination, you won't be filling the freezer and pantry back home. Best of all, some of your groceries may cost less when you're down south.
You'll also get to enjoy local fruits and seasonal vegetables when you're soaking up the sun. And some snowbirds even plant gardens and pick fruit from their trees each winter.
In addition to bulk shopping at warehouse clubs and scanning the weekly offers at your favorite grocery store, you can rein in your spending on food by shopping at discount stores such as Aldi.
Using a no annual fee credit card such as the American Express Blue Cash Everyday card can save you another 3% on groceries (up to $6,000) each year. That's up to $180 in cashback on your grocery bills.
Utilities Cost a Lot Less While You're Gone
Heating two homes would be rather expensive. But, when you're away from your primary residence up north, you don't have to keep that home at a toasty 70-something degrees to keep up with the cold weather.
Lowering the heat by 10 degrees or more will reduce your energy bills by a significant amount.
You don't want to cut the heat off entirely, though. HVAC companies generally suggest 55 as the lowest temperature to set your thermostat while you're away. You want to make sure you prevent costly water damage that could result if your pipes freeze when you're gone.
Other utility bills such as water & sewer or electricity will also not double since you'll only be using them minimally, if at all, at one location while living at the other.
Cable TV and Internet Services Can Be Paused
When you're away from either home, you can usually pause entertainment services. Speak to your service providers to see what they can do and if seasonal billing is an option.
Even if you're in a contract, they may offer a low-cost fee for pausing your cable and internet subscription. It might not eliminate your expenses altogether, but it could cut them by half or even more.
Skip Payments for Snow Removal
If you aren't living up north in the winter, you won't worry as much about snow. Unless you have to shovel sidewalks in front of your home, just let the snow in your driveway melt once spring arrives.
Plowing the driveway either takes a lot of your time or costs plenty of money to hire out. Regardless, if you're living in the south, you may not have to worry about it. 
Additional Reading: Checklists to Help Manage Snowbird Living
Vehicle Expenses
Downgrade Auto Insurance When You're Gone
As a security measure, you may decide to leave a car at the snowbird residence you're leaving vacant when you "fly south" or head back up north for the summer. That would make it look as if someone were living there all the time.
Plus, you may be able to save some money by adjusting your standard insurance policy. Call your insurance carrier and inquire about switching to a storage or "garage" policy each time you leave.
If it's an option, these adjustments may reduce your premium. But make sure you have comprehensive coverage if you want to protect against weather-related damage or vandalism.
Another bonus of this plan? You won't have to worry about bringing a car when you return to your other home. One will always be there waiting for you.
You Only Pay for Gasoline at Home
Finally, your transportation expenses probably won't double, either. Whether you're at your northern or southern snowbird location, you only put gas in your car in one place.
Even though gas isn't an extra expense, you may be able to save a few extra cents per gallon by using the Gas Buddy app. 
Remember, some popular credit cards offer up to 5% cash back on gas during some quarters of the year. The Chase Freedom Flex and the Discover It Cash Back cards are both no annual fee options that may earn you a few extra bucks at the pump.
Buying Something Affordable Has Its Benefits
Most people would consider housing to be their most significant expense. Your northern housing costs may be a big part of your monthly budget. Purchasing or renting different winter destination places in the south may be less expensive overall.
Property Tends to Be Cheaper Down South
Northern states have some of the highest property values in the country. So, regardless of the home, it may cost more than comparable southern properties.
When you're snowbirding, you'll have access to the country's least expensive properties. Unless you're on the beach or golf course or in a metro area, renting or buying a home in the south could cost significantly less than it would up north.  
You Won't Spend as Much on Property Taxes
Your monthly property tax bill could be as much as the monthly principal, interest, and insurance payments in some states.
Luckily, many southern states tend to have lower property tax rates. In fact, they've got some of the lowest property taxes in the entire country.
When you save on real estate taxes for one of your snowbird destinations, you won't be doubling your tax payments. 
Your Home Away From Home Doesn't Have to Be a Mansion
Sure, living in a big house feels pretty nice. But, just because you'd love to live in a mansion doesn't mean you've got to or that it's even practical.
A small single-family home, a manufactured home, a condo in an active snowbirding community, or an RV can be a wonderful home away from home without breaking the bank.
Plus, the less you pay for a home, the more money you could have available for other travel or activities.
As you plan a snowbirding budget, stick to a smaller residence and steer clear of an overly popular snowbird destination. That way, it'll cost less to purchase.
Your heating and cooling bills won't cost as much with a smaller home too.  And hopefully, it'll be even cheaper to maintain and insure.
You could also consider downsizing your northern home to make having two homes affordable.
Rent Something for an Extended Period Instead of Buying
You could also avoid purchasing a new home entirely. Renting a place for a few weeks should be within most snowbird budgets.
Compared to buying a new place, it might only cost a third (or less) of what you'd expect. Plus, you won't have to worry about leaving a home empty while you're away.
You may decide that you want to "try out" different southern cities and states. When you rent in the winter season, you don't have all of the sunk costs of getting a mortgage and maintaining a home in an area where you may not want to stay.
Either Home Could Become Rental Property
No matter where you own property, you may consider leasing it out. Renting your permanent residence or vacation home could become a new source of income. That way, your properties may actually pay for themselves.
Short-term rentals tend to command a higher premium, too. So, for property owners near a tourist destination, you could bring in a lot of extra income.
How Much Does Snowbirding Really Cost
Truthfully, the cost of snowbirding depends upon the person. Some winter visitors might spend more than double their normal living expenses.
But that's far from a hard fact or rule of thumb. You could make this lifestyle happen on a lot less.

Most of the time, spending the winter months in the south might add approximately 30% – 50% to your overall expenses. Yet, if you spent time really planning it out, you could spend even less.
Frugal Living Could Help Out
Are you interested in making your dream happen at all costs?
If so, there are a ton of ways you can cut back on expenses at home. And you can reduce them even more while you're traveling or living in a warmer climate.
Here are a couple of ideas that should make it even easier to start snowbirding this winter season.
Cook More Meals at Home
At $10 a meal, you could spend upwards of $30 a day eating out. Double that if you have a partner.
Sure, learning how to cook might not be on your bucket list. But cooking everything yourself could save you hundreds of dollars each month.
Instead of going to restaurants, prepare your meals at home. Make meal prepping a habit.
Simply cooking at home could cut your food budget by more than half. Surviving on about $200 a month per person shouldn't be too hard for the truly frugal.
Avoid Hiring Help
Have you been paying for a cleaning service or lawn care at home?
That certainly helps you spend a lot less time on tedious chores, but it could eat up part of your budget. Instead of spending money on that, consider doing it yourself.
Then, use all the money you've saved to put toward your snowbirding budget.
Pick Up Inexpensive Hobbies
Even your hobbies might cost more than you realize. Swap out a few costly rounds of golf for free games of pickleball at a local park.
There are also plenty of inexpensive workout options rather than paying hundreds of dollars (or more) for a gym membership each year.
Snowbirding on a Budget
Living the active lifestyle of a snowbird can be a lot more affordable than most people realize.
You can spend quite a bit less on your snowbird home than you do at your primary residence. Plus, you can cut back on other expenses to make it easier on your bank account.
If you'd love to try snowbirding in warm weather, put a plan into place and make it happen.
Next: