Affordable Snowbird Destinations in New Mexico
While many people "flying south" for the winter head to a snowbird hotspot such as Florida, Arizona, and Texas, there are plenty of great places to chase the sun and warm weather in New Mexico. 
You may picture endless square miles of the desert landscape when you think of New Mexico. But it has a diverse geography, including grasslands, plains, plateaus, forests, mesas, and mountainous regions.
Snowbirds who give New Mexico a closer look are usually pleasantly surprised by the variety of landforms and property it has to offer!
New Mexico's climate varies greatly depending on where you are in the state. But you'll avoid the scorching summer heat when you visit during snowbird season.
Depending on what region you "land" in, high temperatures in the coldest winter months can vary from the 80's to the 50's.
And no matter what activities you enjoy, you'll find plenty to do in New Mexico!
Go hiking, fishing, cycling, horseback riding, boating, and golfing, or find a ghost town or two (or 400!) to explore in New Mexico.
Visit Carlsbad Caverns National Park or Elephant Butte Lake State Park. Or spend time at historic sites, monuments, or a local museum.
Go shopping at an outlet mall, soak in hot springs, or relax and take in all that New Mexico has to offer!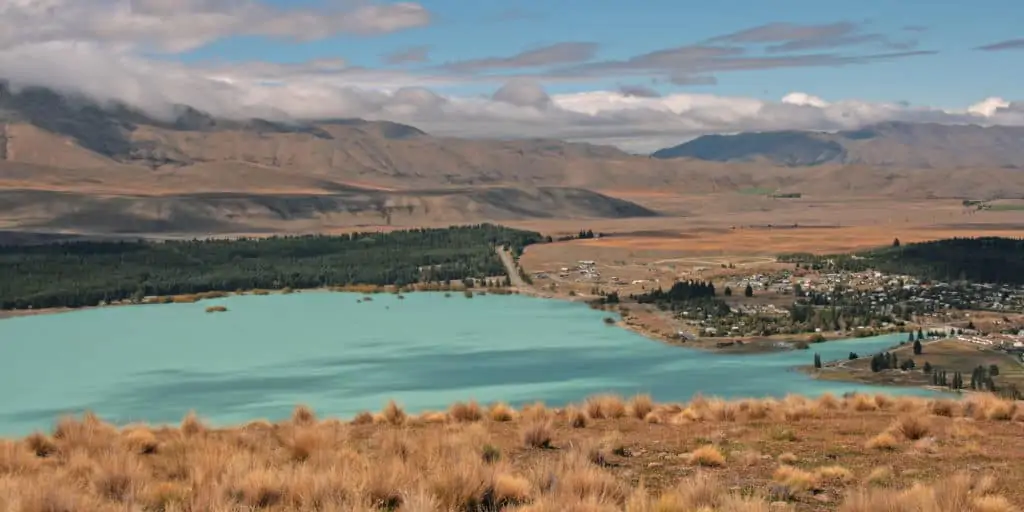 (This page may contain affiliate links and we may earn fees from purchases at no additional cost to you, i.e., as an Amazon Associate, we earn from qualifying purchases. These earnings help offset the cost of running this site. You can read our Disclosure and Disclaimer for further info.)
11 Budget-Friendly Snowbird Destinations In New Mexico
Not sure where to start your search for a snowbird community or RV park in New Mexico?
Here are some of our top picks for affordable snowbird destinations in the "Land of Enchantment" (in no particular order):
1.  Silver City
If you're a sun seeker or gardener, consider Silver City as your snowbird home. Residents of Silver City enjoy more than 300 hundred days of sunshine each year.
Daily high temperatures during the winter range from the 50's to 70's, with lows around freezing on the coldest nights.
This small town of just over 10,000 people is in the southwest corner of New Mexico, near the Gila National Forest.
You'll enjoy arts and entertainment, festivals, historical sites, and plenty of outdoor recreation in and around Silver City. Check out the website VisitSilverCity.org to learn more about this beautiful and "quirky" destination.
According to Salary.com, the cost of living in Silver City is 12.5% lower than the national average.
2. Carlsbad
You may be more familiar with this southeastern New Mexico city because of its famous National Park – Carlsbad Caverns.
The Pecos River runs right through the heart of Carlsbad, and Guadalupe Mountains National Park is close by too. 
The Carlsbad Chamber of Commerce boasts that in addition to the two national parks, you'll have the opportunity to enjoy
"two state parks, outstanding and affordable golf courses, an abundance of cultural and outdoor activities, world class restaurants, downtown shopping, two senior recreation centers, a library and museum" and more!
Carlsbad's population is over 30,000, making it big enough to offer a wide variety of activities yet still have a reasonably small city feel.
High temperatures in Carlsbad range from the upper 50's to the low 80's in the winter, and nighttime temperatures drop just below freezing in December and January.
You might see a few inches of snow and some windy days during snowbird season, but nothing like you'd experience back at your home up north.
According to Salary.com, the cost of living in Carlsbad is 13.5% lower than the national average. 
3. Hobbs
Located in the southeastern corner of New Mexico, Hobbs is found in both a desert and mountainous region. Known for its clear skies and amazing sunsets, those who love the outdoors can enjoy plenty of activities in Hobbs. 
The climate in Hobbs is similar to Carlsbad. You'll see low temperatures around the freezing point in the winter, but sunny days and highs in the 50's and 60's make the coldest nights tolerable. And for much of the snowbirding season, you'll enjoy perfect weather – highs in the 70's and 80's and lows near 60.
The population of Hobbs is approaching 40,000 people. It has a multicultural heritage and a flourishing arts community. When the weather cooperates, you'll see plenty of gliders courtesy of the Hobbs Soaring Society members.
According to Salary.com, the cost of living in Hobbs is 12.4% lower than the national average.
4. Rio Rancho
When you're looking for a centrally located snowbird home, Rio Rancho may meet your needs. One of the biggest cities in New Mexico, this suburb of Albuquerque offers something for everyone.
You'll enjoy hiking, golfing, fishing, mountain biking, and more in Rio Ranch. And if you're fans of the arts or history buffs, you'll find world-class museums and local churches and monuments to explore.
There's also no shortage of stores for those who enjoy shopping!
During the winter, snowbirds in Rio Rancho have slightly cooler winter temperatures than some of the other cities in New Mexico. While it may not snow much (if at all), winter highs range from the upper 40's to the low 70's, and nighttime temperatures can drop well below zero.
According to Salary.com, the cost of living in Rio Rancho is 7.8% lower than the national average.
5. Grants
Grants is a small city of approximately 10,000 people about 75 minutes west of Albuquerque. Located along the scenic Trails of the Ancients Byway, Grants is also on the historic road Route 66.
The El Malpais National Monument, La Ventana Natural Arch, the Land of Fire & Ice (Bandera Volcano & Ice Cave), and the New Mexico Mining Museum are top visitor destinations in Grants.
You can also check out plenty of restaurants, breweries, galleries, and trading posts.
While you may see a little bit of snow or rain in the winter months, Grants receives very little precipitation during the year.
Temperatures can dip into the low 20's during the winter, and daily highs may only reach the mid 50's on the coldest days. But overall, the weather in Grants is much nicer than snowbirds would experience back in their northern homes. 
According to Salary.com, the cost of living in Grants is 9% lower than the national average.
6. Las Cruces
For those who like more action, Las Cruces is the second biggest city after Albuquerque. With over 300 days of sunshine a year and high winter temperatures ranging from the upper 50's to almost 80, Las Cruces's climate is described as 'perfect' by many snowbirds.
You'll enjoy gorgeous landscapes, unique dining experiences, and rich historical sites in and near Las Cruces. Outdoor recreation options are also plentiful. White Sands National Park, Lincoln National Forest, and Roswell make great day trips. 
The region around Las Cruces is also known for winemaking. You can experience all types of wines at a dozen or so wineries in and around Las Cruces.
According to Salary.com, the cost of living in Las Cruces is 11% lower than the national average.
7. Truth Or Consequences
Formerly known as Hot Springs, this small town changed its name to Truth or Consequences (aka T-or-C or TOC) to win a radio show contest in 1950. "Fiesta" is still celebrated the first weekend in May each year to honor this change.
Unsurprisingly, you'll find several hot springs and spas in Truth or Consequences. The city is situated along the Rio Grande River, surrounded by mountains and desert.
TOC is between the Gila and Lincoln National Forests and is only about two hours away from Albuquerque, New Mexico.
Snowbirds enjoy the climate in Truth or Consequences. Daytime temperatures range from the mid-50's to around 80 in the winter, and nighttime lows rarely go below freezing.
According to Salary.com, the cost of living in Truth Or Consequences is 12.5% lower than the national average.
8.  Anthony
Anthony is a small city located in south-central New Mexico. Approximately a 20 mile jaunt north of El Paso, Anthony is situated along the Rio Grande Valley.  
You can visit the War Eagles Air Museum, Franklin Mountains State Park, and several vineyards and wineries in the vicinity of Anthony. Those who enjoy shopping can check out the Whoopee Bowl Antique Mall and wander through the Outlet Shoppes at El Paso.
Snow is a rare sight in Anthony, and it only gets slightly below freezing at night during December and January. Snowbirds will enjoy sunshine and temperatures in the upper 50's to about 80 during most of the winter in Anthony.
 According to Salary.com, the cost of living in Anthony is 16.2% lower than the national average.
 9. Eunice
If you're a snowbird looking for a really small town for your winter home, Eunice might meet your needs.
Located in the southeastern corner of New Mexico and close to the Texas border, you'll enjoy a temperate winter climate in Eunice. Temperatures rarely dip below freezing, and daytime highs in the winter generally range from the upper 50's to 70's.
Eunice has a large municipal golf course and the basic amenities of a town with a population of around 3.000 people.
You can take day trips to places including Carlsbad Caverns National Park or larger cities like Lubbock, Texas.
According to Salary.com, the cost of living in Eunice is 12.4% lower than the national average.
10. Sunland Park
If you want to head as far south as you can in New Mexico, check out Sunland Park, which lies on the border of Texas and the Mexican state of Chihuahua. Located approximately 10 miles from El Paso, living in Sunland Park gives you quick access to a metropolitan area.
Snowbirds who choose Sunland Park enjoy sunny and warm winter days (60's to upper 70's), and there are rarely nighttime temperatures below freezing.
Some of the destinations to visit in Sunland Park include local parks, nature preserves, golf courses, and beer gardens.
The Sunland Park Racetrack and Casino is another popular attraction for people who visit or live in the area. You'll find racing, entertainment, dining, and other events to experience at this venue.
According to Salary.com, the cost of living in Sunland Park is 15.8% lower than the national average.
11. Gallup
Located in the northwestern region on historic Route 66 and near the Arizona border, Gallup is a small city with approximately 22,000 people.
You'll be immersed in red rocks and the rich history of Native American culture in Gallup. Visit the Gallup Cultural Center, Navajo Code Talker Museum, and the Rex Museum.
There are also many trading companies, festivals, rodeos, and more to take in throughout the year. You can also get to beautiful Blue Water State Park in less than an hour.
The climate in Gallup in the winter is colder than in many parts of New Mexico. In December and January, daytime temperatures may only reach the 40's or 50's, and you may even see teens or single digits at night.
Snowbirds will enjoy sunny days, though. And there's very little snow to worry about in Gallup.
According to Salary.com, the cost of living in Gallup is 9.0% lower than the national average.
Snowbirding in Affordable Locations in New Mexico
US and Canadian Snowbirds flock to New Mexico to enjoy the moderate climate and abundance of outdoor recreation during their winter vacation.
They also benefit from a lower cost of living, affordable snowbird rentals and vacation homes, and a slower pace of life. You can craft the snowbird lifestyle of your dreams in many different locations in New Mexico.
Check out popular snowbird destinations such as Santa Fe and Albuquerque but don't forget about some of the smaller unsung snowbird destinations that might suit you (and your budget) well too!
Next: