Should I Buy an RV to Snowbird?
When you enjoy camping and are thinking about heading south over the winter months, you might wonder if the RV snowbird lifestyle is right for you.
If you pull into RV resorts in popular snowbird destinations, you'll see plenty of other people who think it's the right move!
People escape freezing temperatures up north and settle into an RV park to enjoy the sunshine and warm temperatures.
While some hit favorite destinations for a couple of weeks and move around, others choose monthly sites or stay in one place for the entire winter.
Many RV resorts offer amenities such as picnic tables, a heated pool, hiking trails, pickleball courts, community rooms, paved roads,  and fitness centers.
But there's a wide range of options depending on the type of RV Park you choose.
If you skip the swimming pool and bypass popular locations, you can avoid cold snaps while enjoying RV life and pay low park fees at some of the cheapest snowbird campgrounds around.
But before you pick a winter destination and start looking at RVs to buy, we encourage you to read on.
Deciding on an RV life can be a big financial move impacting the snowbirding budget you set for yourself.
So it's important to carefully consider different types of RVs, renting vs. buying an RV, and buying a new or used unit.
We'd also encourage you to read our article about the various types of snowbird communities that exist before you book a spot at an RV park.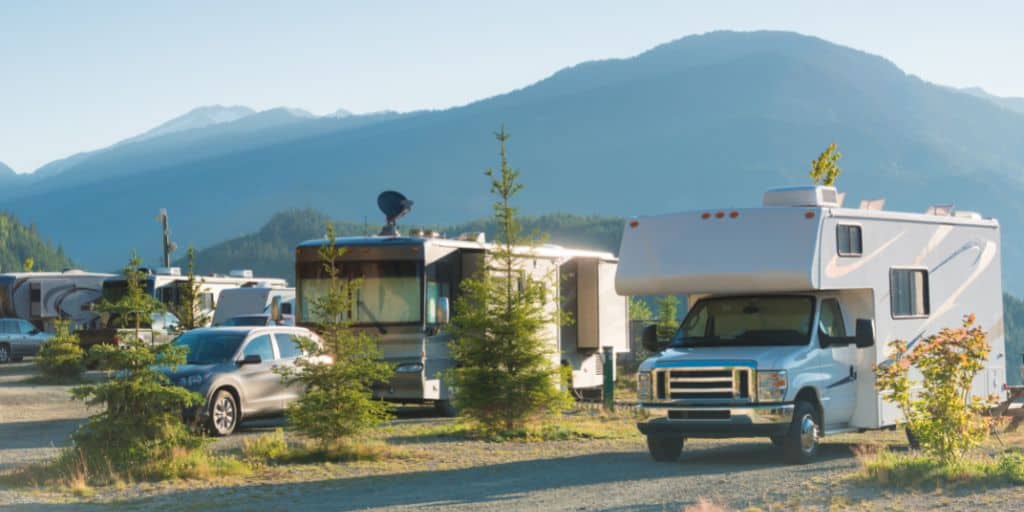 (This page may contain affiliate links and we may earn fees from purchases at no additional cost to you, i.e., as an Amazon Associate, we earn from qualifying purchases. These earnings help offset the cost of running this site. You can read our Disclosure and Disclaimer for further info.)
Types of RVs
The types of RVs are usually broken down into two distinct categories. These include motorhomes and towables. While there is some overlap, each type of RV serves a specific purpose.
Let's take a look at how each one works.
Motorhomes
A motorhome is an RV with a built-in engine that you can drive. This makes it ideal for carrying people and cargo over long distances.
Many people use motorhomes for vacationing or as a second home, yet others live in them full-time.
Motorhomes come in different sizes and types, some being more luxurious than others. They also fit a variety of budgets. New RVs range in price from $35,000 to over $300,000.
Whether you're a retiree planning to spend months on the road wintering in warmer climates or someone ready to try out a nomadic lifestyle, you can find new or used RVs with features to meet your needs.
Class A Motorhomes
The class A is what many people think about when they hear the word "motorhome". These are large "homes on wheels" (that look like a bus) and offer more space, storage, and luxury amenities than other types of motorhomes.
If you'll be spending the entire snowbird season in the south and money is no concern, you'll likely be most content in a "motorcoach" or Class A vehicle.
Still, the maneuverability of these 26-45 foot long giants is also concerning to some snowbirds making pull-through sites at campgrounds and resorts a must.
Class B Motorhomes
A class B motorhome is basically a van transformed into a moveable home. These "campervans" are typically built on a much smaller chassis than a traditional RV. They're usually about 15 feet long, making them easy to drive and park wherever you want.
While you may be able to stand up in a Class B, you won't have the space other classes of RVs enjoy.
If your snowbird travels will have you moving frequently or if you're only venturing south for a short period of time, this may be a good (and more reasonably priced) option.
Class B's also make great vehicles for day trips no matter where you spend the summer. 
Class C Motorhomes
If you're looking for something cheaper and easier to drive than a Class A, but an upgrade from a Class B – the Class C motorhome may be a perfect compromise.
You'll recognize the Class C motor homes when you're on the road as the RV with a bed above the cab of the vehicle. 
Class C motorhomes vary considerably in size, amenities, and price range. They may be a great option if you plan on having company stay in your RV because of their overall size and sleeping arrangements.
Some Class C motorhomes also have the ability to tow a car. 
Towable RVs
A towable RV is a trailer that requires a separate tow vehicle. Unlike a motorhome, where you'd need to tow a separate car, this arrangement allows you to have a vehicle and leave the towable behind.
Towable RVs are generally smaller than most Class A and some C motorhomes. Two examples of towables many snowbirds use include:
1) Travel Trailers 
Travel trailers are the most common type of towable RV. These are the units you see being pulled behind trucks, SUVs, and even some cars.
They range in size from 12 to 35 feet long and come with a wide variety of floor plans and amenities.
A much cheaper option than most motorhomes, you'll spend between $10,000 to $35,000 depending on the size of the trailer and what's included in the unit.
2) Fifth Wheel Trailers
You'll need a large pickup truck to tow a fifth wheel trailer. The hitch of this type of trailer is usually in the bed of the truck and helps prevent the swaying of the trailer as it's towed.
Fifth wheels may also be easier than travel trailers for a driver to maneuver. Your pickup truck can then be used as your primary vehicle when detached from the fifth wheel trailer.
Similar to other RVs, you can find fifth wheels ranging in price from around $10,000 for smaller used units to over $100,000 for luxury models. 
Renting vs. Buying an RV
Now that you know a little bit more about different RV options, should you rent an RV before deciding to buy one?
It makes a lot of sense to rent an RV if you've never owned one or spent much time camping.
Going south for the winter may be like an extended vacation for some. But seasoned snowbirds will tell you winters in the south aren't just for golfing, beach walking, and going out for dinner.
You'll be living in a new area and living space for an extended period of time. This can be very stressful, depending on your lifestyle, personality, and budget.
In addition to how expensive they are, a Class A motorhome may be overkill in terms of size and a real hassle to drive. But you might be too cramped in a 16-foot travel trailer when your kids come and visit.
Spending time in different rental units will help you to decide between what you need and want in an RV.
With the popularity of camping in some snowbird destinations, it may be costly and very difficult to find an RV to rent in peak season.
Another option is renting RVs when you're living at your northern home during off-peak times. The first weeks of May and early September are still great times to camp in many up north regions.
Check out the discount specials on Cruise America or El Monte RV. There are also peer-to-peer options such as RVShare and Outdoorsy.
You'll find numerous rental options, including having the RV delivered to you or to a campsite for you to use.
Don't make the mistake of thinking you're wasting your money renting when you could put the cash toward buying an RV.
You're much less likely to regret an RV purchase after you've spent overnights in different RVs and campgrounds or resorts.
Keep in mind that trying to sell an RV you don't want can be very expensive and time consuming.
After you spent some time in your rental, you may decide that the RV snowbird lifestyle really isn't for you.
Buying a New vs. Used RV
If you decide to give the RV lifestyle a try, you may wonder if it's worth it to buy new or if a used model will meet your needs. Here's some information that can help you choose:
New RVs
Your new RV comes from the manufacturer and hasn't been lived in by anyone else. Buying new allows you to choose packages of amenities that best suit your needs and include customized features you want in your RV. A manufacturer's warranty is likely part of your RV purchase too.
Yet, buying a new RV comes with a higher price tag than purchasing the same model used. The insurance premiums will likely cost more too.
And similar to new cars, your RV depreciates immediately after you take it off the dealer's lot. The depreciation in the first years of ownership is significant compared to used RVs.
Used RVs 
You'll save money upfront by purchasing a used RV. While the model you buy may not have all the "bells and whistles" you want, you can use some of your savings to upgrade or personalize your unit.
Of course, you'll still have to insure your RV, yet the premiums will likely be cheaper than if you bought one new.
Although you could run into repair issues with a new RV, you're more likely to experience problems with a used one. The RV may have a limited warranty or no warranty at all.
Be sure to have a well-funded repair and maintenance budget when buying used. You may have no issues, but it's definitely better to be proactive because of the high cost of parts and services for RVs.
Does New or Used Make Sense For You?
If the expense of buying a new RV is not a concern, it's likely a smart decision to buy the RV you want and will enjoy.
But if you'll only be spending a month or two in your RV each year, it may make more sense to opt for a high-quality used vehicle that meets your needs and is more affordable.
When you're working with a tighter budget, prioritize what matters most to you and select an RV you won't go into debt for.
If buying new is a priority, a smaller unit with fewer features will make your dollars go further. When buying used is an option, there are a variety of factors that influence the price.
Rank your priorities and use them to narrow down the different RVs you find for sale.
Some people decide to live full-time in an RV in their snowbird and northern destinations. In this case, choosing a new RV may be the right move.
When your RV is the only place you call "home," – you want it to include everything you can afford and be a reliable long-term purchase.
Still, there are many beautiful, gently used RVs that could "check all of your boxes," too!
With a purchase as big as this, it's important to keep an open mind and look at different possibilities.
Final Thoughts on Buying an RV to Snowbird
The idea of spending winters camping out in the sunny south may seem like a dream come true. But you'll have plenty to think about when you're making a decision to purchase an RV. 
While an RV may be cheaper upfront when compared with a condo or home in snowbird destinations such as Florida, South Carolina, or New Mexico, keep in mind that you may need to store it if you aren't living in your RV full-time.
This is another expense to add to your snowbird budget.
Finally, camping in some locations is relatively cheap for full hookup sites, but spending your RV life in a resort can get expensive.
You may save with camping memberships such as those offered by Good Sam and KOA or with monthly camping rates, especially if you stay for an entire season.
Just remember, electric hookups are generally separate in an RV park. Electric bills could run over $100 a month during the warmest months of your stay.
If you enjoy meeting new people and spending time outdoors, then living an RV snowbird lifestyle may be a great option for you.
Campers and campground staff tend to be very welcoming of other travelers. You have a built in community every time you open your door and go out for a walk in a campground. 
Living the RV life isn't for everyone, but it may be the only snowbird life for you!