5 Great Beachfront RV Parks on Florida Panhandle
If you're a snowbird looking for a place to park your RV and enjoy the winter, Florida's Panhandle region has some terrific RV parks right along the beautiful beaches.
And don't skip researching RV camping if you don't own a rig either! You may be able to enjoy the amenities of an RV park by booking a "park model" or "vacation rental" unit available at some resorts.
The "Emerald Coast" region does have colder winter months than southern Florida. But plenty of snowbirds prefer the slower pace and smaller crowds in the Florida Pandhandle.
If you're thinking about heading south for the winter, don't wait too long before you make a reservation. You'll see that some parks already have limited availability.
But if the time period you are trying to book is already taken, ask to be put on a cancellation list. Your preferred dates may become available because there are many reasons a traveler's plans may change.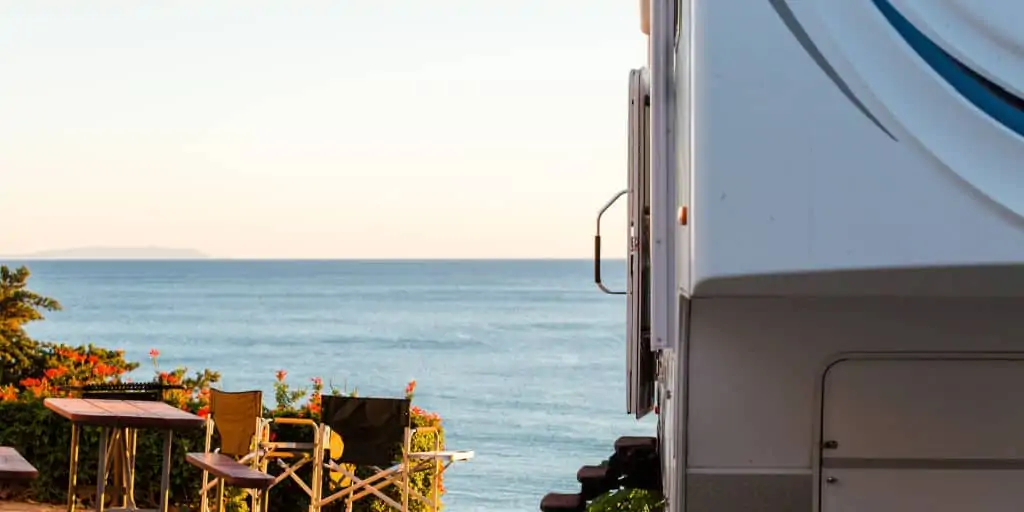 (This page may contain affiliate links and we may earn fees from purchases at no additional cost to you, i.e., as an Amazon Associate, we earn from qualifying purchases. These earnings help offset the cost of running this site. You can read our Disclosure and Disclaimer for further info.)
5 Great Beachfront Parks for RV's
There are several RV campgrounds and resorts located throughout the panhandle of Florida. Here are some of the best ones to consider when planning your next trip.
Located in Panama City Beach, the Emerald Coast RV Resort caters to campers of all ages.  With well over 100 sites and dozens of rental units, this year-round park is one of the Sun RV Resort communities.
You can find other Sun RV Resorts across the United States and in Ontario, Canada.
Emerald Coast RV Resort is a gated property that offers water hookups, along with sewer, cable, WiFi, and 20-, 30-, and 50-amp electric hookups. It's also pet-friendly.
Near the office, you'll find a clubhouse, pool, hot tub, and fitness center. Horseshoes and bocce are camper favorites too! You're also near all of the activities that Panama City Beach has to offer.
If you don't have an RV, there are Lake Park model rentals available. These weekly rentals are one-bedroom units that can accommodate up to four people. 
With more than 360 reviews and an average score of 4.4/5, campers report that Emerald Coast RV Resort is clean, safe, quiet, and close to everything.
If you're interested in making a reservation, you can check here for availability.
In a recent search, the average price per night for a 6-month stay was $38.04/night. This includes monthly and long-term discount rates.
| | |
| --- | --- |
| $90.87 x 180 Nights | $16,357.20 |
| 3 Month Rate | -$7,118.18 |
| Monthly Rate | -$2,391.03 |
| Campground Fees | $3.00 |
| Taxes | $410.88 |
| Site Total | $7,261.87 |
Another Panama City Beach favorite is the Pineglen Motorcoach and RV Park. You'll enjoy the screened-in pool, stocked fishing ponds, wooded walking trails, and covered seating areas. There are even waterfront sites available.
Pineglen is right off the PCB Parkway and near the pier and ballpark. There are also large grocery and big box stores, movie theaters, and golf courses close by.
On-site at the RV Park, you can play horseshoes, ping pong, and other games. There's also a resident manager available to assist you with anything you need.
Full hookups, including basic WiFi, are available, and campers appreciate the climate-controlled bathhouses and laundry facilities. Pets are also welcome at Pineglen, and there's even a dog walk, run, and wash station. 
With over 250 reviews and an average score of 4.5/5, campers report that the Pineglen Motorcoach and RV Park has beautiful landscaping, plenty of shade, and a friendly atmosphere.
Winter and summer rates are posted as follows:
Winter – November 1st – February 28 (monthly) $1290
Summer – March 1st – October 31 (weekly) $480
You can also find a 3-month winter special of $3500 from November through February.
Call 850-230-8535 to check on availability.
Located five minutes west of Destin in Fort Walton Beach, the Destin West RV Resort is for beach and ocean lovers. There's no shortage of sun, surf, and sugary white sands for your enjoyment. 
You'll have full access to all of the amenities of the Island Hotel right on the gulf. That's a waterfall pool and bar, restaurants, beach access and bar, games, activities, and more. 
Long-term monthly RV site rentals are available from November through February. 
With an average score of 4.4/5, there are over 260 reviews about the Destin West RV Resort. Campers report that they enjoy the true resort experience right on the bay. In addition to there being a lot to do, the resort is clean and has a friendly atmosphere.
You can go online and search available sites based on your arrival and departure dates. Another option is to choose a specific site to see when it is available to book.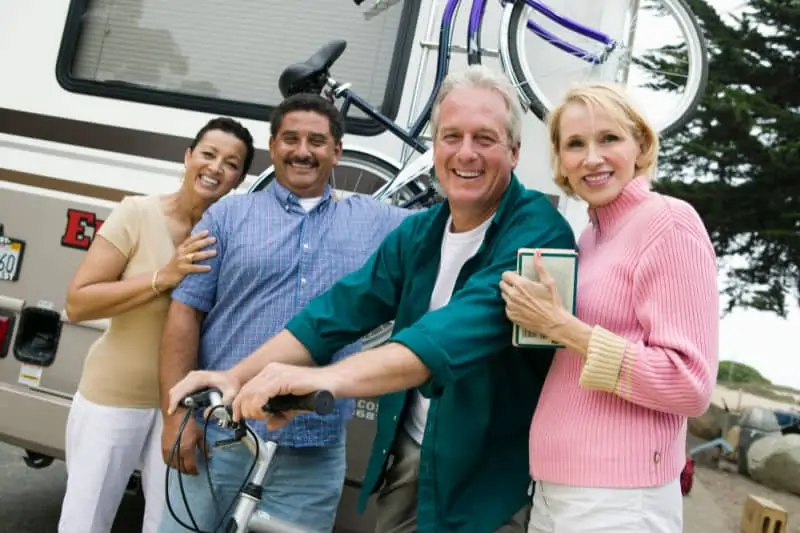 Navarre, Florida, is the home of the Emerald Beach RV Park. You'll enjoy the peaceful atmosphere of Navarre – aka "Florida's most relaxing place," and your pup will enjoy the dog-friendly beach!
RV sites have full hookups (30/50 amp), including free digital cable and basic WiFi (not streaming capable.)
In the winter months, there's a heated pool, and laundry facilities are open 24 hours a day. Propane and ice are also available.
Activities are scheduled in peak season. But the fishing pier and white sandy beaches along the sound are available to campers year-round.
With over 400 camper reviews, the average rating is 4.5/5. Comments included "immaculate, helpful staff, amazing sandy beach access, and dog-friendly beach."
While you can book a site up to 18 months in advance, monthly rentals aren't available in March, June, or July. And some prime sites are never rented at monthly rates. 
Here is an example of current rates (9/2021):
Regular sites – Summer (April, May, August, September) 45′ is $957.60/month, 65′ is  $1006.88.
and $767.20/month (October – February) and 65′ is $828.80.
| | | |
| --- | --- | --- |
|   | Summer | Winter |
|   | April, May, August & September  | October-February  |
| 45′ Regular Sites  | $957.60  | $767.20  |
| 60′ Regular Sites  | $1006.88  | $828.80 |
You'll find Geronimo RV Park in beautiful Miramar Beach, Florida. But you'll have to check in early and often to get reservations at this small RV park a few miles from the city of Destin. 
There are only 34 sites at Geronimo RV Park, and they don't have some of the amenities you'll see in resort parks. There's no swimming pool, fitness center, or playground, but there's a large field and a place to walk your dog.
Basic services are available (restrooms, hot showers, coin-operated laundry), and you'll appreciate public access to the beautiful sugar-white sand beach just a couple of blocks away.
You can spend hours beachcombing without all of the crowds of South Florida beaches.
This hidden gem is a favorite of many RV'ers who aren't looking for resort experiences.
You can check out over 200 reviews that have an average ranking of 4.7/5 with comments including clean, small, beautiful, excellent WiFi, and friendly atmosphere.
The best way to find out if you can land a spot at Geronimo RV Pak is to call them at 850-424-6801. They also have a contact page on their website for general questions.
Here are their monthly rates (published as of fall 2021).
| MONTHLY RATES | PRICE |
| --- | --- |
| February | $1,495 |
| March – April | $1,795 |
| May – July | Weekly Rate |
| August – September | $1,795 |
| October | $1,595 |
| November – January 2022 | $1,395 |
Camping Near the Beach on the Panhandle of Florida 
All of these campgrounds and resorts are great options for snowbirds who don't mind chillier temperatures in the winter months.
While it certainly beats the snow and cold of the north, you can expect 30s and 40s at night, and daytime high's in the 50s and 60s in December and January.
These Florida beach RV parks are all located near hiking trails, golf courses, and popular tourist destinations. This means that you won't have to drive far to see what the area has to offer. You may be able to walk or ride bikes to restaurants, shops, and more.
This is beach camping at its finest!
Many RV parks offer discounts on monthly or seasonal stays. So consider whether it makes sense financially to check out multiple parks on your travels or stay put for a longer period of time.
Most parks are also pet-friendly but make sure to check out the rules around pets before you book a reservation. You should also travel with all of your pet's medical records. 
Finally, many RV resorts aren't just for RV'ers!
A number of campgrounds and resorts now offer camping cabins, rental trailers or RVs, and park model cottage units for rent.
If your days of tent camping are long gone, but you want the campground experience without having to buy and store a large unit, this is a great option.
No matter where you choose to stay on your road trip, you'll enjoy the sunshine and laid-back atmosphere, smaller crowds, and wide variety of activities available in the RV resorts and parks in the panhandle region of Florida!
Next: