Challenging Our Need To Drive Our Car
I couldn't wait to get my driver's license when I turned 16. I got my permit on my birthday and passed my road test a few months later.
During that time, I passed driver's ed and practiced driving every single day. Being able to drive was a freedom I couldn't wait to have.
I even saved up enough money from babysitting, delivering newspapers, and lifeguarding to buy a car – a used Chevy Chevette – before my junior year of high school.
I've driven now for over 39 years. 
I've used cars to get to school, work, and grocery stores. I've taken road trips to visit family and friends and to see new places. And I spent plenty of time driving my kids to their sports, activities, and school functions.
But as my husband and I got serious about retirement planning and eventually moving south, we decided to really look at how much driving we wanted to do.
We challenged our normal habits and routines and decided to find a home where we would hardly need a car.
(This page may contain affiliate links and we may earn fees from purchases at no additional cost to you, i.e., as an Amazon Associate, we earn from qualifying purchases. These earnings help offset the cost of running this site. You can read our Disclosure and Disclaimer for further info.)
You'll see I said hardly because we aren't giving up our (old) cars. We are "snowbirds" and we leave one car in Florida and one in New York. We're already a one-car couple in each state.
But honestly, we think we'll drive very little when we're in Florida. 
Let me explain a little bit more about our retirement home and why we chose it, the options we have to eliminate/reduce our car trips, important reasons we're choosing less driving, and share how our 10-day "trial run" without our car has gone.
Snowbirding in South Sarasota
We enjoy the beautiful Finger Lakes region in New York, but we are done with winter weather. I grew up near Buffalo and my husband near Syracuse. We've seen our share of windy and cold days, along with plenty of snow.
Now in winter, the only white stuff we want to see is sand.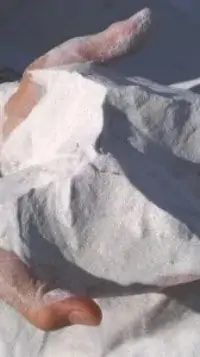 In 2012, we spent time looking for a condo in Florida. We scored a 2-bed, 2-bath condo for $45,000 at the end of the housing bust and Great Recession. 
We couldn't buy on the beach because it was too expensive. But we also wanted more flexibility and to be closer to everything else we'll want and need as we age.
The hundreds of thousands of dollars we saved will allow us to do plenty of travel and fund other important financial goals.
Within a one-mile radius of our condo, we have clothing, hardware, home improvement, and grocery stores. Many are in a plaza within a 2-minute walk!
There are pharmacies, convenience stores, hairdressers, dentists, and urgent care centers. There are banks, an auto service center, and a beautiful park just down the street.
But this is the view sitting on the lanai of our condo. 
We may be surrounded by stores and services, but you'd never know it drinking your coffee here each morning.
We're also only a mile from Siesta Key Beach – frequently named the number one beach in the country. 
Read: Best Snowbird Destinations in Florida
Reducing How Much We Drive & Use Our Car
If we were just vacationing here for a week or two, we might be able to get by with one or two trips to the grocery store and not need a car for too much else.
But we are living here for 4-5 months each year so there are plenty of needs and wants that require us to get around town and around the state.
Here are nine ways that we're able to reduce how much we drive (or use our car) because of where we've chosen to live.
For those of you who live in bigger cities (or those who have already figured out how to reduce how much you drive) – this might not be that eye-opening.
But if driving your car is just part of your life, you might find that it doesn't really need to be that way.
Walk. As I said above, almost everything we need is within a 15-30 minute walk. There's no reason for us to get in a car when we can get there just as fast (think traffic!) by walking.
Ride bikes. The same walking trips can be done on our bikes in half the time – or less. We have to use sidewalks in most places because there aren't safe bike lanes. But sadly, there aren't many people using the sidewalks to walk so it works out.
Ride with friends. All of our friends here have cars and if we go out, we're usually with them! We can pick up a drink or dessert for them and leave our car at home.
Uber, Lyft, Taxi. We haven't even had to use these but within 5 minutes, we know we could be picked up right at our door.
Public bus. There is a bus transfer station behind the Publix in the plaza next to our complex. We can walk 5 minutes and catch a bus to the main station to transfer to buses that take us all over the state. There is also a bus stop right in front of our complex that travels a local route around the city. It costs from $1.25 to $2.50 to go anywhere in our city and discount cards make the cost even lower.
Free trolley. When you are on Siesta Key, the Breeze trolley service takes you up and down the key. You can go to different beaches, restaurants, and shops without paying anything – and no tipping is allowed. We often walk to the Key (20 minutes) and catch the trolley to get around.
One-way car rental. Since we often travel to see family and leave Florida from their city, we can do a one-way rental. Next week, we are renting a car for one day ($57) and dropping it off before flying back to NY. No need to drive our car and leave it in my family's driveway while we're gone. Bonus? We get to drive a new car (not our 2005 Outback) and primary insurance is through my credit card.
Short-term car rental. If we plan to take a trip for a few days, we can always rent a car too. We find 3-4 day rentals for less than $100 from many companies. This avoids putting more miles on our car and decreases the chances of dealing with a break down from owning an older high-mileage vehicle. The "bells and whistles" of new cars is a nice perk when we travel too.
Delivery services. We don't spend a lot on Amazon and we've never used delivery for groceries or food. But these are certainly options that may work for you in terms of saving you from having to drive to a store or restaurant.
I know I've probably missed something too! As I said, we aren't really eliminating a lot of travel – we're just doing things differently.
We definitely don't need two cars at one home anymore!
Related: Safe Driving Tips for Snowbirds and Solo Travelers
The Benefits of Driving Less
You can probably guess that we save money walking and riding our bikes. But we also get a lot of health benefits from moving our bodies more too.
I wouldn't call these "work-outs" but the less we sit, the better.
We also aren't contributing to the growing traffic problem in the area and we're reducing our environmental impact as well.
Riding with friends and using taxis, ride-sharing or delivery services might cost us some money – but we consider them as good alternatives to driving our car.
We treat our friends well and we're doing what we can to support gig economy drivers and those who drive for a living.
We support the public bus and free trolley by paying our taxes, so taking advantage of those makes sense. 
While we're still driving and spending money when we rent cars, our hope is that we're also stretching out the lifespan of the vehicle we own.
10 Days Without Our Car
We arrived in Florida one November and we're without a car for 10 days. We were only there for a short period of time (more like vacationing) but I didn't look for the keys once.
We walked or rode our bikes almost everywhere we went. We caught the free trolley to get around Siesta Key. A used a one-way car rental to go see family. 
Our health and the weather certainly play into our being able to use these options. But where we chose to live is incredibly important too. 
While we need to do some renovations on our condo which will require trips to home improvement stores, I can't see needing to use our car much when we live here. 
Driving our car doesn't give us more happiness. It's simply a way to get us (or things we want or need) from one place to another. And we're learning there are plenty of other ways to do that.
Written by Vicki