Affordable Places to Snowbird in South Carolina
Many snowbirds who "fly south" for the winter head to a popular destination in the warmest areas of Florida, Arizona, New Mexico, and Texas.
But there are also plenty of options for sun seekers to find affordable prices for accommodations during the winter in South Carolina.
While you may not consider South Carolina to have warm weather during the months that most people snowbird, it's an ideal location for those who enjoy moderate winter temperatures and very little (if any!) snow.
When you snowbird in South Carolina, you can explore miles of shoreline in coastal cities, visit over 50 state and national parks, and take in all the sites in a bigger, bustling city.
There are plenty of luxurious accommodations for snowbirds in South Carolina. Yet, you can also get some great deals in popular areas because the climate isn't "ideal" for some who want temperatures in the 70s and 80s all winter.
Using Cost of Living Data to Find Affordable South Carolina Locations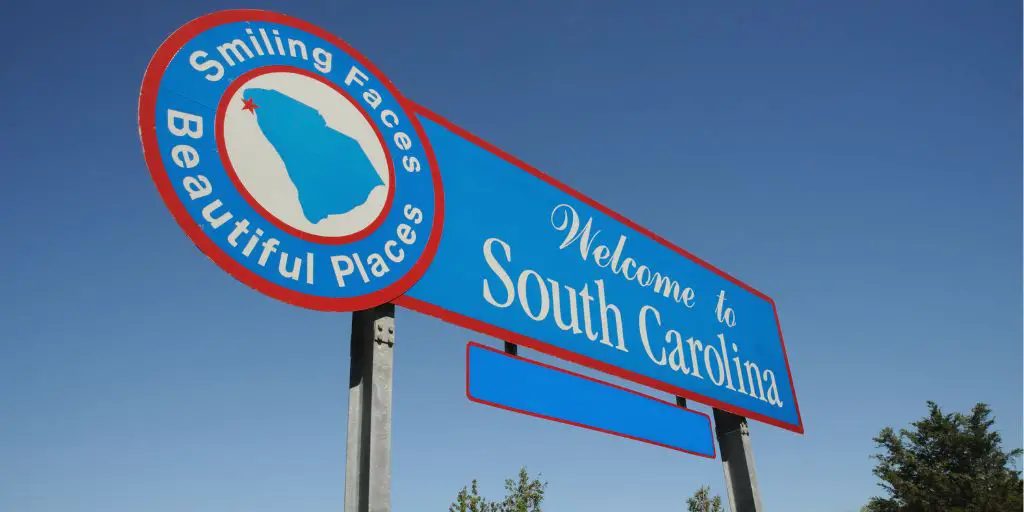 (This page may contain affiliate links and we may earn fees from purchases at no additional cost to you, i.e., as an Amazon Associate, we earn from qualifying purchases. These earnings help offset the cost of running this site. You can read our Disclosure and Disclaimer for further info.)
While your personal circumstances and spending patterns are essential considerations, comparing the living costs data of different cities can be helpful if you're trying to stick to a budget.
We used the most recent Salary.com cost of living calculator to narrow down bigger cities in South Carolina that are more affordable to live in as compared with national averages.
The Salary.com cost of living (CoL) index is based on the following expense categories that apply to everyone:
housing
food
healthcare
transportation
energy
The calculator tool also uses salary data to estimate various locations' living costs.
9 Budget-Friendly Major Cities in South Carolina
Not sure where to start your search for an RV park or snowbird community in South Carolina?
These affordable snowbird destinations in the" Palmetto" state are worth researching if you want a more metropolitan experience on a budget.
We've chosen cities with Salary.com cost of living data at least 5% or lower than the national average.
1. Florence
Located just off I-95 in the coastal plain of South Carolina, snowbirds can enjoy an affordable winter in Florence. Florence is an easy drive from other major cities in the state, including Charleston and Columbia.
Additionally, Myrtle Beach is only an hour away, so reasonably easy access to beautiful beaches is an option.
Florence has various activities, from golf courses to art galleries, great restaurants, and shopping.
The city also has a vibrant cultural scene, with plenty of live music venues, museums, and historic sites. Learn more about Florence on the Chamber of Commerce website.
You can visit the Florence County Museum or the War Between the States Museum. Enjoy live performances throughout the year at The Florence Little Theater or stroll through the Florence Farmers Market.
Walk or bike the Pee Dee Bicycle Trail and spend time at the South Carolina Pecan Festival or the Florence Wine and Food Festival.
Daily high temperatures during the winter range from the 50s to 70s, with lows in the 30s on the coldest nights.
According to Salary.com, the cost of living in Florence is 12.9% lower than the national average.
2. Aiken
Western South Carolina is where you'll find the city of Aiken. If you spend winters here, you'll enjoy mild winters with daily high temperatures ranging from the upper 40s to low 70s and nights typically above freezing during the coldest weeks.
This charming small city has a population of almost 32,000 people, making it big enough to have plenty of activities yet not the hustle and bustle of a central metropolitan area.
Learn more about Aiken on the Chamber of Commerce website.
You can visit the Aiken County Historical Museum or explore Hopelands Gardens. The Aiken Center for the Arts offers a variety of classes, workshops, and exhibits throughout the year, showcasing the work of local artists.
There is plenty of equestrian activity in Aiken too. Go horseback riding, watch the Aiken Steeplechase, or check out the Aiken Thoroughbred Racing Hall of Fame and Museum.
According to Salary.com, the cost of living in Aiken is 12.3% lower than the national average.
3. Spartanburg
Spartanburg, South Carolina, is a great destination for snowbirds looking for an affordable place to stay. Situated in the foothills of the Blue Ridge Mountains, this vibrant city of almost 40,000 offers a wide variety of activities and amenities that make it ideal for both retirees and vacationers alike.
The city's downtown area has undergone extensive revitalization over the past few decades, making it an attractive option for shopping and dining.
The downtown area also has an active arts scene, with regular festivals, music events, and theater performances. Learn more about Spartanburg on the Chamber of Commerce website.
Check out the Spartanburg Art Museum and explore the hiking trails through the Hatcher Garden and Woodland Preserve.
Popular attractions include the Spartanburg County Regional Museum of History and the Chapman Cultural Center.
Croft State Park features over 7,000 acres of outdoor recreation opportunities, including camping, hiking, fishing, and boating.
Average temperatures range from the low 50s to mid-70s during winter; you likely won't see any snow, with lows generally above freezing.
According to Salary.com, the cost of living in Spartanburg is 12.3% lower than the national average.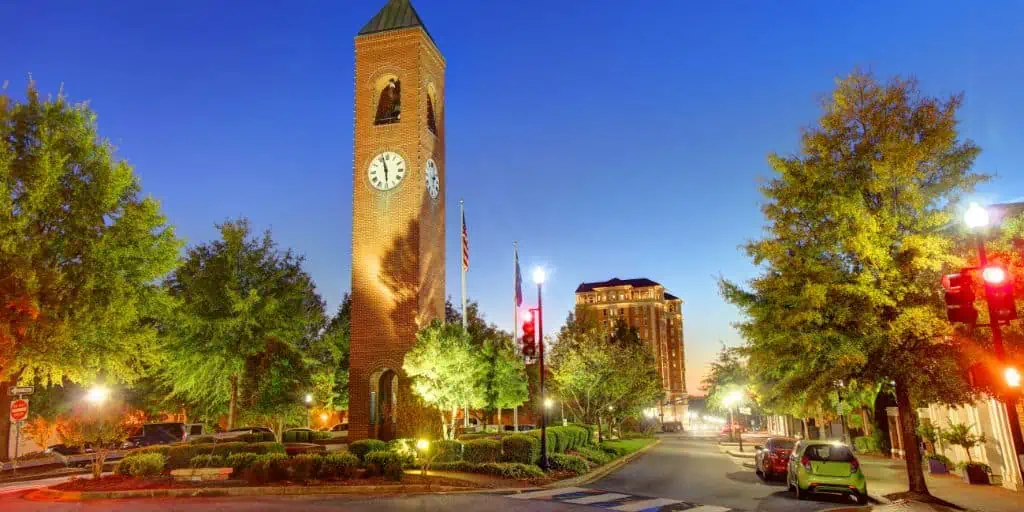 4. Sumter
Located in the central part of South Carolina, Sumter is another affordable snowbird option. With a population of approximately 40,000, this is another South Carolina city that has plenty of activities without a big city feel.
Average temperatures during the months snowbirds settle in the area range from the low 50s to mid-70s.
Sumter typically sees less precipitation during winter, with an average of around 3-4 inches of monthly rainfall. While you may need a jacket, you won't need your snow boots to enjoy outdoor activities!
Some of the attractions that snowbirds can enjoy in Sumter include Swan Lake Iris Gardens and the Sumter Opera House.
If you enjoy history and cultural exhibits, check out the Sumter County Museum, Patriot Hall, or The Sumter Gallery of Art.
You can also experience local favorites, including Dillon Park and the Sumter County Farmers Market.
According to Salary.com, the cost of living in Sumter is 11.0% lower than the national average.
5. Rock Hill
Rock Hill is a bigger city located in the north-central area of the state. With a population close to 75,000, it's double the size of several other affordable cities in South Carolina.
Winters are generally mild in Rock Hill but be prepared for occasional cold snaps. Like other South Carolina cities, you'll see temperatures in the 50s to 70s during the day and down as low as freezing some winter nights.
Snowfall is rare, but there is a potential for ice a couple of times each winter.
Rock Hill offers a variety of activities and attractions, including the Historic Brattonsville and The Museum of York County. If you have young visitors, the Main Street Children's Museum is popular with the kids!
Go hiking or mountain biking on over 40 miles of trails at the popular Anne Springs Close Greenway.
Attend festivals and events, including the Come-See-Me Festival, the ChristmasVille festival, and the Catawba Pow Wow.
According to the United States Census Bureau, Rock Hill, South Carolina's estimated population as of 2021 is approximately 77,889.
Salary.com says Rock Hill's living cost is 9.1% lower than the national average.
6. Anderson
You'll get a small city experience if you choose an affordable snowbird lifestyle in Anderson. With a population under 30,000, Anderson is in the northwestern part of South Carolina.
Anderson has a winter climate similar to the cities above. A chance of a couple of inches of snow on the coldest days, but it won't last long! The average high in January is 54, and you'll see 60's and 70's during winter months too.
Anderson is a good option for snowbirds who enjoy outdoor activities. You'll be near several state parks, including Table Rock State Park and Oconee State Park, which offer hiking trails and scenic views.
Carolina Wren Park is a downtown park featuring walking paths, fountains, and a playground. You can also boat and fish in Lake Hartwell.
Other activities and attractions in Anderson include the Anderson County Museum and Denver Downs Farm.
Annual festivals include the Anderson Greek Festival, the Anderson County Fair, and the Anderson Christmas Lights. There are plenty of breweries and wineries to choose from too!
According to Salary.com, Anderson's living cost is 8.9% lower than the national average.
7. Greenville
Another northwestern city in South Carolina that you might enjoy is Greenville. This is a bigger city with a population of approximately 72,000.
However, this figure only accounts for the population within the city limits of Greenville and does not include the larger metropolitan area, which has a population of over 920,000 people.
You'll find plenty to do in Greenville. Some major activities and attractions include Falls Park on the Reedy, the Greenville Zoo, the Swamp Rabbit Trail, and more. You can even tour the BMW Manufacturing Plant.
If you enjoy cultural experiences and the arts, you'll find plenty of live music and theater at the Peace Center and other local venues. The Greenville County Museum of Art should also be added to your list of places to visit.
If you enjoy kayaking, canoeing, or fishing, hit the water on the Saluda River. Paris Mountain and Jones Gap State Parks are also nearby.
According to Salary.com, the cost of living in Greenville is 7.8% lower than the national average.
8. Hilton Head Island
Hilton Head Island is one of the favorite destinations for snowbirds heading to South Carolina. A barrier island near the Georgia border, Hilton Head is a popular tourist area with plenty of attractions.
With a population of about 38,000 residents, the number of people in the region swells during the busy tourist season in late spring and summer.
U.S. and Canadian Snowbirds can enjoy the "off peak" time in the area and find reasonably priced accommodations in this resort area.
The average high temperature in January is 60° with lows around 40. You may occasionally experience sleet and even a flurry, but snowbirds generally have mostly mild weather in Hilton Head.
Winter is a popular time for golfers in Hilton Head because courses are less crowded. Hilton Head Island is also known as a premier tennis destination, with more than 350 tennis courts at resorts, public parks, and private clubs.
But there are many other activities and events for snowbirds to enjoy each winter. Walk the beach, paddle a kayak, or simply enjoy the sunshine along 12 miles of pristine Hilton Head Island beaches.
Other fun options include hiking, biking, and bird watching in Sea Pines Forest Preserve and Pinckney Island National Wildlife Refuge.
Explore historic sites like Fort Mitchel, the Baynard Plantation Ruins, and the Gullah Museum of Hilton Head Island. The island also has a variety of shops, boutiques, and galleries, as well as unique restaurants and breweries.
You can also head a couple of hours north to Charleston, the largest city in South Carolina.
Salary.com says the cost of living in Hilton Head is 7.3% lower than the national average.
9. Columbia
Columbia is the capital city of South Carolina and the largest city on our list. Over 137,000 people live in Columbia, but the population of the entire metropolitan area is estimated to be around 850,000.
The winters in Columbia are similar to all of the cities listed above. You'll need a warm jacket, a hat, and gloves – but there's a good chance you'll only wear them sporadically from December through February.
There's also a good chance you'll see plenty of sunshine and temperatures in the 60s during those months too.
Activities and attractions in Columbia include Congaree National Park, Riverbanks Zoo and Garden, and Lake Murray. If you're a sports fan, the University of South Carolina's Gamecocks have contests throughout the winter that you can attend.
There is a vibrant arts scene with numerous theaters, galleries, and live music venues. Some popular venues include the Koger Center for the Arts, the Township Auditorium, and the Trustus Theatre.
Columbia has several museums that showcase art, history, science, and more, including the Columbia Museum of Art, the South Carolina State Museum, and the EdVenture Children's Museum.
According to Salary.com, the cost of living in Columbia is 6.1% lower than the national average.
What about Myrtle Beach or smaller cities?
If you'd love to spend your winter in Myrtle Beach and keep it affordable, you're still in luck!
While it just missed the 5% cut, you can still stroll miles of beach and enjoy the action in one of the most popular locations in South Carolina during the winter season.
According to Salary.com, the cost of living in Myrtle Beach is 4.9% lower than the national average.
If you have a specific city in mind, you can search for it on the Salary.com website. Click on this link to get to the South Carolina data and then scroll down to "Cost of Living by Cities in South Carolina"; on the right side, click "expand." This will bring up a list of all of your options.
Snowbirding in Affordable Locations in South Carolina
While you may miss spending time at your favorite beaches on the Gulf Coast or the desert climate in Arizona, South Carolina offers numerous affordable winter destinations for snowbirds.
If you're a beach lover, you can get to North Carolina's sandy beaches on the Outer Banks or a barrier island in Georgia in just a few hours' drive.
Yet by being further north of many popular snowbird locations, you'll still enjoy reasonable accommodation costs in a pleasant climate.
South Carolina's got a lot to offer! You can craft the snowbird lifestyle of your dreams in many locations in South Carolina. Warmer weather, beach towns, miles of trails, RV parks, plenty of entertainment options, and more!
Active snowbirds can make a popular snowbird destination out of any location they enjoy!