Communities for Snowbirds and Seasonal Travelers
Snowbird season is just around the corner. Are you ready to head to a warmer climate during winter?
The practice of heading south for warmer temperatures began early in the 20th century. Wealthy aristocrats such as J.D. Rockefeller and Henry Ford wintered in places like Ft. Meyers, Florida, and Jekyll Island, Georgia.
As time went on, the practice of escaping northern winters to enjoy the sunshine of warmer climates became a dream of retirees and older Americans.
Thousands of people journey to their winter homes every year, where the sun shines brighter and warms them faster.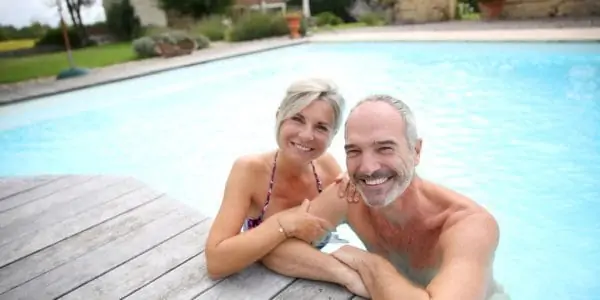 (This page may contain affiliate links and we may earn fees from purchases at no additional cost to you, i.e., as an Amazon Associate, we earn from qualifying purchases. These earnings help offset the cost of running this site. You can read our Disclosure and Disclaimer for further info.)
One of the biggest challenges today's snowbirds face is finding the correct type of community to join when they're away from their primary residence.
If you're embarking on the snowbird lifestyle for the first time, are interested in traveling while working remotely, or you're exploring your options, read on to learn more about the different types of communities that welcome snowbirds.
RV Communities
RV communities have welcomed snowbirds with open arms for decades. These communities make it easy and affordable to park your RV and settle in for an extended stay.
When staying in a snowbird RV community, there's a sense of camaraderie, and friendships quickly develop. Many people return to the same park year after year, making it easier to form friendships within the community.
If you have an RV, this type of location seems like the most logical choice. When selecting an RV community, consider choosing one exclusively for snowbirds.
You'll deal with fewer weekend campers, and noise levels are better kept in check. This makes the experience more relaxing and rewarding.
Also, make sure your recreational vehicle meets the size and age requirements for the location you're interested in.
Some RV communities are better for fifth-wheels than small sprinter-like camper vans. And many now have restrictions on the units they'll accept based on their age and appearance.
Related: 5 Great Beachfront RV Parks on Florida Panhandle
Manufactured Home Communities
More and more snowbirds are buying manufactured homes to use as their winter property. Snowbirds who want an instant community find manufactured home parks an ideal option.
Not only are there people in the community living a similar lifestyle, but there are plenty of amenities for everyone's tastes.
These communities often host events and have amenities like pool and clubhouse facilities, fitness centers, and other recreational and social activities.
While manufactured home communities certainly have their benefits, snowbirds do need to understand the terms of ownership.
Some people buy their manufactured homes, and others lease the property in snowbird communities.
However, even if you own the structure, the lot might not be yours to purchase because it's considered common property owned by the park. If that's the case, you'll be renting your lot instead.
Make sure you understand the terms of ownership to avoid any unpleasant surprises.
Most of these neighborhoods have strict rules regarding using homes as short-term vacation rentals, but that is a topic to discuss with an agent if you have concerns about it.
Gated Home Communities
Snowbirds, like almost everyone, appreciate their privacy and want to live in areas where they feel safe and secure during their winter vacation.
Gated home communities provide this security and give their seasonal residents a sense of peace and calm.
In terms of pricing and models, gated home communities offer various home types to fit different budgets. So, don't let the name fool you.
While some gated communities have pricey residences, others are middle-to-upper-class communities that are a good fit for retirees' wallets.
Even though gated communities offer ample security, some snowbirds might feel isolated in these neighborhoods during winter. Often, gated communities are quite exclusionary and can create feelings of isolation.
Not everyone in these communities understands or appreciates the snowbird lifestyle, which could make you feel unwelcome.
Another issue snowbirds have found frustrating is guardhouse or entry pad inconsistencies, making it harder for them to receive guests. High gate fees and other association fees and rules must also be considered.
Master Plan Communities
Some of the first master-planned communities were built in Phoenix and Sun City, Arizona, in the 1960s. These communities are built around the snowbird lifestyle, giving people an instant sense of community.
Everything in these communities makes it feel like you're on vacation and living your best life 24/7.
Master plan neighborhoods like those in Sun City have a variety of condos, studio apartments, and single-family homes.
What seasonal residents enjoy most about these communities isn't their resort-style amenities (although those are a definite perk) but how easy and affordable it is to live there.
Low-maintenance apartments and townhomes make it simple to enjoy the community's natural beauty while being able to lock up and go back to your primary home when spring arrives.
55+ Communities
These active adult communities have risen in popularity over the years. Snowbirds who choose these communities are interested in low-maintenance housing and high-energy lifestyles.
Some people call these communities retirement communities, but that's a misrepresentation.
While retirees are welcome, many people still work full or part-time and have thriving careers they're nowhere ready to leave. The only requirement for a 55+ community is age.
These locations often have many housing options ranging from small studio apartments to sprawling single-family homes.
There are also the typical amenities one would expect in a community like this: pools, clubhouses, golf courses, tennis courts, fitness centers, lakes, and much more.
55+ communities aren't for everyone, though. Like gated communities, you'll find a mix of lifestyles in this type of residence.
You're also subject to the rules of homeowners associations (HOAs) – similar to that in some other types of snowbird communities.
Not everyone who chooses to live in an active adult community is there for the snowbird experience. It may be challenging to meet people who share those interests.
Checkout: Best Snowbird Destinations in Florida
Why It's Important for Snowbirds to Join a Community
No matter where you choose to live in the winter months, whether it's a golf community in Phoenix, Arizona, or an RV park near Clearwater Beach, Florida, joining a community is one of the most vital decisions a snowbird can make.
Although you might leave the cold temperatures and snow behind, the winter blues can still follow you. When you're part of a community, making friends and having an active social life is easier. 
Destinations for snowbirds don't have to be in the "hot spots" of activity. But you still want to be connected with others when you're away from your primary residence for an extended time, enjoying the warm weather.
With more opportunities to get involved, snowbirds won't feel isolated or judged for their lifestyle choices.
Having a group of people is essential for your well-being and makes the place where you "winter" feel like home.