Fun Ways To Celebrate Valentine's Day With Friends
Valentine's Day doesn't have to be all about romantic dinners as a couple. It's also a great day to spend time with and celebrate the holiday of love with the friends in your life!
Fortunately, there are many fun and creative ways in which snowbirds can enjoy Valentine's Day with their closest friends.
Here are some ideas to consider when planning a special time with some of your favorite people.
1. Organize a potluck themed dinner or take a cooking class together.
While you might think about heading out to a nice restaurant for an amazing dinner with your friends, change course, and organize a Valentine's Day potluck dinner.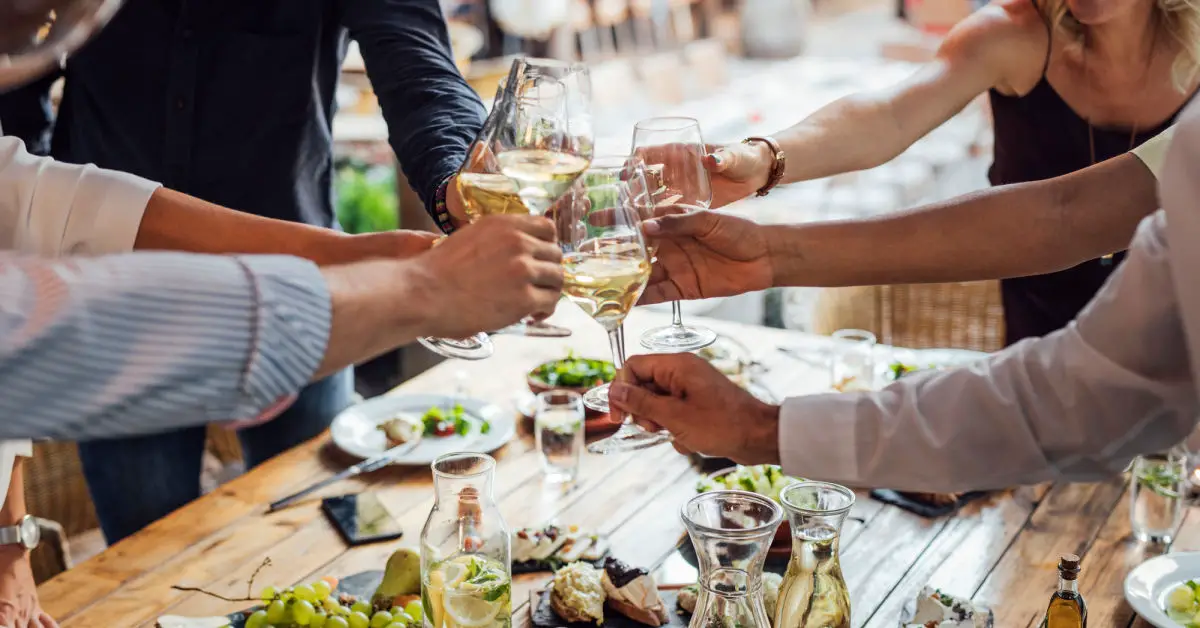 (This page may contain affiliate links and we may earn fees from purchases at no additional cost to you, i.e., as an Amazon Associate, we earn from qualifying purchases. These earnings help offset the cost of running this site. You can read our Disclosure and Disclaimer for further info.)
Ask those attending to bring their favorite appetizer, dish, or dessert, and there will be plenty of delicious food to savor!
You might also suggest bringing along their favorite board game if everyone would enjoy a fun game night after dinner.
 Here are some ideas to make your dinner special:
Decide on a themed cuisine or a dish, like Italian or fondue, and have each person bring something related.
Decorate the table using a red, pink, and white color scheme, pick up some heart-shaped balloons or a bouquet of flowers, or create a festive atmosphere with other Valentine's Day-themed decorations.
Prepare a few special signature cocktails (or mocktails!) for guests, such as a non-alcoholic Valentine's Day punch and a Bailey's Red Velvet Cupcake Martini.
Don't forget the sweet treats and a toast that acknowledges your friendship and love.
Another interesting idea centered around food is taking a cooking class together for Valentine's Day!
Gather a group of friends and appreciate an entertaining and memorable experience learning how to cook a new dish or fancy dinner.
Cooking classes can be found in several places, including the following:
Local community centers may have cooking classes for all skill levels.
Culinary schools usually offer professional and in-depth cooking classes for those who want to learn more about cooking.
Specialty kitchen stores often host cooking classes in-store or at their demonstration kitchens.
Private cooking classes can be arranged with a personal chef or culinary instructor in your own home.
Some restaurants have special cooking classes that focus on the cuisine they serve.
You can also check websites like Meetup, Eventbrite, or Facebook to find cooking classes near you. 
2. Host a karaoke or movie night.
While food and drinks will probably be a part of anything you choose to do, there are plenty of enjoyable and entertaining activities besides board or card games for Valentine's fun with friends.
Two ideas that might interest your group are "love song" karaoke or your favorite romantic comedy movies.
Karaoke nights are a great way to bring friends together and have a good time, and on Valentine's Day, singing love songs can add an extra special touch. 
Here are some classic and popular song examples (& ones your friends will likely remember!) that'll make your open mic night a success. 
"I Will Always Love You" by Whitney Houston
"My Girl" by The Temptations
"Crazy Little Thing Called Love" by Queen
"Can't Help Falling in Love" by Elvis Presley
"Endless Love" by Diana Ross and Lionel Richie
"Unchained Melody" by The Righteous Brothers
"At Last" by Etta James
"Dream a Little Dream of Me" by The Mamas & The Papas
"The Way You Look Tonight" by Frank Sinatra
"Unforgettable" by Nat King Cole
"What a Wonderful World" by Louis Armstrong
A romantic movie night marathon is another activity that some friends may pleasurable on Valentine's Day. Pick a couple of your favorite lighthearted "rom-coms" and laugh the night away.
Here are a few of our favorites:
When Harry Met Sally
The Wedding Singer
Moonstruck
Something's Gotta Give
Notting Hill
Sleepless in Seattle
You've Got Mail
While You Were Sleeping
Did we leave your favorite romantic comedy off the list? Include it in the comments and we'll add it to our list.
3. Host or Attend a Wine and Paint Night.
A wine and paint night is a social event where attendees can drink wine, socialize, and paint a picture or canvas.
The idea is to create a relaxed and fun atmosphere where people can express their creativity and revel in each other's company.
Don't consider yourself an artist? Well, don't worry!
Typically, a wine and paint night will be led by a professional instructor who provides step-by-step guidance on creating the painting.
Attendees usually receive all the necessary materials, including canvases, paints, brushes, and aprons. You'll have the opportunity to work on your paintings while sipping wine, chatting with your friends, and listening to music.
Wine and paint nights are a great way to spend an evening with friends, try something new, and leave with a unique keepsake. 
Here are some places where you can find wine and paint nights:
Art studios and galleries often host wine and paint nights to unite the community and showcase local artists.
Wine bars and tasting rooms are another popular location for wine and paint nights, where attendees can enjoy a glass of wine while painting.
Many community centers and recreational facilities offer wine and paint nights as a fun way to bring people together and raise money for important causes.
Similar to finding cooking classes, Meetup, Eventbrite, or Facebook are places to find wine and paint nights in your area.
You can also host your own wine and paint night by booking a private event at an art studio or by inviting a professional instructor to your home.
Whether you're a beginner or have some experience with painting (or another craft idea), a wine and paint night is an entertaining and creative way to celebrate Valentine's Day or any occasion.
4. Take in a local attraction or make it a day trip.
Talk with your friends and brainstorm ideas for a visit to a local park, museum, or gallery that interests all of you. As snowbirds, you may not realize all the options "in your backyard" because you may visit more prominent tourist attractions when you have company.
For example, in Sarasota (where we spend the winter!), you could spend quality time together taking in the Museum of Art & Whimsy. You can explore the exhibits together, learn something new, and discuss the artwork you see.
Many museums and galleries also offer special events and activities during the holiday season, so check their websites for more information.
If you're looking for something more recreational, your group could rent e-bikes and ride the Legacy Trail toward Venice and get lunch at your favorite restaurant.
E-bikes are a great way to include people in fun activities like this if they are concerned about being "in shape" enough to handle a longer bike ride.
When you have more time to spend and enjoy each other's company, you could head out on a day trip together for Valentine's Day. For example, from Sarasota, you could head up to Tampa and give Top Golf a try. (Members of your group who don't golf could still delight in watching you play for an hour or two!)
After that, you could stop into the Tampa Electric Manatee Viewing Area in Apollo Beach. In the winter, you can see hundreds of manatees from platforms over the water and learn about them through the Big Bend Power Plant exhibits. 
On the way back to Sarasota, you could take joy in a picnic while watching the sunset on the beach on Anna Maria Island or stroll through shops at St. Armand's Square.
When you take some time to plan, you'll find that the ideas are endless. And a day with friends is priceless!
5. Volunteer together at a local charity or community organization. 
Another fantastic way to spend time with people you care about is in acts of kindness for others.
Volunteering together at a local charity or community organization is a meaningful way to spend Valentine's Day and make a positive impact in your community.
Benefits of volunteering together on Valentine's Day include:
Strengthening your bond, building deeper relationships, and creating memories that will last a lifetime through common acts of service.
Making a difference in the lives of others while reflecting on all that you have. 
Learning new skills and having experiences that you may enjoy repeating in the future.
Meeting new people and expanding your social circle.
To find volunteer opportunities, you can search online at websites like VolunteerMatch, Idealist, or your local community center's website.
You can also directly contact local charities or non-profit organizations to inquire about volunteering opportunities.
Whether helping at a food bank, organizing a community clean-up, walking (or strolling!) a charity 5K, or working at a local animal shelter, volunteering together is a great way to spend Valentine's Day and make a difference in your snowbird community.
Other Ideas for a Fun-Filled Valentine's Day
Line dance classes
Wine and cheese tasting or cocktails and chocolate tasting 
Day at the spa
Craft beer crawl
Trip to the beach!
Final Thoughts on Spending Valentine's Day with Friends
While you may appreciate a more traditional dinner out with a spouse or significant other to celebrate your love, plenty of snowbirds relish spending time with friends on days like this too.
If you live in a snowbird community with an association, there may be an event at the clubhouse to join in on. But don't be afraid to create a new tradition with your married and single friends and try something new to celebrate Valentine's Day!
Next: Beyond Green Beer: Tasty Cocktails for St. Patrick's Day