Beyond Bingo: Great Games to Play with Friends
Every year, more and more people are finding newfound freedom as snowbirds.
Retirees who migrate to warmer climates during the winter are the original snowbirds, but with the recent rise in remote working opportunities, people of all ages are adopting the lifestyle.
A big motivation for heading south for the winter is the sunnier, warmer days that afford snowbirds plenty of opportunities to enjoy their favorite recreational activities.
Golfing, hiking, watersports, pickleball, and tennis are just some of the fun outdoor activities enjoyed year-round in southern climates. But not every day is an outdoor day.
Southern climates might have more sunshine during the winter, but that doesn't mean a rain shower won't pop up every now and then.
Also, some snowbirds aren't as physically active or interested in outdoor activities, preferring a slower pace. Enter indoor games.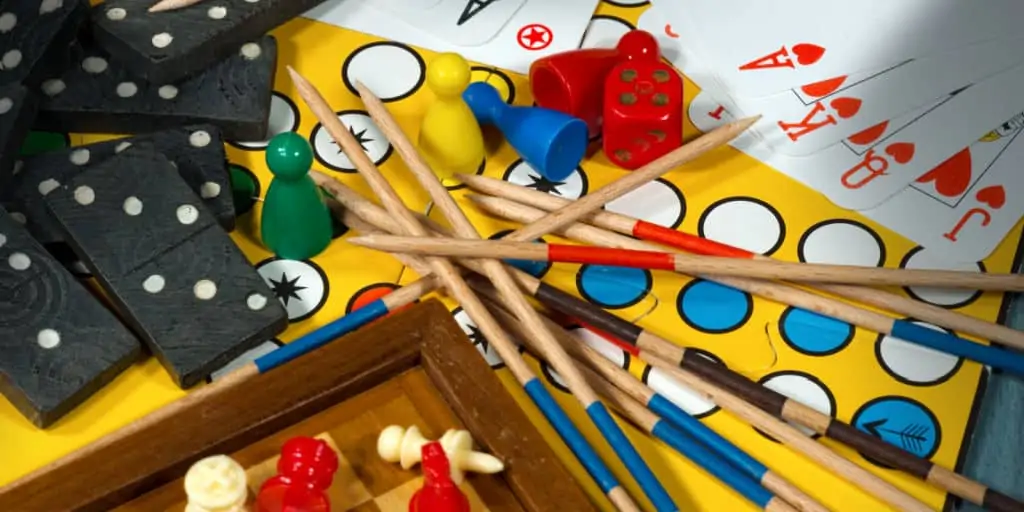 (This page may contain affiliate links and we may earn fees from purchases at no additional cost to you, i.e., as an Amazon Associate, we earn from qualifying purchases. These earnings help offset the cost of running this site. You can read our Disclosure and Disclaimer for further info.)
How to Choose the Best Games
In many snowbird communities, game nights are regular occurrences.
Whether it's a board game with friends in a neighboring camper at the RV park or a game of billiards in the clubhouse of a gated community, group games are a great way to socialize and do something fun.
When selecting games to play, consider the following:
How long does the game take to play?
How complicated are the directions?
How many players does the game require?
Does the game store easily?
Is the game offensive?
Not everyone wants to devote several hours to a game of Monopoly. Some prefer quick games like a drawing or trivia game that can end when you want it to end.
Also, think about how many players the game requires. 
For example, Timeline can be played alone, but a game of Pictionary is going to require at least two 2-people teams, preferably more.
If you are playing with a group of people outside of your immediate family, consider their tastes.
Last, but not least, don't forget about how well the game stores. If you have a single-family home or an apartment, you might have more storage space for games.
People traveling in vans and RVs have limited storage space and need compact games.
5 Categories of Games with Great Examples
Need some easy-to-learn games to play with friends that go beyond bingo? Check out these five popular game types that are fun for all ages.
Classic Card Games
Looking to pass the time with friends until the weather clears? Why not try your hand at a classic card game like gin rummy, cribbage, euchre, or hand and foot? Other popular favorites include Phase 10 and Skip-Bo. 
If you're new to card games, go online and read up on the rules or watch an instructional video. 
Some snowbird communities host casino nights. In addition to poker and blackjack, there is usually a variety of other casino-style games at these events.
Getting involved with these types of activities is a great way to meet people in your community too!
Break Out the Board Games
Do you have a favorite board game that you used to play with the kids? Old favorites like Scrabble, Trivial Pursuit, and Yahtzee never get boring. Still, there are plenty of other games that you could try like:
Any of these games are great for mixing things up and bringing on the laughter.
Check Out New Travel Games
Are you a snowbird who's always on the go? Not all snowbirds settle in one place during the winter. Some travel from location to location in vans and RVs. If you're a snowbird who spends the winter moving from place to place, you need games that travel well. 
When you're tight on space, the last thing you want is to have boxes upon boxes of games. Check out these easy-to-learn and easy-to-store travel games:
Drawing & Acting Games
Nothing gets a game night going like a good old-fashioned drawing game. Pictionary has been around for decades and is easily accessible and great for socialization. 
You don't have to be an artist to succeed at this game. In fact, the worse people draw, the better and funnier it makes the game.
A newer game that combines the classic games of Charades and Pictionary is Over The Line Party Game – which is sure to add some hilarity to your game night.
Memory Games
Remember the game "Memory" from when you were a kid? Or maybe you played this game with your children? Memory games are easy to learn and don't require keeping track of umpteen rules. 
Aside from the classic game of "Memory," another game that many snowbirds enjoy is TableTopics.
These are great for starting conversations and recalling pleasant experiences. There are packs for couples to remember things together or packs to enjoy with friends to share stories.
Why Games are Important for Snowbirds
A challenge many snowbirds face is making new friends, especially if they move from community to community.
Breaking out a card game or a board game is a great way to spark a new friendship without the pressure of holding a long conversation.
Games let you be social without having to come up with topics to talk about.
Having friends is important for snowbirds. As exciting as the snowbird lifestyle can be, it's also a lifestyle that can get lonely.
Not every snowbird or remote worker finds themselves in an active community with other people living the same lifestyle.
Finding people with shared experiences can be difficult, but everyone can share a game.
Games are also important for keeping the mind agile. As we age, memory decline is normal. The more we activate our brains, the easier it is to recall information and stay sharp.
Snowbirds often seek out warmer climates to keep their bodies active year-round, but it's also important to exercise the brain too.
Games also make great gifts!
Try a New Game a Month
Here's a snowbird challenge for you. Commit to trying a new game each month. Introducing new games staves off boredom and gives you and your friends something new to look forward to each month.
Whip up a pitcher of sangria and ask everyone to bring snacks to share. You can also rotate who hosts each month too. So, what game will you try first?
Next: Drawbacks to the Snowbird Lifestyle [and overcoming them!]