Gym Memberships & Fitness Options for Travelers
When it comes to snowbirding (and travel in general), it can be difficult to keep up with your regular fitness routine.
When you're away from your primary home, staying on track with your health and fitness habits and goals can be a struggle.
You may get tired of walking or running for cardio and doing bodyweight exercises for strength training. Boredom can set in when using the basic equipment most hotel fitness centers offer. 
And you may just really miss being part of a health and fitness community. 
How Can Snowbirds / Travelers Stay Fit?
If you split your time between cities part of the year, or you're frequently on the road, you might want a gym membership that travels with you. 
Listed below are some of the best gym memberships for people who often change their locations.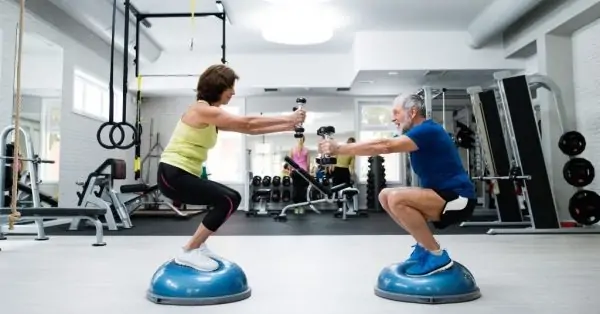 (This page may contain affiliate links and we may earn fees from purchases at no additional cost to you, i.e., as an Amazon Associate, we earn from qualifying purchases. These earnings help offset the cost of running this site. You can read our Disclosure and Disclaimer for further info.)
Planet Fitness
With a Planet Fitness Black Card membership, members can access any of the gym's locations in the United States and beyond. Planet Fitness has hundreds of locations, making it easy for you to get to the gym almost anywhere you travel. 
You'll have access to all the benefits you enjoy at Planet Fitness in your hometown when you're at your second home or on the road.
Planet Fitness Virtual – United We Move™ is another program offered to members that means you don't have to put your health on hold while traveling. 
PFs' virtual fitness option might have begun during the pandemic as a way to help its members stay fit and healthy, but it's proven to be a lifestyle tool that's continuing to change people's lives. Members download the PF app and instantly have access to hundreds of workout videos.
Anytime Fitness
At Anytime Fitness, your key fob unlocks many doors! When you sign up for an Anytime Fitness membership, you can access any gym in the United States and internationally. 
Sunseekers and globetrotters love that they get worldwide club access with this global membership plan. 
Finding a place to work out when you're in another state is one thing. It's a whole other ballgame when you're looking for a gym in a foreign country.
All Anytime Fitness locations are set up the same, making it easy to acclimate to the gym and feel right at home the minute you walk through the doors.
Tip: Sign up for Anytime Fitness at least 30 days before traveling as there is a 30-day reciprocity delay.
YMCA-Nationwide Membership
The YMCA might be best known for being the original neighborhood gym, but its Nationwide Membership keeps you on track with your fitness goals no matter where you are in the United States. 
Members pay their dues to their "home" location and can visit any site in the continental United States and Puerto Rico at no additional cost.
Unlike Anytime Fitness and Planet Fitness, there is a catch with the YMCA's traveling gym membership. You must use your home YMCA at least 50% of the time to take advantage of this benefit. 
This stipulation makes the YMCA-Nationwide Membership a better option for people who don't travel all the time but maybe spend a few months out of the year in a different location.
Like Planet Fitness, YMCA also has a virtual option. YMCA360 is a new kind of membership that lets its members stream their favorite workouts anytime, anywhere. The service works with all smart devices and is coming soon to Roku and Android TV. Individual and family memberships are available. Call your nearest YMCA for pricing information.
What If I Don't Want a Gym Membership?
Not everyone wants to commit to a monthly gym membership. For those looking who don't but want to stay active while traveling, you have other options. 
Associations. Are you part of a snowbird community? Find out if your association fees cover the cost of fitness center memberships. Some communities even have on-site gyms accessible for all community members.
Local gyms might also offer short-term specials to snowbirds. Don't be shy about asking. Pop into a local gym and find out if they offer month-to-month rates or 3-month specials. 
Some local fitness centers like yoga and Pilate studios often have digital class cards available for a discount. If you buy a class card, make sure you're clear about the expiration date. Most expire 6-12 months after the purchase date.
Other gyms (such as those affiliated with Crossfit) may offer drop-in rates for people passing through who don't want to miss a day tossing a tire or doing 100 burpees. Drop-in rates range between $10-$20 per class, and you might even get a free t-shirt out of the deal!
Other physical location options include:
Community centers
Senior centers
Local parks and recreation programs
For free virtual workouts, YouTube has thousands of workout videos for anyone with an internet connection. These free virtual classes are great for people who like variety. Class offerings range from body-weight exercises and free-weight workouts to Zumba and dance classes. 
Looking to up your dance skills? Join over 3 million people who've subscribed to the fun, hip-inspired sweat sessions offered by The Fitness Marshall. 
Staying in Shape Shouldn't Be Complicated
Getting in a good workout when you're on the road doesn't have to be hard. When you have a gym membership that travels with you or easy access to the internet, keeping up your fitness routine is simple. For others, there are several options.
Find one (or 2 or 3!) that works within your budget and fits with your workout preferences.
Try various free YouTube workouts, drop into a local fitness center or sign-up for a national gym membership from a chain mentioned above.
The goal is the same; staying on top of your fitness and health so you can travel and thrive every day.