4 Great Ways Snowbirds Can Use Vacation Rentals
In addition to chasing sunshine and warm temperatures, many snowbirds have in common a love of travel.
Unless you book a flight south and stay in your own home for the whole winter, there's a good chance you'll need to find lodging for some part of your snowbirding adventure.
Traditional snowbirds may still prefer to book hotel rooms when they need a place to stay. But a growing number of aging adults are using vacation rental sites like Airbnb, HomeAway, and VRBO when they travel.
Let's take a look at four great ways snowbirds can use vacation rentals to improve their travel experience, explore new destinations, reduce stress, and even earn money while enjoying extended periods away.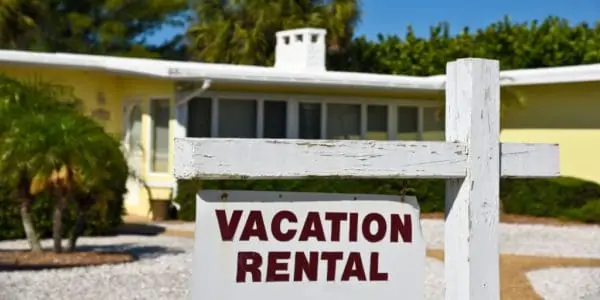 (This page may contain affiliate links and we may earn fees from purchases at no additional cost to you, i.e., as an Amazon Associate, we earn from qualifying purchases. These earnings help offset the cost of running this site. You can read our Disclosure and Disclaimer for further info.)
Experience New Places As You Travel North & South
Vacation rentals can be a great way to slow down your migration when you snowbird. If you have the gift of time, the passion for visiting new places, and the money to spend extra days on the road, you can build itineraries that allow you to extend your trek north or south.
Booking a vacation rental for a few days (or longer) in different cities along your route can provide a unique and more local experience when compared with a typical hotel stay.
If you've always wanted to try out a log cabin, sleep in a moored boat, lounge in a luxurious penthouse suite, or even spend a few nights in a castle – you can find exciting options in some communities.
But you'll also find private apartments or homes that are typical for the area. If you're comfortable sharing some spaces with homeowners, you'll likely score even more significant savings on an Airbnb stay.
Try Out New Snowbird Communities & Housing Options
When you decide to snowbird, you might question what southern community is right for you. You might also choose to travel around to different cities and states each year to enjoy new experiences.
Vacation rentals are great options for both of these situations.
The first year you snowbird, you might rent a place for a week or two before moving on to get a feel for the area and what it has to offer. The "slower travel" a vacation rental allows can give you a better sense of what it's like to live there rather than visit.
If you plan to tour around a few southern areas each winter, you'll likely be more comfortable in a "home" setting where you have a kitchen and other amenities that many hotels don't offer. You'll probably save money over staying in hotels for extended periods too.
One last bonus of using vacation rentals when snowbirding? You get a chance to try out living in different types of homes. If you've always lived in a single-family house, you might be disappointed by the proximity of neighbors in a condo setting.
But the opposite could also be true! When you're enjoying the pool at the condo, you don't have to worry about mowing the lawn or other typical (and time-consuming!) homeowner responsibilities.
Book a Vacation Rental for Guests (Or When You Are a Guest)
Rather than having house guests in and out of your place all winter, consider booking a vacation rental when family or friends visit. While it might cost more for you (or them), it can be a priceless move when it comes to enjoying the time you spend together.
Look for rental properties in your area that have amenities you and your guests can enjoy.
Consider a vacation rental near major attractions, one with a private pool, walking access to the beach, or within view of a golf course – whatever you and your family or friends will enjoy doing during their stay.
Some vacation rentals have washers and dryers, bikes, kayaks, or video game consoles included as part of the rental price. Extra amenities like this can make things easier and help keep members of your group happy.
While you might be excited about seeing people you miss, veteran snowbirds report that after a couple of days with those you care about – you'll probably still want private time and space.
The beauty of a vacation rental is that you won't be together every minute of their stay.
And remember that this works both ways. When you get an invite to spend time away with people close to you, look at vacation rental options in their area and see if renting makes sense.
Related reading: Setting Boundaries with Houseguests So Everyone Thrives
List Your Properties as a Vacation Rentals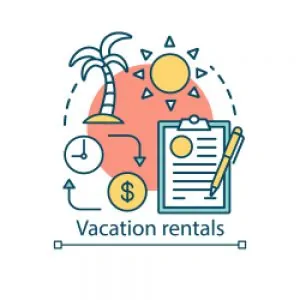 Depending on where you own property and your interest in earning money while you're away, you might be able to list your home (or part of it) as a vacation or short-term rental when you're gone.
Don't make the mistake of thinking that you have to live in a big city or near major attractions. There may be people who need a place to stay when they are visiting family, for short-term work assignments, or for reasons you may have never considered. 
You also might be surprised at just how much money you could make by renting your house out to others!
Just make sure that zoning allows for short-term rentals and that you have proper insurance coverage. And consider purchasing a low-cost umbrella insurance policy if you don't already have one.
If you expect to have turn-overs of renters while you're gone, you'll also need to hire someone to clean and manage that process.
7 Tips on Booking Vacation Rentals
Read the complete listing and reviews. Look at all the rules, the list of what's included (and what isn't), and additional fees. Reviews will often share helpful tips and essential details about the space.
Check the photos and consider the security of the area. Are the images dated from a year or two prior? What about information about how the property is secured? If you don't see a space that is important to you or if information about home security is lacking, ask the owner to send you pictures or share more details.
Make contact with the host. Many owners love talking about their rental space and community. Ask any questions, and don't hesitate to address concerns you have. Make sure that you also ask about recommendations for local attractions and dining options.
Check out the neighborhood the rental unit is located within. Google maps will allow you to see most houses with a street-level view.
Follow the vacation rental platform's rules. If a host asks you to contact them off-site, find a different unit. Only communicate with owners and pay them via the vacation rental's secure system.
Understand cancellation policies. Try to book as far in advance as possible to secure the best place. But make sure you read and agree with the owner's cancellation terms.
Be a responsible renter. Read the owner's rules and follow them. Before going on social media with complaints, discuss concerns with your host. And always make sure to leave a review after your stay.
Final Thoughts on Snowbirds and Vacation Rentals
While you've probably heard of Airbnb, HomeAway, or Vrbo – these popular "gig economy" lodging options still aren't considered by many travelers.
Based on our own experiences with them, we think the best lodging option depends on your travel goals, the length of stay, and how much you plan to spend.
Hotels may be a better option for very short or last-minute stays. If you have accessibility concerns or if you're worried about safety in the area you're traveling to, hotels may also be a better choice.
Vacation rentals may be a great option when you plan to stay for at least a few days or extended stays. They are also terrific options for families who need more space or when having a private kitchen matters.
You'll find that vacation rental experiences are pretty different from hotels. But if you've done your homework, there's a good chance you'll be happy with your stay in a vacation rental property.
Related reading: Airbnb or Hotel? What You Need to Know to Decide