Bay Alarm Medical Alert System Review
When considering purchasing a medical alert system for yourself or a loved one, you may feel overwhelmed by the number of medical alert companies offering systems and the various options you have to choose from.
I started researching medical alert systems a few months ago for my elderly mom and made the mistake of not ordering one soon enough.
She had been doing very well but suffered a fall and broke her femur.
Unfortunately, her cell phone was not nearby. While we live just a few hundred feet away, we weren't close enough to hear her yelling for help.
Luckily, a neighbor heard her and called us a few hours after she fell.
But with a medical alert system, she wouldn't have had to lay on the floor in a great deal of pain for hours, wondering when someone would hear or find her.
Choosing a Medical Alert System
Mom returned home after surgery, a week-long stay in the hospital, and two weeks in a nursing rehabilitation facility.
So while she was recovering away from home, I quit procrastinating and ordered her a medical alert system.
How Medical Alert Systems Work
A medical alert system is a device that allows a person to get help in an emergency with the press of a button.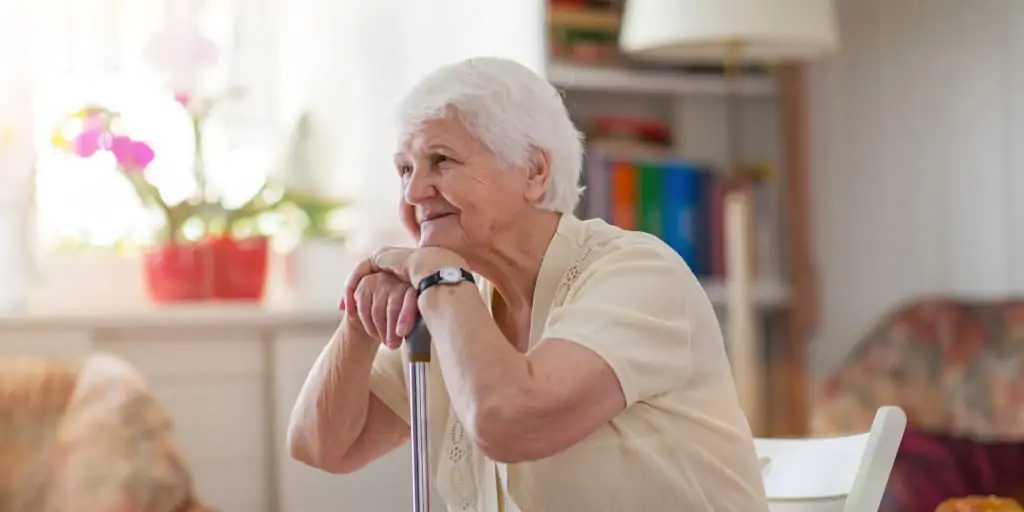 (This page may contain affiliate links and we may earn fees from purchases at no additional cost to you, i.e., as an Amazon Associate, we earn from qualifying purchases. These earnings help offset the cost of running this site. You can read our Disclosure and Disclaimer for further info.)
With advances in technology, some devices can detect a fall. When someone is unconscious or unable to press a button, help is summoned.
When the button is pressed or fall detection activated, you're connected to an emergency monitoring center that checks on the person's welfare and notifies identified contacts (i.e., family members, friends, caregivers) or dispatches emergency management services (EMS). 
These services offer support 24/7 so a customer can access medical attention whenever they need it.
In addition to in-home systems, mobile alert systems are available for those who want to increase their protection away from home.
In-Home Systems
An in-home medical alert system usually includes a small base unit that plugs into the wall and one or more help buttons.
The base unit connects to a landline phone service or uses a cellular options connection. (You don't need to have a landline connection to have a home medical alert system.)
The base unit has a speaker and microphone for communication with the monitoring system.
The help button (sometimes called an SOS or panic button) may be on a wrist bracelet, necklace, or installed as a wall button.
Depending on the device and monitoring package you choose, you can get multiple additional help buttons, all serviced by your medical alert device system.
When a help button is activated, it has a wireless connection with the base unit so that the monitoring service is alerted of a potential problem with the customer.
If you purchase a fall detection button, a sensor will alert the monitoring system without the need to press a button.
Trained staff members monitor calls 24 hours a day. They attempt to talk to you about your emergency situation and then call emergency contacts you've identified or the local EMS services (911).
You can buy alert systems that don't have a monthly cost for a monitoring center.
Some of these systems sound an alarm in or near the home to notify others someone needs help. Others are a one-touch button that signals directly to the 911 center. 
Mobile GPS Medical Alert Systems
Mobile device, or in-car medical alert, options allow two-way communication with an emergency call center.
These can be used inside the home, around town, or when traveling. Wearable buttons may be worn on the wrist or as a pendant. 
You can reach your medical alert provider and have two-way communication through a cellular service that comes with the device.
It's equipped with GPS capabilities for location tracking, and medical alert companies include a charger for mobile systems.
Many medical alert services include a fall detection option or automatic crash detection with these devices too.
How We Chose a Bay Alarm Medical Alert System 
After doing basic research about the in-home vs. mobile options, I considered my mother's typical needs and decided to go with an in-home system rather than a mobile device. Since she didn't have a traditional landline, so we picked the cellular service option.
I chose Bay Alarm Medical because it's an affordable option with high rankings from its alert system users on Google and from what I learned via other trusted resources.
I read positive and negative reviews and was impressed with what we would receive for the monthly cost. 
We decided on a wrist alarm and decided to wait to add any special features or an extra medical alert button.
There's an option to purchase wall emergency buttons or a wearable emergency button pendant and add additional features (fall detections), but we feel well protected with what she received.
Monthly Fees for our Bay Alarm Medical Alert System
The monthly rate for the system can range from $19.95 to $39.95 per month, depending on the chosen options.
Bay Alarm Medical System offers a 30-day risk-free trial and no activation fees or additional equipment fees. You can cancel at any time without a cancellation fee. They also offer a price lock guarantee.
The devices come with a 32-hour backup battery. The basic help button system has up to five-year battery life, while the auto fall detection option has up to 2 years. A device protection plan can also be purchased.
There was a special running when we purchased her Bay Alarm system. So, we received one month free and no shipping costs for her device by purchasing a year of monitoring. The one-time equipment fee for the apparatus and monitoring for one year cost us $329.45.
The 30-day money-back guarantee helped me decide on the purchase of the service for a year because I knew I could return it if we didn't have a good experience with the set-up or first-month trial period.
Bay Alarm Medical Review – The Alert System Arrival and Set-Up
My mom's Bay Alarm arrived seven business days after we ordered it. We could have expedited shipping, but she was in a rehab facility, and we had time to wait for it to arrive.
The box included the base station, charger, and wrist device.
It also came with a folder with instructions and a small plastic packet (the "Vial of Life") with a magnet for her medical history. Bay Alarm suggests you leave it on the refrigerator in case of medical emergencies.
We took out the device and, following the instructions, placed a test call (pressing the alert button) to send a signal to the Bay Alarm monitoring center. They promptly called us to determine if we needed emergency assistance.
I estimate it was 20 seconds from when I pushed the button until I spoke with a representative. She ended the call when she verified who we were and that there wasn't an emergency. 
We also performed a range check to ensure the signal from her wrist device would pair with the Bay Alarm Medical base station in all areas of her home. We maintained a cellular connection with 2 to 3 bars (the base unit announces the reception level).
Overall, the unboxing, setting up, and testing of the Bay Alarm system took less than 15 minutes.
We were delighted that the Bay Alarm Medical Systems emergency response center had such quick response times to our tests. They also encouraged us to check the cellular coverage on occasion and perform a system test at least once each month.
Setting Up the Online Account with Bay Alarm Medical
After testing the system and range, I went online and filled out the account holder (my) profile.
I then filled out my mom's Bay Alarm Medical Care Alert user information paired with her protected address. This included giving instructions to emergency responders on how to find her exact location and enter her home quickly.
I added myself, my husband, and my brother (her legal, medical guardian) as the emergency contacts before any emergency medical services dispatch. This allows us to check on my mother to make sure it's necessary for the monitoring service to call 911.
If we are unavailable and my mother needs help or can't communicate, they will alert EMS. We're happy we can help prevent false alarms in case my mom accidentally pushes the button or has a medical issue we can solve without using emergency services.
There are three "history" sections in your online account – order history, invoice history, and device history. I appreciated that it was easy to see when I ordered the system and what I paid.
But the device's history was a real surprise. There's a record of each time we pushed the button (testing it), when the service answered our call, and the resolution of the Bay Alarm call.
A Bay Alarm Medical caregiver tracking app is also available to access on your smartphone with the same information. You can also see the user's current location, location history, and battery life on the caregiver app.
I had trouble getting the app to access my account, but their excellent customer service center was very helpful and helped solve the issue in just a few minutes.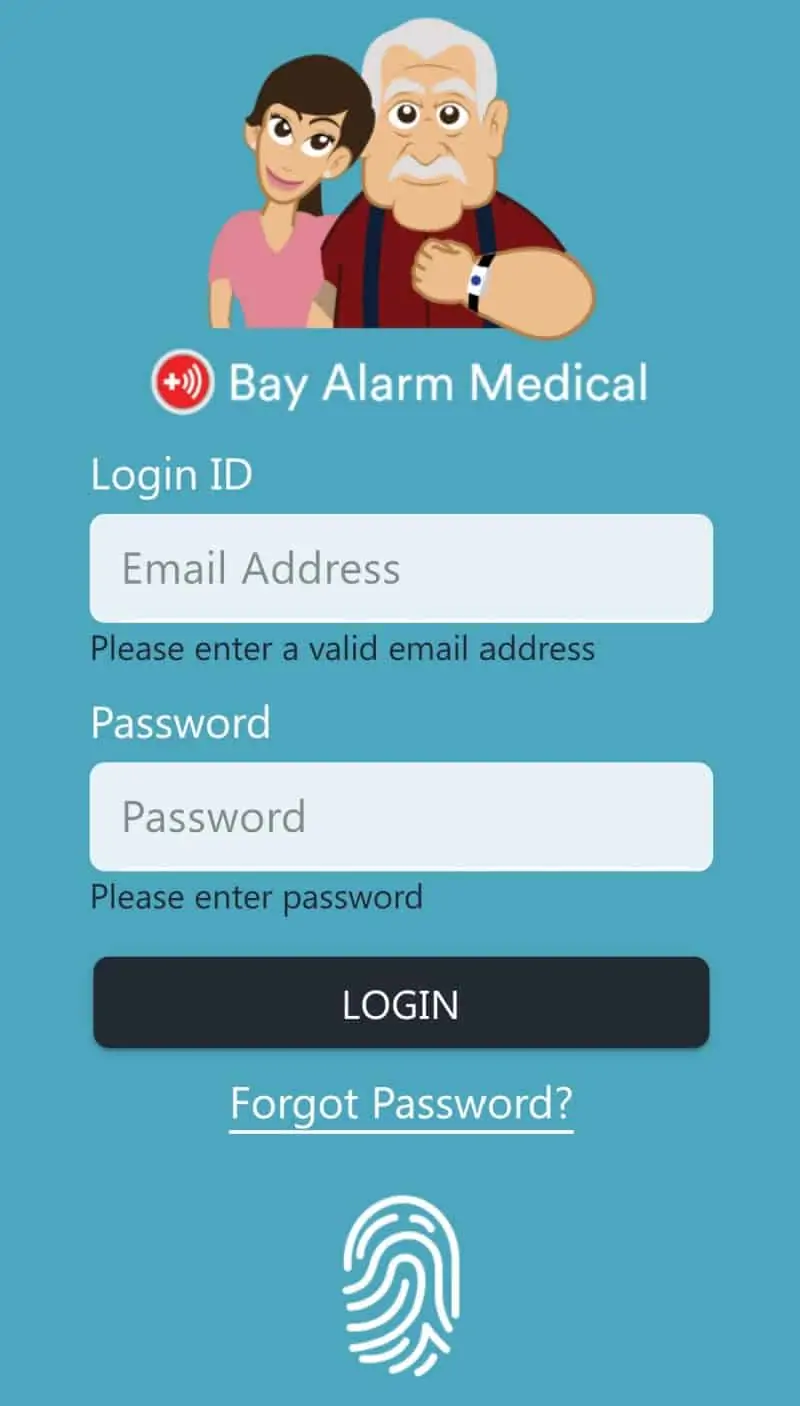 Alternatives to a Medical Alert System
With dozens of personal emergency response systems, some people decide to use other options.
We have a friend who uses Amazon devices and has them stationed in his elderly mother's home. He has worked with her to say, "Alexa, call Jim" or "Alexa, call 911" if she has an emergency.
I thought that was a good option but was concerned that my mother may not remember what to do in a stressful situation. Pushing a wearable help button seems easier than remembering to use my friend's system.
Some people may also use a smartwatch to call for help. This isn't a good option for my mom because of remembering what to do with the device when she needs help. 
Feel free to share another great medical alert company or alternatives you use in the comments! 
Final Thoughts On Our In-Home Medical Alert Service
We consider our Bay Alarm system to be like an insurance policy. We hope Mom never needs to use it, but we have much more peace of mind that she can get help faster if she has a medical emergency.
Automatic fall detection was an extra feature we considered but didn't purchase at this time. We may go back and add it later to her mobile alert device, along with some extra buttons.
Her Bay Alarm wrist device has water resistance, so she's able to wear it in the shower or pool. She likes that it has a long battery life and doesn't need to be removed.
While she carries her mobile phone with her most of the time, she'd set it down in the living room and had a fall in the bathroom.
Now, having a wearable device that she's comfortable with allows all of us to worry less while giving Mom back her independence.
This review was written by Vicki Cook, cofounder of Snowbirding Central and Women Who Money and coauthor of Estate Planning 101.
Next: