AARP Member Benefits for Travelers and Snowbirds
People in their 50's and older travel near and far for business and pleasure. Continuing to work into their sixties and seventies, some travel regularly by automobile, plane, and train.
Others don't venture far from their hometown until they retire.
Instead of traveling in their youth while working and raising a family, they plan "exploring the world" and "seeing sights" in distant or foreign lands once they become empty nesters.
They may even become snowbirds requiring travel at least a couple of times a year.
For these reasons and many others, AARP does more than provide lifestyle guidance and support to Americans 50 years of age and up. AARP members have access to a wide selection of incredible travel benefits they can access at home and while traveling.
AARP Member Travel Benefits
This guide covers some of the top travel AARP member benefits you can utilize to save money before, during, and after your next trip.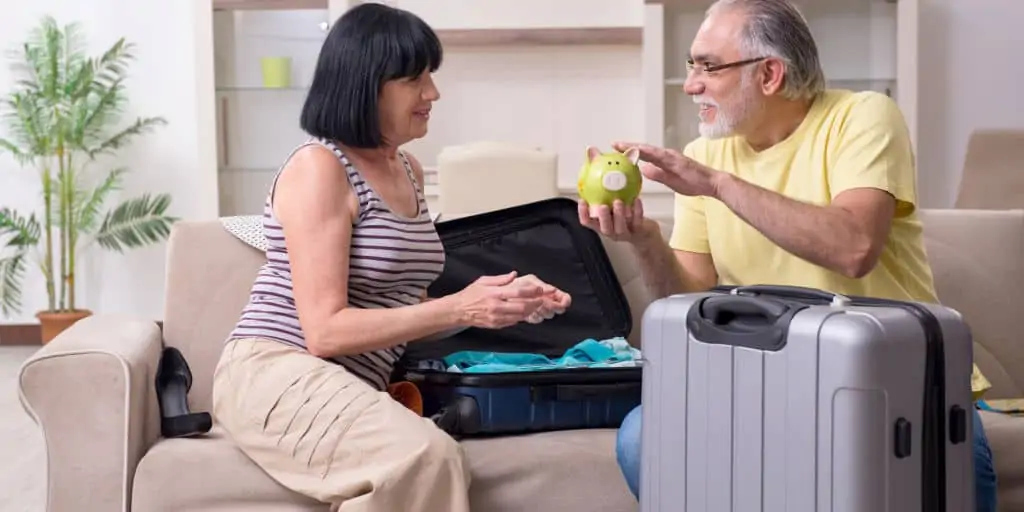 (This page may contain affiliate links and we may earn fees from purchases at no additional cost to you, i.e., as an Amazon Associate, we earn from qualifying purchases. These earnings help offset the cost of running this site. You can read our Disclosure and Disclaimer for further info.)
Travel Preparation Benefits
Before scheduling your hotel or any transportation, review AARP's many travel planning resources. AARP provides a diverse selection of travel planning tools.
For example, with AARP's Destination Guides and Members Only Access to Special Travel Content, you can find a ton of travel resources to help plan your next trip. This includes information about AARP's choice of top destinations, travel-related articles, podcasts, special reports, tips, and vacation ideas.
The AARP Travel website also helps members discover the best places to stay, eat and seek adventure.
Members can also utilize a Travel Center via Expedia that breaks down savings and assistance.
For example, a traveler who book activities, such as attractions, shows, and sightseeing tours, can save $10 on the first $100 they spend when they book through the center.
They can also receive 10 percent off certain hotels with a 5 percent rebate up to $350 on group bookings and up to 30 percent off car rentals through certain establishments.
With cruises, members also save up to $300 in onboard credits via certain cruise companies.
Yet, the travel planning savings don't end with those offers.
Through Park Ride Fly USA, AARP members receive 12 percent off pre-reserved, off-airport parking at over 150 locations, which includes airport shuttle and luggage assistance services.
They also receive up to 20 percent off a Medjet membership that covers medical emergencies when they're 150 miles or more away from their residence.
Depending on the medical travel protection plan you choose, Medjet Assist or Medjet Horizon, you might receive a free or low cost medical transfer to the hospital of your choice, crisis response, emergency evacuation, or travel security services.
Travel Lodging Benefits And More
Whether going on a weekend trip or an extended vacation, you want to maximize travel savings. AARP members receive between 10 and 25 percent off the best rate available at thousands of hotel and resort locations in the United States and around the world.
The savings percentage depends on the partnership between the company providing lodging and AARP. These benefits extend to not only hotel and motel rooms but also suites and rental apartments, houses, and villas.
Within the United States, Puerto Rico, the U.S. Virgin Islands, Canada, Mexico, and Fiji, members receive access to discounts at more than 500 resorts.
They also receive assistance with curated experiences and excursions. Internationally, they can find discounts at over 2,400 destinations.
In addition to discounts, they receive member "perks" at many locations, including bonus points to put toward free nights and hotel benefits such as late checkout. In many of these cases, you must book through the AARP Travel Center via Expedia.
The list of lodgings is extensive and includes many types of options under the following major brands:
Best Western
Choice
Clarion
Comfort Inn
Comfort Suites
Econo Lodge
Hilton
Microtel
Motel 6
Park Plaza
Radisson
Red Roof Inn
Rodeway Inn
Sleep Inn
TripBeat
Waldorf Astoria
Wyndham
Many of these companies have corporate control over other well-known hotels, motels, and other lodgings, including:
AmericInn
Country Inn & Suites
Days Inn
DoubleTree
Embassy Suites
Esplendor
Hampton
Howard Johnson
Homewood Suites
La Quinta
Park Inn
Ramada
Signia
Super 8
SureStay
Travelodge
Related: 4 Great Ways Snowbirds Can Use Vacation Rentals
Car Rental Benefits
Of course, it's impossible to discuss AARP travel benefits without devoting a bit of time to discussing vehicle rentals.
If your travel plans have you hitting the open road and leaving your car behind, then you can find plenty of rental car and other savings via your AARP membership.
The AARP Travel Center gives members access to discounts up to 30 percent off base rates for cars, trucks, SUVs, and even moving trucks.

AARP members currently receive discounts through Avis, Budget, Budget Truck Rental, Payless Car Rental, and Zipcar Car Sharing.
With most of these companies, members also receive free upgrades, and a few allow you to add an additional driver for free.
In some cases, when a rental or car-sharing company offers a membership, you can also receive a discount off the cost of that membership because of the company's affiliation with AARP.
For example, as of November 2021, members receive $43 off a Zipcar annual membership. They also receive a $40 free driving credit as an extra perk.
For even more savings while driving, AARP members can link their memberships to their Exxon Mobil Rewards+ account and receive a 500-point signup bonus ($5 in savings). Then, the linked member will receive one additional point on fuel per gallon, and 1 additional point per dollar spent in-store.
Another bonus? AARP Member Days where a single fuel purchase earns AARP members double the points.
Next read: Safe Driving Tips for Snowbirds and Solo Travelers
Flight and Vacation Benefits
AARP also promotes flights and vacation packages that offer fantastic partner savings. For example, members planning international travel who book transatlantic flights through British Airways receive between $65 and $200 off their tickets. 
With Explorations by Collette, which manages small group guided tours, members receive up to $100 off tour packages.
AARP members who need or want to travel in Europe or several other global locations can save up to $100 on vacation and river cruise packages. Other partner companies around the world offer discounts on more than 300 guided vacation packages.
River and Ocean Cruise Benefits
Through partnerships with Collette and Expedia, AARP gives members full access to cruise discounts and credits.
For example, through Expedia, members receive up to $300 in onboard credits when traveling by cruise ship in several areas, including Alaska, the Caribbean, and Europe.
Separately, members enjoy access to more than 30 luxury river cruises and savings of up to $100 per person in Asia, Egypt, and Europe.
Through Collette Cruise Tours, members also enjoy $50 off per person for their tickets to travel by boat or ship in smaller guided tours in many destinations, including China, Egypt, and Norway.
Additionally, AARP members enjoy access to over 40 special "rail and cruise" vacation packages and 5 percent savings on tickets.
Rail and Tour Benefits
Lastly, AARP provides members with plenty of savings on trips that include rail travel. With its partnership with Collette, AARP guarantees that members can save up to $100 per person on rail journeys, river cruises, land tours, value tours, and other adventures.
AARP members also enjoy an additional travel perk of $50 to $100 savings for select tours, including small-group tours as part of Explorations by Collette packages.
These guided tours offer unique opportunities for members to immerse themselves in the cultures that they visit. Collette also provides an additional $50 off per AARP member for single-city Spotlight tours.
If you're wondering about additional railway savings, don't worry. AARP has you covered for rail travel beyond Collette offerings.
Avid travelers with AARP cards who travel by train anywhere in the world receive at least 5 percent savings on their train tickets and various tours and vacation packages.
With more than 300 European train and guided tour trips that include guided tours, AARP members receive travel discounts up to $100 off per person.
AARP Perks Beyond Travel
The previously mentioned discounts are just some of the leading travel savings offered to AARP members.
You can also find a wide selection of other benefits on the AARP Member Benefits page, including opportunities to save money and enjoy extra perks for restaurants, family caregiving, health and wellness, pet care, and vehicle, life, and property protection.
As with any organization offering consumer-level membership benefits, discounts on services can change at any time.
Members need to check the site regularly for updates, so they have a solid grasp of the travel and other savings opportunities available to them at any given moment.
Don't forget to check out the AARP The Magazine and the AARP Bulletin for more timely travel tips and offers. 
It's also important to note that many businesses provide discounts and other forms of savings to AARP members even when they don't have a partnership with AARP. The owners of these businesses recognize the exclusive, positive status associated with AARP membership.
Some companies grant benefits to anyone over age 50 because they understand that people approaching retirement or already retired focus on budgeting their money as much as possible to maintain financial stability.
For these reasons, you should always ask about AARP membership and 50-plus American benefits at all businesses you pay for products and services before and during travel. You might be surprised to discover extra savings you hadn't considered previously.
Ready to Join?
Snowbirds can save hundreds of dollars (or more!) each year by using exclusive rates and special savings and discounts available to AARP members.
Even if you take advantage of credit card perks or want to remain loyal to a particular rewards program, the low cost of an AARP membership still makes sense for many people.
Joining for just one year costs $16, but if you sign up for automatic renewal, AARP will reduce your first year to only $12. You get 10% off the annual rate if you sign up for three years, and if you commit to a 5-year term, memberships are 12% off the yearly rate.
If you're already a member, consider gifting a family member or friend with an AARP membership.