What Do Snowbirds Do With Their Cars?
Every winter, there's a great migration of U.S. and Canadian snowbirds who leave colder climates in favor of warm weather.
While having the option to travel and live a snowbird lifestyle has great appeal, there are still details snowbirds need to address each winter before heading out to chase the sun.
One of the crucial decisions snowbirds must make is what to do with their vehicles.
First and foremost is determining whether it migrates south too or stays north in the cold weather while you play in the sun.
You'll need to do a little homework and planning, taking into account both the financial and logistical issues relating to your own travel as well as your vehicles, to decide.
If this coming winter is your first time snowbirding, you could probably benefit from getting some suggestions about what to do about your car and your transportation needs at your winter destination.
With that in mind, let's break down the options worthy of consideration.
We'll start with deciding whether you need use of a vehicle during your snowbird season. Then we'll discuss some choices from there.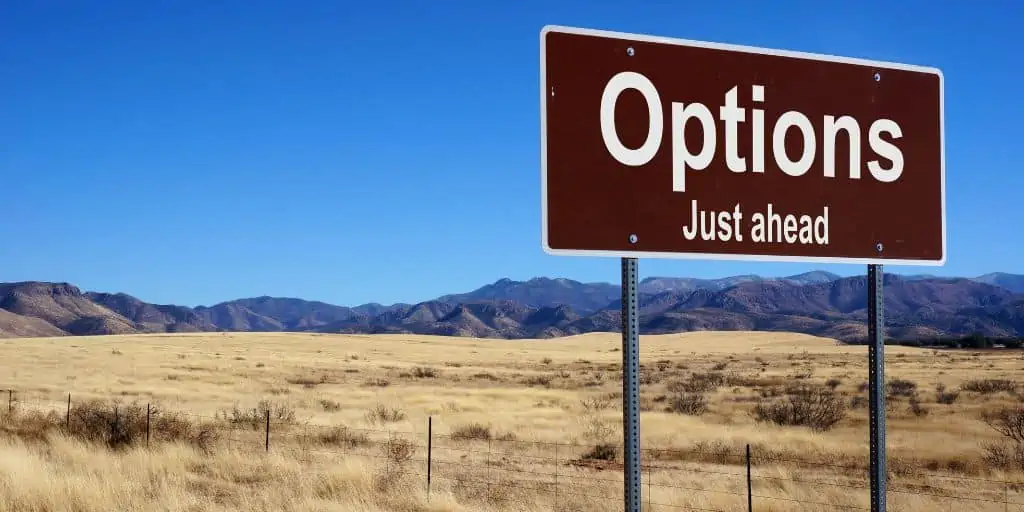 (This page may contain affiliate links and we may earn fees from purchases at no additional cost to you, i.e., as an Amazon Associate, we earn from qualifying purchases. These earnings help offset the cost of running this site. You can read our Disclosure and Disclaimer for further info.)
Will You Need a Car?
The need for a vehicle when you'll be away from home for an extended period isn't always cut and dry, but for many people, the answer is yes, they'll need a car.
But don't be surprised if you determine you can do without a car, at least most of the time.
There are several reasons why you might need a vehicle while snowbirding, such as:
Not having easy access to public transportation
Desire to frequently visit shops, restaurants, and attractions more than a few miles away
Taking several road trips during the season
Needing to often transport friends and relatives who fly in and out for the holiday season or a winter visit
While you could rent a vehicle or hire a driver for several, if not all, of these transportation needs, you'll want to weigh the costs of doing so versus having your own vehicle available 24/7.
Also, don't overlook the possibility of using a bike, golf cart, or your legs and feet to meet some transportation needs too.
If you know at this point that you do not need to take your car with you for the winter months, then your next decision is where and how to store it. You can jump to that section by clicking here.
But if you decide you need or want a vehicle at your winter home, you have a few more things to consider:
Taking your car with you
Purchasing another vehicle for your snowbird home
Renting a car for an extended period or as needed
With that in mind, there are several options worthy of your consideration.
Taking your vehicle with you
Here are four ways you can get your car from place to place. Early planning and being flexible with your schedule will be the best way to save money with these ideas.
1. Roadtripping
The most practical option might be to simply drive your car back and forth between your two locations. While that would provide many benefits, there are some disadvantages to keep in mind.
The benefits would include:
Traveling on your schedule, not someone else's itinerary
Taking the opportunity to turn the ride into a road trip of sorts, giving you a chance to see and visit other sights.
Comfort level and peace of mind you might feel traveling in your personal vehicle
Disadvantages include:
Enduring the drive not once – but twice – each year. A one-way trip from Canada, Maine, Vermont, Minnesota, or Michigan to southern states could take up to 20 hours or more.
Cost of at least one or more overnight stays. Lodging plus gas prices and dining on the road could eat into any savings driving offers over the other options we'll discuss. 
Risks of running into inclement weather, construction delays, accidents, or other road travel concerns. You'll want to stay on top of winter weather conditions and consider paying for roadside assistance coverage if you don't already.
Potential need for additional insurance coverage or state automobile registrations. Check the licensing and insurance requirements with the state you'll be spending the winter and speak to an insurance agent about specific snowbird insurance policy needs.
Related: 10+ Travel Apps Great for Snowbirds and Travelers
2. Shipping
When you want your vehicle in your winter location but prefer to fly to that destination, you could use a professional vehicle shipping service like ShipMyCars.net or EasyAutoShip. There's even a company called Snowbirds Auto Transporter.
You can also search "ship my car" online in your region to find local businesses that provide this service.
Car shippers will typically pick up your car at the appointed time and location on one end and ship it directly to your summer or winter destination.
They provide some basic insurance and will allow you to purchase additional insurance to protect your car during shipping.
This is a really good option if you have a lot of personal belongings that you want to take with you but can't take on a plane. You simply load up the car and trunk, and everything gets delivered to you simultaneously.
By the way, some vehicle shipping service providers will offer a seasonal discount for snowbirds. With multiple vehicles headed to the same destinations, they can pass on the financial benefits of shipping "economies of scale."
3. Riding the Train
If you're heading to Florida, you might skip some of the driving and travel via the rails with your car along for the ride.
The Amtrak Auto Train offers care free transportation for you and your car or recreational vehicle nonstop from Lorton, VA (Washington, DC area) to Sanford, FL, just outside of Orlando.
Travel options include private rooms, meals, priority off-boarding of vehicles, and more. Find complete details here: https://www.amtrak.com/routes/auto-train.html
4. Hiring a Driver
If you aren't interested in driving your car yourself, you could also hire a driver. This option allows you to make some interesting choices.
Professional driver services allow you to hire a driver to relocate your car or even drive you to your snowbird destination. This option works well if you don't have flexibility with dates for shipping your vehicle or if you prefer not to ship your car.
There's also the option of checking in with friends or family members to see if you could hire one of them to drive your car for you. With this choice, you could also either have them transport the vehicle only or ride along on the trip. 
Just keep in mind that you need to consider covering all the expenses of the person (and the cost to get them back to the starting location), in addition to paying for their time and effort. 
Depending on your relationship with the people involved, this could be a win-win for everyone involved.
Still, you need to ensure you have clear communication about every aspect of your travel plans and that all parties are in agreement before you choose the family or friend option.
Buying a Car for Your Winter Home
Another option is to consider keeping vehicles in both locations and finding alternate transportation to and from your destinations (fly, take a train, ride a bus, or get a ride).
The things you need to consider besides the vehicle cost would be finding a safe place to store each vehicle when it is not in use and the insurance and registration requirements of each property's state or country.
Using Car Rental or Driving Services
You might choose to keep your car up north and not purchase one for your home away from home in the south, but instead, rent a vehicle or engage a service such as Uber or Lyft when you need transportation.
This option is great if you don't have a full time need for a vehicle or want to avoid the expense of another car. It's also an ideal solution for those who don't want or like to drive all that much.
But again, there are many factors to consider, such as costs, flexibility, access to these services, and how long you'll be at your snowbird destination.
Leaving Your Car Behind
If, by chance, you might be staying in a location with easy access to public transportation, rental car companies, or rideshare options, you might not need a car in your winter destination. 
Since you wouldn't want to leave your vehicle sitting unused in the cold elements, consider storing the car in a safe place and manner.
Putting Your Car in Storage
For a monthly fee, vehicle storage facilities will keep watch over your vehicle during the winter season.
They might provide warm climate storage options and maintenance services to ensure your battery is always fully charged, and your vehicle is regularly cleaned or protected by a tarp or cover.
If you have a secure garage to keep your car, you might also engage a willing neighbor, family member, or friend you can pay to check on it at least once a month to maintain its battery and ensure it's staying clean and protected.
Whatever option you choose, follow these tips from Firestone to prepare your vehicle for storage.
Other Vehicle Tips for Snowbirds
The previous information covers available options to ensure vehicle access wherever and whenever you want it. In addition to this information, here are a few additional car tips for snowbirds:
If storing a vehicle for more than a month or two, contact your insurance company and inquire about any available savings on your auto insurance coverage for the car during its storage.
If you consider shipping your car, get quotes from at least three services, if possible. You may save hundreds of dollars on rates if you can be flexible with vehicle pick up and arrival dates.
When shipping or storing your car, note the exact condition of the vehicle before turning it over to the care of someone else. (It's a good idea to take video and photo evidence of the state of your car.) Doing this and getting the appropriate sign offs will provide recourse should any damage occur.
If you hire a personal driver, you'll want to explicitly agree on the fee and which travel expenses you cover. Also, if you plan to ride with a driver, interview the individual ahead of time. You want to make sure you feel comfortable and safe with them.
If you turn the drive into a road trip, don't forget to enjoy yourself along the way. Also, stay safe and don't push yourself too hard in terms of how long you drive each day. Always be prepared for lengthy traffic delays and stop going for the day or take a break if you feel tired or distracted.
Next: