I-75 Attractions From Michigan to Florida
Thousands of Canadian and U.S. snowbirds travel I-75 when they head south each winter and on return trips to their northern homes.
If you travel this Interstate Highway – no matter where you join or exit the almost 1,800 mile route – you might wonder what there is to do along the way. 
It makes sense to break up a long road trip with some sightseeing. Not only is it more enjoyable to travel in smaller blocks of time, but frequent breaks can also improve your focus which will help you stay safer on the road.
Amy's from Michigan and has traveled this route often. Here are some of her favorite stops to break up the 20+ hour road trip to and from her southern Florida snowbirding home.
If you travel I-75 and have other suggestions, feel free to add them in the comments. We're always looking for new recommendations on places to visit!
Michigan
Starting in northern Michigan, you don't want to miss Mackinaw City, the Mackinac Bridge, or Mackinac Island. (Even if your northern destination isn't that far north, you'll want to add these to your list of places to go!) 
Northern Michigan 
Mackinaw City
The village of Mackinaw City is a resort community located at the northern tip of Michigan's lower peninsula. Each year, over one million people visit Mackinaw City and enjoy all it has to offer, including beautiful scenery, shopping, recreation, and excellent dining and entertainment options.
Mackinac Bridge
According to the Mackinac Bridge Authority, the "Mighty Mac" is currently the 5th longest suspension bridge in the world at 26,372 feet. In the middle of the Mackinac Bridge span, you're 200 feet above the water, and the main towers rise more than 300 feet above the bridge surface.
The bridge closes on Labor Day morning for the Annual Bridge Walk, which started in 1958, less than a year after the bridge officially opened. If you're interested in joining the annual 5-mile walk, plan ahead, as you'll be joining tens of thousands of people participating each year.
Mackinac Island
Located just off the shore of Lake Huron, Mackinac Island is a little slice of paradise between Michigan's Upper and Lower Peninsulas. Generally, visitors to this mostly vehicle-free island take a 15-minute ferry ride, but you can fly into Mackinac Island Aiport (MCD) or arrive via private boat.
Mackinac State Park takes up a large portion of the island, and its natural wonders, historic sites, and monuments are popular with visitors.
In the City of Mackinac Island, you can enjoy "touristy" areas and shop, rent bikes, or take horse-drawn wagons or carriage rides. Many visit museums, forts, caves, forests, and more.
Central Michigan
Bay City
As you head south on Michigan I-75, you'll be within a few miles of Bay City near the southern point of Saginaw Bay on Lake Huron. 
You can spend a few hours at the Saginaw Valley Naval Ship Museum and take a self-guided tour of the USS Edson. This Vietnam-era destroyer is 90% open to the public, so you'll have access to most of the ship.
Keep in mind that this tour does require some climbing on ladders to access some areas of the boat, so sneakers are recommended.
The Delta College Planetarium is another great stop if you enjoy learning about space and exploration. Check out the shows and events calendar for the Planetarium here.
Southern Michigan
(This page may contain affiliate links and we may earn fees from purchases at no additional cost to you, i.e., as an Amazon Associate, we earn from qualifying purchases. These earnings help offset the cost of running this site. You can read our Disclosure and Disclaimer for further info.)
Detroit
If your travels have never taken you to the "Motor City," – you'll want to set aside plenty of time to explore.
First stop is the Henry Ford Museum of American Innovation. Set aside the better part of a day to visit the three must-see attractions and then take in the Giant Screen Experience.
The Motown Museum and the Detroit Institute of the Arts are terrific stops for those who enjoy the arts.
If you're in town on Tuesday or the weekend, stop by the Eastern Market, which has been operating since 1891. With a goal of providing fresh and nutritious food to local residents, the market is run by a non-profit.
Be sure to visit the fantastic Detroit Zoo! Located just north of Detroit, the 125 acre zoo houses over 2000 animals in exhibits such as the:
Polk Penguin Conservation Center
Arctic Ring of Life (Amy's favorite for polar bears)
Australian Outback Adventure
Great Apes of Harambee
National Amphibian Conservation Center
Holden Reptile Conservation Center
Butterfly Garden in the Wildlife Interpretive Gallery
Maybe enjoying a flight of craft beverages is what you prefer. In that case, there are dozens of breweries, cideries, and meaderies in and around the Detroit area.
No matter what you enjoy doing, you'll find an attraction or event of interest in Detroit.
Monroe             
One of the southernmost cities in Michigan on Interstate 75 is Monroe. Here, you can take a guided tour of the River Raisin National Battlefield Park and visit the museum and visitor's center (currently open but under construction.) 
William Sterling State Park is Michigan's only state park on Lake Erie. If you enjoy camping, fishing, or hiking, there's plenty that you'll enjoy at this 1,300 acre state park.
Ohio
As you continue south, I-75's route brings you past even more things to see and do in Ohio. 
Northern Ohio
Toledo
The Toledo Zoo and Aquarium is another excellent stop for animal lovers. You'll see more than 700 species during your visit.
If you plan to stop, keep in mind the zoo is only open 10 a.m. – 4 p.m. most days, and it's closed on Tuesdays.
You can also spend a few hours in Toledo at the National Museum of the Great Lakes. Visit the exhibits that tell the story of the Great Lakes and tour the Museum Ship, Col. James M. Schoonmaker, and the Museum Tug Ohio.
Central Ohio
About 90 miles south of Toledo in Wapakoneta, you'll find the Armstrong Air and Space Museum. Wapakoneta is the hometown of Neil Armstrong, the first person to walk on the moon.
Stop for a couple of hours and enjoy the exhibits on aeronautical history and the tribute to Armstrong.
Southern Ohio
Dayton
The National Museum of the U.S. Air Force has earned one of the highest google review rankings we've ever seen (currently 4.9/5 with almost 20,000 reviews!)
You'll enjoy free admission and parking seven days a week at the world's largest aviation museum at Wright-Patterson Air Force Base.
Another attraction that might interest you is the Boonshoft Museum of Discovery and its sister organization, SunWatch Indian Village.
Tour the natural history museum and science center, and catch a show at the Planetarium. Then, head to Sunwatch – a museum of the area's 12th century Fort Ancient Native Americans.
Cincinnati
Cincinnati is the last stop on Interstate 75 in Ohio. There are plenty of things to see and do in "The Queen City" of Cincinnati.
Take an old-fashioned riverboat ride or walk a few miles on the expansive riverfront trail. You can even walk across several bridges (including the Purple People Bridge), listen to music at the Newport, Kentucky Levee, or grab dinner in Covington, Kentucky.  
If you skipped the Toledo Zoo, consider catching the Zoo and Botanical Garden in Cincinnati. The zoo recently had a new addition – Fritz, the baby hippo!
The second oldest zoo in the United States, the Cincinnati Zoo, opened in 1875. And the amazing garden exhibits will round out a full day at this attraction.
Looking for something a little more unique? Then spend a couple of hours exploring more than 100 years of history at the American Sign Museum.
Kentucky
Your Interstate 75 route map takes you through Kentucky next. There aren't too many major cities on I-75, but there are a few stops you'll want to consider.
Central Kentucky
Lexington
You're in horse country when you reach Lexington! Make plans to visit the Kentucky Horse Park exhibits and catch a live equine presentation. 
A popular historical attraction in Lexington is the Mary Todd Lincoln House. While you may know her name as the wife of President Abraham Lincoln, there's a lot to learn about the first lady who became a widow after her husband's assassination in 1865.
And if you enjoy a good bourbon, you won't want to miss the distilleries in Lexington. Stop and tour the Woodford Reserve Distillery or other distilleries on the Kentucky Bourbon Trail.
Southern Kentucky
London
As you head further south on I-75, you'll see exits for London, Kentucky. Here, you'll find the 700,000+ acre Daniel Boone National Forest.
In addition to fantastic leaf peeping opportunities on a fall trip south, you can enjoy camping, hiking, kayaking, climbing, fishing, photography, and more when you visit.
Corbin
If you enjoy nature and waterfalls, don't miss the Cumberland Falls State Resort Park. Depending on the time of year you visit, you'll find lodging, a restaurant, camping, picnicking, gem mining, and more.
If you do plan a visit, check dates to get a glimpse of a Moonbow – "a white rainbow or lunar rainbow, formed just like a rainbow…appears for the two or so days, as long as the sky is clear, on either end of the full moon."
Tennessee
It's a reasonably quiet ride on Interstate 75 in the northern part of Tennessee.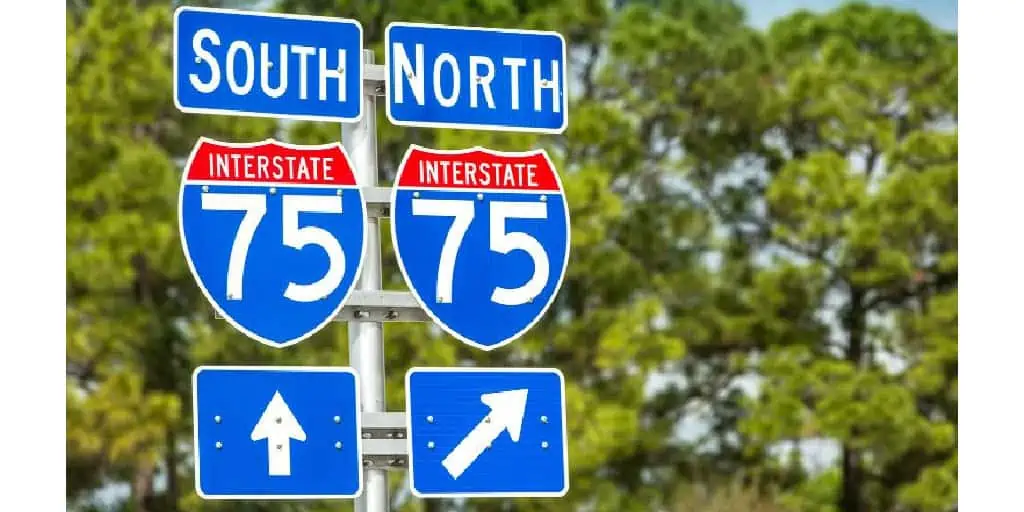 Central Tennessee
Clinton
The Museum of Appalachia is described as "A Living Mountain Village" on its website. On your self-guided tour, you can wander the 65 acre community and view thousands of artifacts.
There's even a restaurant on-site that serves Southern Appalachian country food. 
Knoxville
There's plenty to do in the city of Knoxville, Tennessee. If you enjoy wandering the streets to shop, dine, or enjoy local entertainment, you'll want to check out the famous Market Square region of the city.
But Ijams Nature Center might be preferred if you'd instead hike, bike, paddle, or enjoy the outdoor surroundings. 
The McClung Museum of History and Culture at the University of Tennessee Knoxville Campus may also interest you. Currently, exhibitions include Masterful Mammals, The Spirit of Día de los Muertos, the Geology and Fossil History of Tennessee, and more. It's also a frugal stop on your travels, offering free admission and free parking. 
Southern Tennessee
Cleveland
If driving on I-75 through southern Tennessee on a nice day, take a few hours to stop at Red Clay State Historic Park. The 260+ acre park was the last seat of the Cherokee national government before the Cherokee were forced to move west in the 1830s.
Chattanooga
Before you leave (or as you enter!) Tennessee, you'll pass by Chattanooga. In a larger metropolitan area, there are plenty of attractions. But here are a few of our favorite stops in the "Scenic City."
You could spend an entire day at the Tennessee Aquarium. In addition to all of the exhibits at the aquarium, you can also catch a laser IMAX show (currently Wings over Water 3D or Ocean Odyssey 3D.) 
You'll find the highly-rated Raccoon Mountain Caverns just a few minutes outside Chattanooga. If you're a camper, you're in luck because there's a campground here too – (and they also have cabins if you'd like to stay and don't have an R.V. or tent!)
You can take a guided Crystal Palace Walking Tour or consider the Wild Cave Expeditions if you're more adventurous.
You can ride "America's Most Amazing Mile" on the Lookout Mountain Incline Railway. Learn the history of this 125 year old attraction that brings in people from all over the world and enjoy the shops and dining at the bottom incline station in St. Elmo.
Take a train ride or go on an excursion at the Tennessee Valley Railroad Museum. You can learn the history of regional train travel in the area from the exhibits and choose other options, including the Homefront Tea Room, the Hiwassee River Gorge Loop, or Dinner on the Diner.
Georgia
You'll spend over 5 hours on I-75 (around 350 miles) on the quickest route from northern to southern Georgia.
Northern Georgia
Calhoun
For a quick but interesting stop, check out The Rock Garden at the Calhoun Seventh-day Adventist Church. Described as "peaceful" and "a true hidden gem," – the garden is full of tiny yet detailed buildings built with small stones.
Central Georgia
Atlanta
While Atlanta isn't halfway through Georgia on I-75, it's far enough south to feel like the state's central region. Here are some of our top stops in the greater Atlanta metro region:
Martin Luther King, Jr. National Historical Park – Close to three-quarters of a million people visit the historic park that memorializes the leader of the Civil Rights Movement in the U.S. You can spend time in the Visitor's Center, his birth home, The King Center, the Ebenezer Baptist Church, the World Peace Rose Garden, Fire Station No. 6, and the Behold Monument.
Ponce City Market – Described as a "culmination of history," – the Ponce City Market is a place for all to gather. You can shop, dine, live, or do business in this restored historical structure in one of the most popular neighborhoods in Atlanta.
Jimmy Carter Presidential Library and Museum – You'll spend a day immersed in the life of a president when you go to the Jimmy Carter Presidential Library and Museum. In addition to expansive exhibits, you can experience a replica of the Oval Office and a presentation about the "Day in the Life of the President." 
World of Coca-Cola – For a stop that's on the lighter side, check out the World of Coca-Cola. Learn the history behind the world's most popular soda brand through interactive exhibits and memorabilia. There's even a "scent" discovery area and tastings of various beverages worldwide.
Centennial Olympic Park – If you're a sports fan (and even if you're not!) – it's worth stopping at the site of the 1996 Summer Olympics – Centennial Olympic Park. You can stop by the Visitor's Center 7 days a week and take a picture in front of the Olympic Rings statue. It's also within walking distance of numerous restaurants, shopping, and other popular attractions.
Macon
As you head south from Atlanta, you'll go through Macon. If you're a music fan, add The Big House Museum (aka The Allman Brothers Museum) to your list of stops. This house was where band members, roadies, friends, and some family members lived in the early 1970s.
Visit the exhibits and see guitars and other memorabilia in the location where the group spent a lot of their time.
You've likely never seen anything like the Ocmulgee Mounds National Historical Park. According to the National Park Service, the park has "more than 12,000 years of continuous human habitation." Visit the Earth Lodge, Funeral Mound, Clay Pond, the British Trading Post, Civil War Earthworks, and more.
Florida
When you've finally crossed into the Sunshine State, you may not think about stopping to catch some attractions along your route. But don't mistake missing what's in your "backyard," too!
There is so much to see and do in Florida that taking a few breaks is worth it!
Northern Florida
Gainesville   
You can walk through the tropical landscape of the Butterfly Rainforest in the Florida Museum of Natural History at the University of Florida.
The live exhibits show hundreds of butterflies, birds, and more. The permanent exhibits are free, but donations are encouraged. Special exhibitions have a small fee but based on the online reviews, the cost is worth it!
The Carson Springs Wildlife Conservation Foundation is a licensed conservation and educational facility that rescues animals. They house and support endangered species, including cheetah, Indian rhino, tiger, striped and spotted hyena, warthog, North American river otter, and more.
Most people choose the walking or riding tour guided by a zoologist.
Central Florida
Ocala
Ocala has many popular attractions. One I remember visiting with my grandparents is Silver Springs State Park. Glass bottom boat rides have been a part of Silver Springs tourism since the 1870s. You can also camp, bike, paddle, hike, visit Silver Museum, and more.
If you enjoy motorsports, plan to visit the Don Garlits Museum of Drag Racing and the International Drag Racing Hall of Fame. Between the two buildings, you'll see almost 300 cars (dragsters, custom, and antique) while you learn about the history of drag racing. 
Tampa/Apollo Beach
If you've driven through Tampa and always thought about how nice it would be to stroll or bike along the waterfront, it's time to add the Tampa Riverwalk to your list of things to do.
The 2.4 mile Riverwalk passes by the Florida Aquarium, Sparkman Wharf, the Tampa Bay History Center, and plenty of restaurants, shops, and entertainment options.
Apollo Beach is just south of the city of Tampa, and here, you'll find the Manatee Viewing Center at the Tampa Electric Company. You will likely see manatees up close to the viewing areas if you're in the area from November 1st through April 15th.
The website has live viewing cams, so you can check whether manatees are in the area. When we visited last winter, hundreds of manatees were easily visible from the boardwalks and platforms at the center.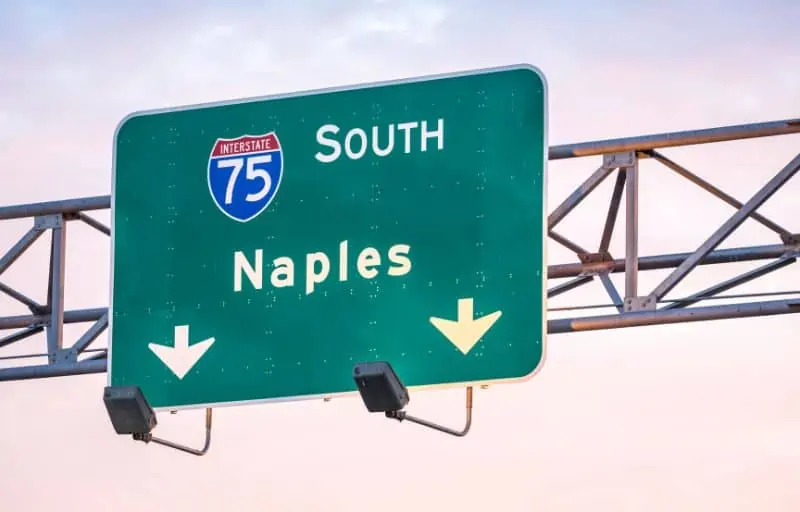 Southern Florida
Sarasota   
We may be a bit biased as we both own condos in Sarasota. While you should definitely visit Siesta Key Beach, other stops you should consider are the Ringling Museum of Art and Marie Selby Botanical Gardens.
The Ringling Museum of Art is a 66-acre complex with the State Art Museum of Florida, Circus Museum, Ca' d'Zan mansion, and Bayfront Gardens. While the entire complex is outstanding, the Circus Museum is a highlight for anyone who knows the name, Ringling.
If you have any doubts about visiting Marie Selby Botanical Gardens, take a few minutes to look at the Google Reviews of the site.
"Heaven is a place on earth," "amazing and magical," and "beautiful at every turn" is just a sample of the comments about Selby Gardens. Enjoy the beauty nature has to offer on beautiful Sarasota Bay.
Fort Myers   
Just over an hour south of Sarasota on I-75 is Fort Myers. Here, you'll find the Edison and Ford Winter Estates.
On more than 20 acres, you can take a guided tour of the historical homes of close friends Henry Ford and Thomas Edison. You'll explore the museum, gardens, and the 1928 Edison Botanical Research Laboratory. 
If you missed the manatees in Apollo Beach, you have another chance to check them out at Manatee Park in Fort Myers.
From mid-December through March, you're likely to see manatees seeking warm water from the Florida Power and Light Power Plant across the street. In addition to viewing areas, there is a personal watercraft launch and kayaks for rent in the park. 
The Southernmost Section of I-75
When traveling south from Fort Myers, you'll be near Naples when Interstate 75 changes direction. As you head east toward Miami, you're on a section of I-75 called the Everglades Parkway (aka "Alligator Alley"). I-75's route will end in the Miami area in a couple of hours.
If you travel this route, comment below on the stops you enjoy off Interstate 75, so we can include them in our list!
Next: