Should You Work Part-Time as a Snowbird?
If you're a traditional or early retiree who is also a snowbird, you may have no interest in going back to work as you seek out the sunshine in a warmer climate during the winter season. 😎
But there plenty of "retired" snowbirds benefit in various ways from working a part-time job for at least some of the year.  
Picking up some extra part-time work may also be a smart move for some non-traditional or younger snowbirds who still work full-time when they head south for the winter.
Great seasonal opportunities abound in popular snowbird destinations!
But before you set a job alert or look for job postings for part-time gigs, there are some good reasons to put aside the idea of working when you're snowbirding too.
There may be more downsides to a "some-time" job when you snowbird than you realize.
Let's look at the pros and cons of part-time work as a snowbird and consider a few essential questions you should ask yourself before working in this lifestyle.
Benefits of Working Part-Time As a Snowbird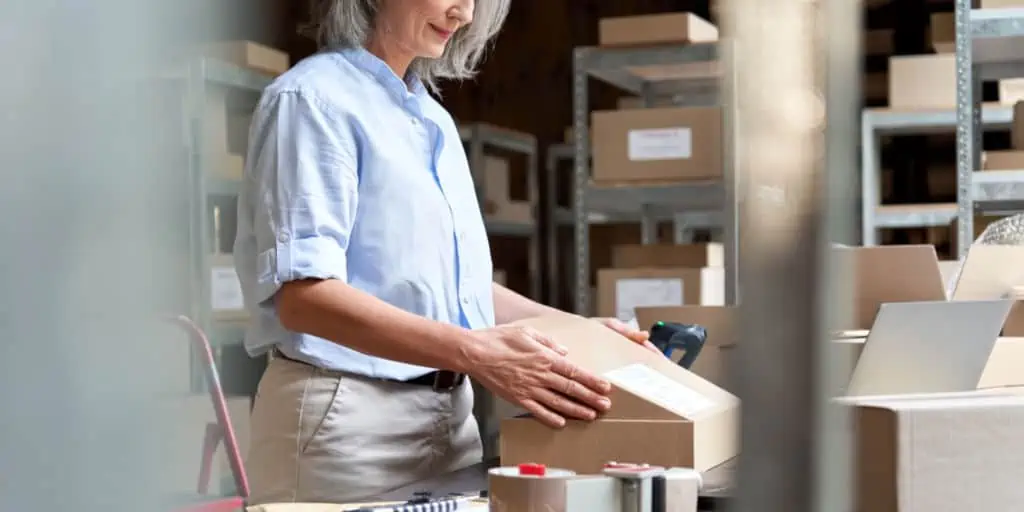 (This page may contain affiliate links and we may earn fees from purchases at no additional cost to you, i.e., as an Amazon Associate, we earn from qualifying purchases. These earnings help offset the cost of running this site. You can read our Disclosure and Disclaimer for further info.)
1. Earning extra cash. Money from a part-time job can boost a snowbird's financial health by allowing you to withdraw smaller amounts of money from your investment accounts or continue to grow their balances. 
Paychecks from part-time work may also help you delay the start of Social Security benefits or supplement smaller SS payments too.
If you have consumer debt, you can use the income from a part-time position to pay it down, reducing the amount of interest you pay. 
2. Employee benefits. Some part-time jobs may include health insurance, life insurance, paid sick days, and more. 
The ability to save thousands of dollars by taking advantage of benefits offered by an employer makes deciding to take on a half-time work schedule an easy decision for some snowbirds.
3. Wellness benefits. You may enjoy beach days, golfing, shopping, playing pickleball, entertaining house guests, and more as a snowbird. But you can't dismiss the social, emotional, and even physical health benefits that part-time work provides for some people.
Staying engaged with others and remaining mentally and physically active – even if it means choosing to work when you don't need the money – is vital for enjoying the snowbird lifestyle. 
In addition to giving you some spending money, working part-time may help you meet new people and give you a reason to get up and out of the house a few days a week.
Potential Drawbacks for Snowbirds Working Part-Time
1. Working for money you don't really need. If you aren't sure about your overall financial health, you may take a job to earn an income you don't need. 
Without carefully tracking your expenses, you may be spending much less than you thought as a snowbird or have bigger retirement account balances than you'll ever be able to use.
And if you collect Social Security, earning too much income from working could impact your benefits too.
2. Missing out on snowbird adventures. You might also miss out on wonderful opportunities in the sun because you have to go to work a few times a week. 
While your work schedule may allow flexibility, you may have to turn down a walk at the beach, a trip to a brewery, a game of golf, or just chatting with friends by the pool because of work.
Spontaneous adventures with snowbird friends and neighbors and enjoying family visits are some of the greatest parts of snowbirding. A part-time position needs to be worth it to have it interfere with your plans.
3. Added stress and responsibility. While there may be several benefits from working part-time as a snowbird, it may also cause you stress and other adverse side effects.
Will the job really be part-time? Or will they try to rope you into more hours when they find out what a good employee you are? 
Does all of your experience in other roles lead them to think you'd be a better boss than an employee? You may be asked to move into a position of authority (even part-time) that doesn't align with your goals.
Keep in mind that it's OK to do nothing and not earn a paycheck! You may find plenty of other ways to occupy your time when you give yourself a chance to unwind from work life.
Questions to Ask Yourself About Working as a Snowbird
Before you decide to apply for a role, you must ask yourself some essential questions. Your answers will help you narrow down job choices and hopefully help you find a position that's a good fit.
After responding to these questions, you may also decide that part-time work isn't a good idea for you. But at least you'll know that before you waste time searching and applying for a job you won't enjoy. It will also save a potential employer time they may have invested in onboarding you too!
1. Do I need a job for the money, or am I just looking for something to do? 
If your finances are a concern, it makes sense to look for work. But if you're using work as a way to fill some hours in your day, you might consider volunteering or trying other social activities to meet that need. 
2. How many hours do I want to work each week, and what schedule would best meet my needs?
If you decide part-time work makes sense, do you want to work 8 hours a week, 20 hours, or more?
Do you want to work just a few hours several times each week or put in a couple of long days and have the rest of the week off?
The answers to those questions are vital before deciding what types of part-time jobs make sense for you to consider.
3. What types of jobs do I enjoy? 
While plenty of employers need staff during the winter months, you want to look at work opportunities that meet your needs during the snowbird season. A job doesn't necessarily have to be fun, but you shouldn't dread heading to part-time employment either. 
You may be more comfortable in a seasonal opening that's similar to other responsibilities you've had. But part-time roles in a different field may excite you too.
There may be niche opportunities you've never considered that would check off all the boxes you have for some-time work!
4. Do I want to work an in-person position or a virtual part-time role?
If one of your goals is to get out of the house a few times each week or be around more people, choose job openings at a traditional employer. But part-time employees who work virtually are also needed by many companies.
If your social needs are met in other ways, job seekers looking to work a few hours each week may find that a remote or virtual position for a responsive employer is all they need to fulfill their financial or professional needs.
Final Thoughts on Part-Time Work For Snowbirds
There are plenty of pros and cons to consider when it comes to working during snowbird season.
f money is a concern, working makes sense. But take time to consider all the different employment opportunities open to you.
If you're working for reasons that aren't financial, you should carefully consider all of your options.
While you can quit a job you don't enjoy, you're less likely to regret your decision if you don't take a job just to keep you busy.