How to Be a Great Houseguest (7 Do's and 7 Don'ts)
You may enjoy relaxing in luxurious accommodations on expensive vacations, spending your days away from the office hiking in the back-country, or taking the kids to popular attractions when you're away from home. 
But another wonderful opportunity may present itself if a relative or close friend invites you to stay with them.
Many who live a snowbird lifestyle choose to host family or friends and spend quality time with them while they're on vacation.
If you accept an invitation to stay with a friend or relative who snowbirds, there are certain things you will want to do (and not do) to be a gracious guest. 
Remember, your actions (or lack of action) as an overnight guest could be the determining factor as to whether or not you get invited back.
While this may matter more if those you'd be visiting are close relatives who actually play a big role in your life, you don't want anyone to regret the offer they extended for you to stay with them.
There are two ways to approach the subject of house rules and being a grateful guest.
You can look at the things you want to avoid
Or consider what you can do to make sure you have the best vacation possible
For your benefit, we're going to look at both sides of this modern etiquette equation.
We'll start with a list of what you should avoid doing as a house guest and follow it up with actions you can take to show your appreciation for being invited to stay in someone else's home.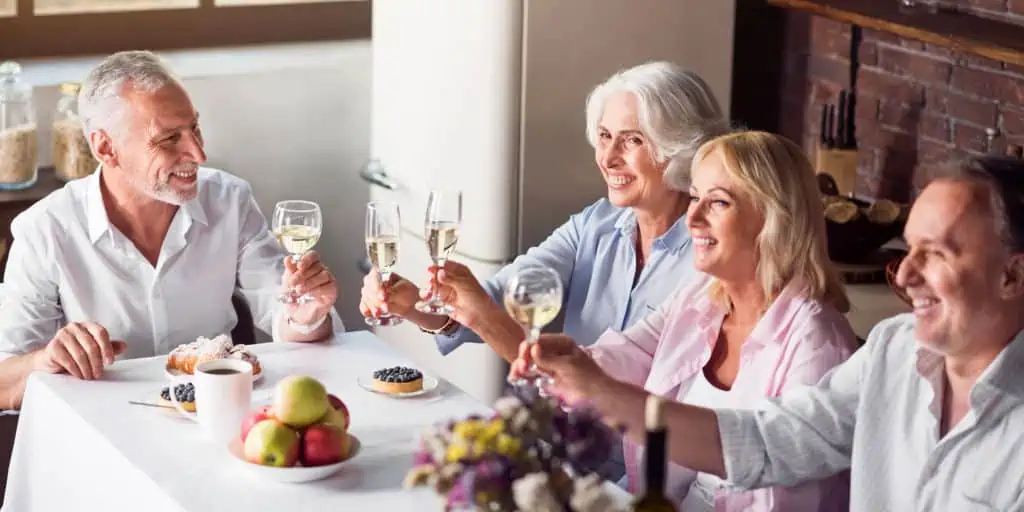 (This page may contain affiliate links and we may earn fees from purchases at no additional cost to you, i.e., as an Amazon Associate, we earn from qualifying purchases. These earnings help offset the cost of running this site. You can read our Disclosure and Disclaimer for further info.)
What Not to Do as a Vacation Houseguest
Even if you have a great personality and decent manners, there are still important actions you'll want to avoid when it comes to staying at a friend or relative's home as their guest. 
While you may never dream of behaving in some of the ways listed below, they're on the list for a reason.
We've heard many horror stories and talked to plenty of snowbirds about issues they've had with visiting guests to create this "what not to do" list.
Here's a list of 7 Don'ts:
1. Don't Show Up Uninvited
Even if your snowbirding family members or friends previously insisted that you should visit and stay with them, always ask if the offer still stands before making plans.
You're not really "invited" until your hosts communicate that the dates work for them and you're welcome to visit and stay over.
If you happen to be in their area on short notice, call and ask if you can meet out for lunch or dinner, or stop by for a short visit. Make alternate plans for lodging before you arrive so your surprise visit doesn't create an awkward situation for everyone.
Put the hosts and their needs first and you'll likely get another invite to come back and stay. 
2. Do Not Overstay Your Welcome
If you're making plans to vacation at someone's home, avoid overstaying your welcome. Also, don't ask to extend your visit beyond your previous agreement.
Remember that it's a must to discuss the length of your stay BEFORE you make final plans.
When in doubt – less is better – especially if the hosts have limited space or lots of company visiting throughout the season. 
If they enjoy your company and don't have other plans, the hosts might well ask if you can stay longer.
Still, it's a smart move to consider finding lodging in the area for a few nights so you can continue to spend time together – without it being 24/7.
3. Don't Ask to Bring Pets or Extra Guests
Do not show up with extra people. Surely, the invitation extended to you was made to include all who would be welcomed.
Also, don't ask to bring your family pet(s). If the host doesn't have pets, there might be a reason for it. If they do have pets, yours might disrupt the flow of the household, not to mention clashing with your host's pets.
(Note: Some condo associations or HOA's have restrictions on pets in general – or breed/size limitations.)
Hiring a pet sitter, leaving an animal at a kennel, or dropping your pet off at a family member's home is better guest etiquette than trying to bring it with you on this type of vacation. 
4. Don't Complain About Accommodations
Don't be the sort of houseguest who has to have a particular cable channel for a big game or one who complains about the firmness of the bed, or the size of the beach towels.
You can always head to a local sports bar (and treat your hosts to dinner if they're fans too!) or give them a break one evening while you head out on your own.
If the bed isn't comfortable, remember that you're only sleeping on it for a few nights and you're saving a lot by not paying for lodging. 
If you have a favorite beach towel of your own, pack it.
That being said, you most certainly could ask for an additional blanket if you're cold at night.
5. Don't Use Things Without Asking or Snoop In Your Hosts Belongings 
Your hosts won't expect you to ask to use shampoo or other toiletries left in the guest bathroom – ask where you can find extra toilet paper, hand soap, etc. if necessary.
But don't go through drawers and closets in the house looking for anything. 
The space you're in is likely their "guest room" but may also serve as their personal storage space too. 
If it's too late to run to the store for an item you forgot, check in with your hosts to see if you can borrow or use something they may have. Then, replace it promptly the next day.
Also, do not make use of items or appliances without asking for permission.
Asking your host to do your laundry is a gigantic no-no. So too is assuming you can use their washer and dryer to clean your dirty clothes without asking.
6. Do Not Expect Your Hosts To Entertain You
When you talk with your hosts about your visit, try to determine the "ground rules" for what your visit will look like.
Are you going to be spending the entire time together? Or are you just using their place for more of a "home base" as you visit the area?
A lot of this will be based on your relationship with your hosts and their schedules and interests.
Keep in mind that your hosts may entertain other guests too. And while you may be excited to see certain sights, your host may have already visited local attractions a number of times. 
Clear communication prior to your vacation will help streamline your plans.
Renting a car (even if your hosts say they'll take you places) during the time frame of your visit may make the most sense for everyone involved.
When you explore some sights on your own, you'll get a short break from one another too – and that's a good thing.
7. Don't Drink Too Much
You're on vacation and plan to relax. But you need to consider that you're a guest in someone's home before you "have one too many" and create an uncomfortable situation for everyone involved. 
If your hosts don't drink alcohol or have cut back on how much they drink, respect their decisions.
They may be fine with you drinking in their home – but don't encourage them to "just have one" or to keep up with your pace.
It's a smart move to have a glass of water or soda between alcoholic drinks to stay hydrated too. And don't forget that adult beverages for happy hour pack a powerful punch without food.
Overindulging in alcohol can turn even the best company into a bad houseguest.
Boost Your Chance To Get Invited Back
Houseguests who avoid these seven key "don'ts" show their hosts they're respectful of boundaries, flexible with plans, and interested in making wonderful memories for all involved.
When everyone has a good time, your hosts will look forward to your next visit as much as you anticipate it too.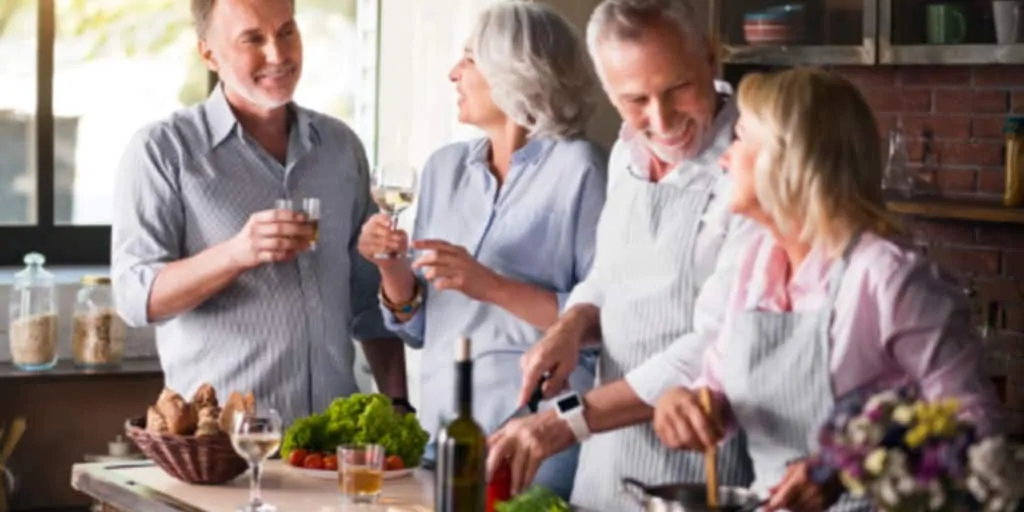 What to Do as a Vacation Houseguest
Although there are occasions when causal acquaintances may offer you a place to stay, there's a good chance you know your hosts quite well.
Your knowledge of your family members or friends' lifestyles should direct some of your "do's" as a houseguest.
But there are also general guidelines you should follow no matter whose home you're visiting for any length of time.
To help guide you, here's our advice for good houseguest etiquette: 
1. Talk about the length of your stay before finalizing your plans.
Your hosts may be very generous with their offer, but you may suggest limiting your visit to just a few days so as to not impose.
If they sincerely want you to stay longer, they'll likely make that very clear in your initial discussion. 
In general, longer visits (one week or more) should be for immediate family or extremely close friends.
2. Follow your host's rules and routines during your stay. 
Unless you have a separate space and plans from your host, it's important to be mindful of their house rules and routines.
This means that you're awake and ready if your hosts plan on serving breakfast and that you don't stay up until all hours of the night if they usually turn in pretty early.
You may prefer to turn on the TV after dinner but your host may enjoy sitting around the table and talking or playing a game in the evening.
Follow their lead during your visit so that you're not seen as rude guests adding extra layers of stress or difficulty.
It's also important to be respectful of your host's schedule and to give them plenty of personal space.
Unless they're real extroverts, chances are they have things they enjoy doing without company.
They may also need to stick to an exercise or eating schedule for health reasons. 
3. Buy Your Own Groceries and Supplies
While we don't suggest showing up with a trunk full of groceries, talk with your hosts about how to help secure and pay for the food and drinks you'll need during your stay.
Offer to go shopping if you have specific dietary restrictions, special items you want, or to pick up items at the store your host may need.
And don't forget to replace things you use up.
Your host may graciously offer to replenish their stock after you leave, but at least offer to help out by picking up a few items you notice are gone if possible.
4. Pay For A Meal(s) Out and Activities
If you're not paying for a place to stay, offer to pay for a nice meal out (or more!) or to cover the tickets to local attractions during your vacation.
While this doesn't mean you should have to pay for everything, making the offer will go far with your hosts. 
Even if your hosts are your parents who may want to pay for everything, insist that you do something special for them too.
Find a restaurant they've never visited and have a nice dinner. Invite them to order anything they'd enjoy. Or pay for tickets to a show or event they may not normally treat themselves to.
This will show that you appreciate what they've done for you.
5. Bring or Leave a Thoughtful Gift
You might already have great ideas for an arrival gift, as it's a great way to show your appreciation of the opportunity to stay in their home. Fresh cut flowers, a bottle of wine, a basket of fresh fruit, a box of chocolates, or some delectable breakfast pastries or desserts are appropriate.
But you can also wait until later in your stay to pick up a hostess gift and leave it behind with a thank you note.
This allows you time to better understand what your hosts might enjoy or to support a local business in their area.
6. Clean Up After Yourself and Offer to Help With Household Tasks
Drop your bad habits at the door and strive to keep your space clean during your stay as a house guest.
Even if you have a private space, it's important to adhere to a few basic guidelines and keep it as clean as possible during your stay.
Make your bed, pick up your clothes, hang up wet towels, wipe down the bathroom daily, and ensure the toilet seat is down.
If you have questions about how your host would like a space in their home maintained or where you should put dirty towels, just ask.
And don't forget to extend the offer to help with household tasks too.
Offer a lending hand whenever and wherever possible. But keep in mind that your host may object too.
They may have a certain way of doing things or prefer to handle household tasks on their own. Graciously abide by their decision.
When it's time to leave, double-check to make sure you have everything that belongs to you. You'll save your host's time and energy if they don't have to mail back items you've left at their home.
7. Remain Flexible Throughout Your Stay
You may be excited about all of the adventures you'll have on your vacation, but it's important to realize your plans may need to change.
Your hosts don't have control of the weather, crowds, car problems, or potential illnesses.
There are plenty of things that can derail the best made vacation plans, so having an open mind is vital to not being disappointed or appearing as rude houseguests.
It's also important to remember that your hosts are not on vacation. They may have appointments to go to or weekly events in their normal schedule that don't align with your plans.
Communication prior to and during your visit will help everyone accomplish their goals throughout your stay. 
Make a Positive Impact for Return Invites
Being a perfect guest might be impossible, but do all you can to show your appreciation and that you're enjoying yourself during your visit.
And after a great stay, send a personal, hand-written note and include a picture you took to show gratitude for your host's hospitality.
You should follow these rules of houseguest etiquette no matter what your relationship is with your host.
For the most part, you should accept that even if they extended the invitation, your visit is a bit of imposition.
They made the invite because you matter in their lives.
As long as you understand and respect the value of the offer they've extended as a friend or family member, you'll most likely find it easy to do the right thing at all times.
One final note, if you have the ability to do so, offer to reciprocate by extending a sincere invitation to visit your home too. Then read, about setting your own healthy boundaries with your houseguests.