Are 55 Plus Active Adult Communities for Snowbirds?
When you're looking for housing to escape winter in the Northern parts of the United States, you might wonder if snowbird living in a 55+ active adult community is a good idea.
These communities seem very popular for retirees in Florida, Arizona, Texas, and other hot spot snowbird destinations.
But would a second home in one fit your lifestyle for the winter months?
55+ communities are residential communities with age qualifications. Typically, one resident must be 55 years of age or older.
But other rules can apply, and some may allow a small percentage of their population to be under this age limit.
Living in a housing community or RV Resort with people of similar ages allows for new friendships, experiences, and fun.
55+ active adult communities are great for people looking for a vibrant lifestyle with plenty of outdoor activities and low-maintenance housing.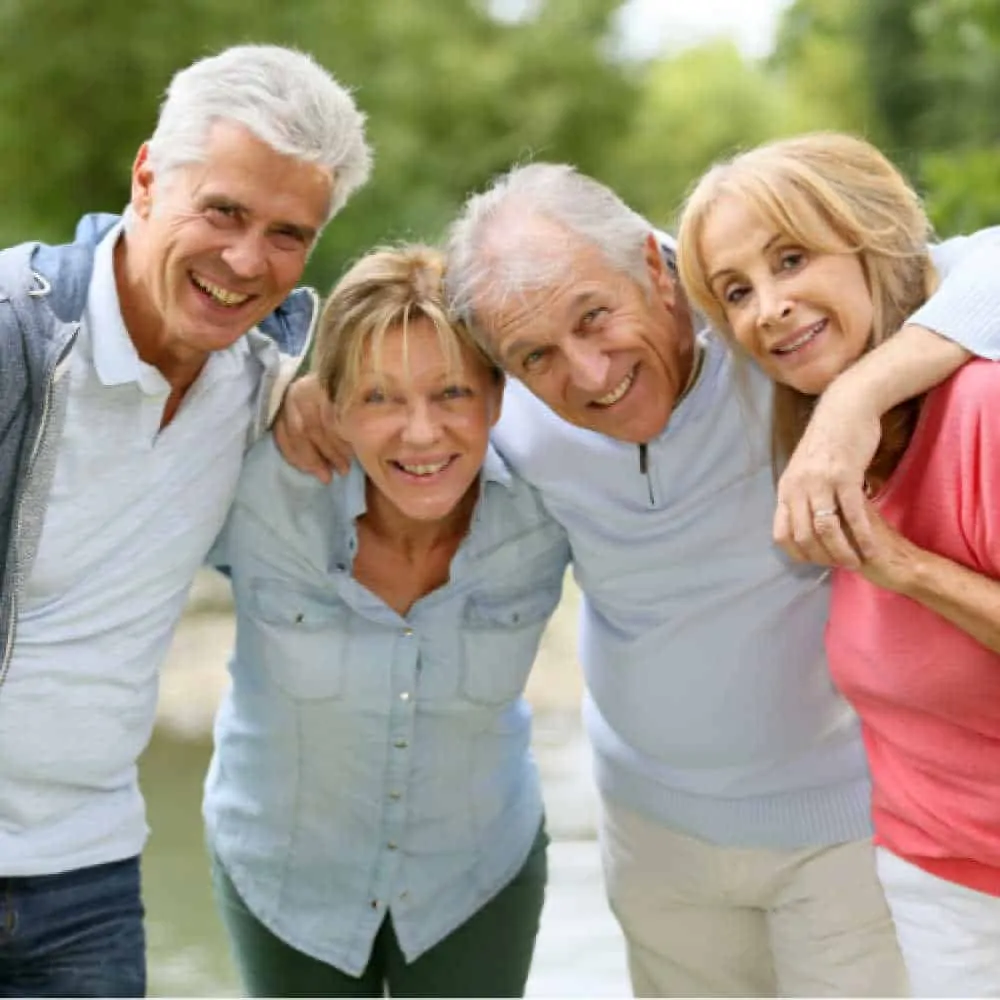 (This page may contain affiliate links and we may earn fees from purchases at no additional cost to you, i.e., as an Amazon Associate, we earn from qualifying purchases. These earnings help offset the cost of running this site. You can read our Disclosure and Disclaimer for further info.)
Before you make any decisions about renting or buying your snowbird housing, there's a lot more to learn about these types of communities.
Keep reading to find out answers to some of the most popular questions asked about living and lodging in a lively 55+ community.
What is a 55+ Active Adult Community?
Often referred to as a "retirement" community, age is the only qualification to live in a 55+ adult community. Many people in these communities still have careers or choose to work.
The housing options in these communities vary widely.
You'll find condominiums, single-family homes, duplex patio homes, manufactured homes, townhouses, and even RVs or tiny homes.
Often there's a combination of housing units in an active adult community.
Many people who choose a 55+ active adult community own their homes. But renting a unit is an option in some areas.
There are often rules about how many homes in a 55+ community can be used as vacation rentals. So don't assume you can use it as an investment property if you plan to buy one.
"Senior living communities" or "continuing care retirement communities" (CCRCs) designed to allow "aging in place" and transitions from independent living to assisted living and nursing home care are different from 55+ active adult communities.
Do You Have To Be 55?
To be eligible to buy or rent a home in a 55+ community, usually, one member of the household has to be age 55 or older.
Some communities, though, may allow a small percentage of the population to be under 55 years of age.
Certain age restrictions for other members of the household usually apply too. Each community makes its own rules, so be sure you understand eligibility requirements before you make any decisions.
This doesn't mean you can't invite your kids, grandkids, or friends who aren't "age-eligible" to come and visit you in your 55+ community.
Short-term stays for relatives or friends are usually fine, but understanding the rules will help prevent problems in your community.
55+ Community Pros and Cons
Before you can decide if an active community is right for you, you need to have a grasp of the pros and cons.
Benefits
There are many good reasons for snowbirds to consider living in 55+ active adult communities.
Safety. Some snowbirds choose to be residents of 55+ active adult communities because they feel safer in their new community. Whether it's a gated community or not, neighbors are close by.

This helps people check in with each other and keep an eye on each other's residences when they're away for additional security.
Amenities. Another bonus? You'll likely get other amenities included as part of your HOA dues.

Many 55+ active adult communities have pools, clubhouses, community rooms, fitness centers, tennis and pickleball courts, shuffleboard areas, scheduled activities, and even golf courses.
Location. Many communities are located near the "hub" of town in popular snowbird destinations.

You can easily access restaurants, shopping plazas, recreation facilities, casinos, cultural events, churches, parks, and more.
Some communities are located near lakes or golf courses.
Others are big enough to almost be a city and have their own amenities for residents.
Social. Many people find it easy to make friends in 55+ snowbird communities because residents have a lot in common, no matter their family status.

It's easy to make conversation about things besides family or kids, such as careers, hobbies, or travel, and engage in some fun when you have years of experience to share.
Peaceful. While talking about your kids or grandkids is a popular topic, people sometimes choose 55+ communities as snowbird residences because they're quiet and only allow young people to visit.
Less stress. One of the biggest benefits of living in this type of community is that homeowners association (HOA) dues may cover some typical home or property maintenance tasks.

You'll "buy back" some free time if someone else mows or takes care of exterior parts of your condo or townhouse.
Even if you're still responsible for the exterior maintenance of your seasonal home, it may not be as time-consuming or strenuous as caring for your primary residence up north.
Many snowbirds choose smaller, single-story houses or manufactured homes to escape the winter temperatures. Less work means more time to enjoy your days chasing the sun.
Disadvantages
While there are plenty of pros to living in 55+ communities, there are some important cons you should carefully consider.
Fees. If you've never lived in a residence with a homeowners association, being subject to paying monthly fees for things you've always done and following all the rules of the association can be a big change.

In certain circumstances, you can also be subject to special assessments requiring you to pay more than your monthly HOA dues.
Limits. Snowbirds who want to plant a small garden, hang a towel out to dry, or take a swim after dark – might be prevented from doing so by association rules.

This can feel very limiting to some people.
Age-limit. While some people enjoy the quiet of their 55+ active adult community, others miss younger people and kids living near them.

Still, many snowbirds don't live in an age-restricted community up north, so they get their fill of the younger crowd in the summer.
Other drawbacks you may not have considered?
If you own a property with age qualifications, your younger relatives and friends probably won't be able to use it if you aren't there.
And selling a property with age qualifications also reduces the pool of buyers who can even consider the property.
How To Find An Active Adult Community 
Those interested in learning more about 55+ active adult communities as an option for snowbird living can contact a realtor in the local area.
You can also do an online search of "55+ active adult communities in ____ (city)" or look at real estate sites like Zillow and enter 55+ into the advanced search area.
The website 55places.com is one resource to help you find and purchase a home in a 55+ active adult community.
Related: Best Snowbird Destinations in Florida
Should You Consider A 55+ Community?
If you're a snowbird who's looking for low-maintenance living that offers plenty of amenities and activities with people of a similar age, a 55+ active adult community might be a great option.
These neighborhoods are popular with snowbirds because they take away some of the work involved in maintaining a home.
They also offer the opportunity for you to stay active and make friends easily in your new area.
When you look at 55+ communities, talk to people who live there. Ask them what they enjoy about their home and what they aren't so thrilled about.
Then weigh the pros and cons of this type of community and consider how well it would work for you as a snowbird.
If you're looking for senior living in a community that eventually allows you greater care (assisted living and nursing home services) and you don't want to move again, you should probably consider a different type of housing for older persons instead or a continuing care retirement community.
Next: